Visitor Information
Famous For: Photography, Experience Seekers and Landscape.
Entrance Fee: The entry to this park is free.
Visiting Time: The park remains open from 6am to 6pm. Also, this park remains closed on all Mondays.
Visit Duration: Visitors generally spend 1 to 2 hours here.
The Cubbon Park in Bangalore is the perfect location in this city where you can relax and the aesthetics of this park attracts travelers and residents from all parts of the country. The specialty of this park is that it emphasizes on providing a suitable environment for morning walks and exercises at different times during the day.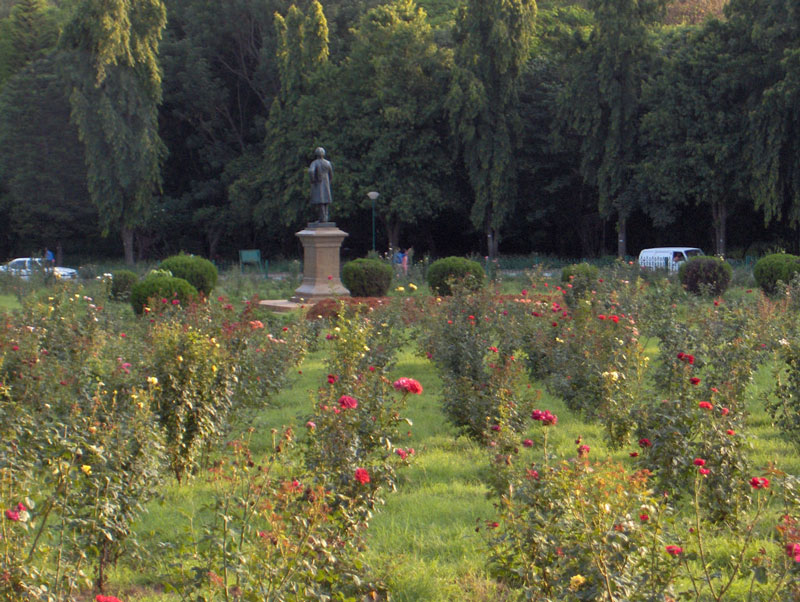 Traveller Tips
The roads surrounding this park remains closed in early morning, from 5am to 8am, and the roads running through the park is allowed for light motor vehicles only. Therefore, avoid taking your vehicles to reach this park during this timing.
Things to Do
This park is the perfect location for taking early morning walks, and provides a very beautiful landscape for all nature-lovers.
There are a wide variety of vegetation seen in this park, which includes over 96 botanical and native species, including plants such as tabebuia, milletia, ficus, bamboo and much more. This is the reason why this park attracts a large number of botanical researchers and students.
The Bangalore Aquarium is another popular section of this park, which includes a large variety of fish, and has several floors of such fish tanks. The species of fish found here includes Moon Tail, India Tiger Barb, and much more.
A Band Stand seen at this park provides a very good platform for artists and musicians from all around the world to showcase their collections and many other such programs.
This park is not just a major attraction for nature lovers, it includes several constructions which are a real treat for aspiring architects and historians. One of such popular locations in this park is the Seshadri Iyer Memorial Hall, which is a classic example of European architectural styles, and it has a wide collection of books in the Seshadri Memorial Library.
Also, the scenic beauty and the calm environment of this park makes it the perfect picnic spot for relaxing and enjoying the surrounding greenery with your friends and family.
Availability of Guides
The local residents and visitors are quite helpful when it comes to knowing more about the park and its surroundings during your visit here, and the option of hiring guides or translators is also available with several private tour agencies in the city.
Best Time to Visit
Visiting this park during the months from October to March is preferred by visitors outside the city, due to reasons such as better landscape, climate, blossoming of several species and its flowers, etc.
Also, the residents often prefer visiting this park during early morning for walking, etc. in all types of seasons, because the calm environment and the fresh air during this time of the day provides the perfect start for all the day's activities.
How to Reach
Since it is located near to the city, reaching this park is very easy for travelers from different parts of the city. This park is located at a distance of 3.2km from Kempegowda Bus Station, at a distance of 34.1km from Kempegowda International Airport, and at a distance of 4.8km from Bangalore City Junction Railway Station. These distances can be covered by taking bus services, auto-rickshaws or cab services.
Interesting Facts and Trivia About the Cubbon Park
This park finds a significant place in the chapters of the country's history, and has undergone several major changes after its establishment. This also includes the series of changes that has occurred in its name. This park was originally named as the "Meade's Park" during the time of British rule in India. Later, it was named as "Sri Chamarajendra Park" to honor Sri Krishnaraja Wodeyar of Mysore.
Also, the city of Bangalore is often called as the "City of Gardens", and is quite popular for its balancing lifestyle. The reasons as to why this name was given to this city includes the scenic beauty and the landscape of the Cubbon Park.
This park also has several sculptures and statues of popular personalities from the country's history, which includes personalities such as Queen Victoria, Sri Chamarajendra Wodeyar, etc.
Nearby Attractions
Visvesvaraya Industrial & Technological Museum
Department of Archaeology and Museums
Sri Dharmaraya Swamy Temple
Bangalore Fort
Kote Anjaneya Swami Temple
Lalbagh Botanical Garden
Glass House Lalbagh
Masjid e Atheeq
Nearby Restaurants
ITC Gardenia, Bengaluru
Konark Vegetarian Restaurant
Konark Restaurant
The Cubbon Pavilion
Hard Rock Cafe
Rasovara
MTR – Lalbagh Road
20 Feet High Restaurant
The city of Bangalore is a real surprise when it comes to find the right mix of a posh lifestyle and a recreating one. Finding a break from the stressful work schedule is also important in a city like Bangalore. The Cubbon Park in Bangalore is a symbol for this combination of various lifestyles in the city and provides an environment of tranquility for every traveler around the world.