Khajjiar in Himachal Pradesh, India is a very diverse sort of tourist destination. It has temples and hills, villages and wildlife, but say what you will about it, its profoundly religious. The Hills are the Kailash, home to Shiva, the trees are linked to the Pandavas of Hindu mythology, and temples are all devoted to Hinduism. The Khajjiar tour is short, and incredibly compact. You can hop from site to site in no time, and wrap your tour up fast if you want to. The destination is popular with couples, and the best time to visit is from March to June each year.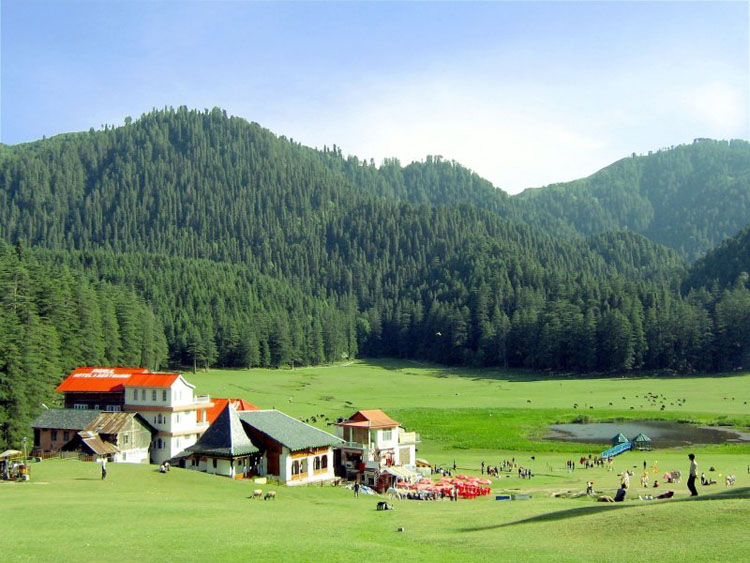 | | | |
| --- | --- | --- |
| Months | Conditions | Our Recommendation |
| July to September | Most perfect time to visit, as the rains make the place come more alive, it is during these months when this "Switzerland in India" will show you all its colours. You will surely enjoy trekking, paragliding, horse riding and boating. | Popular Tourist Season |
| April to June | Summers are mild in Khajjiar. Days are sunny and nights are pleasant and cold. Good time for all the sightseeing and adventure activities. | Ideal Time |
| October to March | Winter times are for couples and honeymooners. If you love snow, then visit Khajjiar in winters. | Peak Time |
Summers in Khajjiar are pleasant, warm and sunny and are the most ideal season for touring this place. Sightseeing is a lucrative option, and you better make your hotel bookings fast as the place is teeming with tourists during this season. The ideal touring time is extended to monsoons in some cases, but summers are the safest bet so far.
Monsoons in Khajjiar are very beautiful. The rains don't pose a substantial enough hazard, and the beauty is rejuvenated with the waters, as is the case with a lot of truly enthralling tourist destinations. This season is pretty popular with tourists too, and you might just book well in advance. A new attraction is added to good old sightseeing-you see Khajjiar in all its flowering glory.
Winters in Khajjiar are pretty severely cold, as expected of proper hill stations. The temperature drops through the scales dragging the mercury below zero a lot of the time, which means you might experience snowfall as one of the plus points, maybe to compensate for the harsh weather out of doors. This is not as popular with wanderlusters as summers here are.
How to Reach Khajjiar
Khajjiar can be got to through either the Gaggal or Jammu airport via air, and Pathankot railway station if you're taking trains, and you could take taxis to your hotel from the rail station or airport. Buses are connected by road from Khajjiar to places like Dalhousie and Shimla. Khajjiar once reached can be navigated through walking around in it.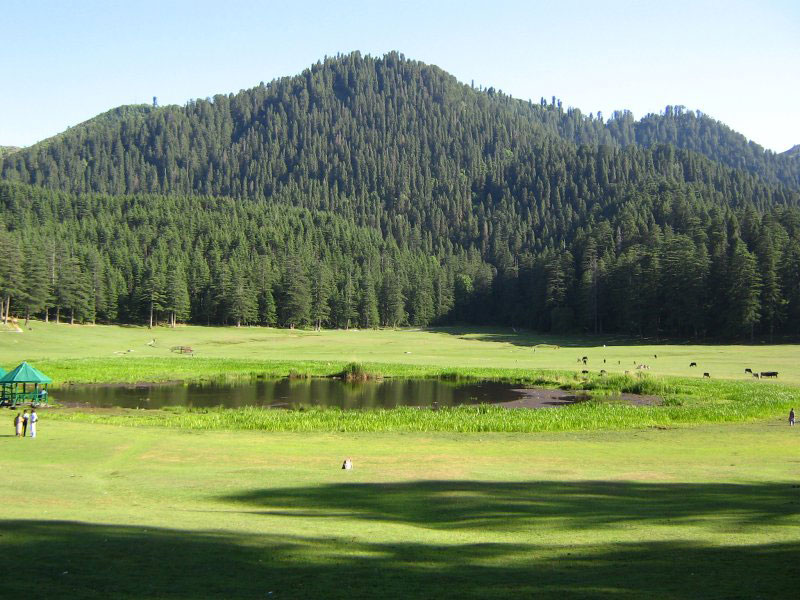 What to Do and See in Khajjiar
The legendary Kailash mountains, home to Lord Shiva and Hindu saints of old times can be glimpsed at beautifully from this place. The view is breathtaking, the photography perfect, the atmosphere calming and the experience profound.
The twin delights of ground and then lake once you climb closer to it, this double delight of a tourist attraction can be reached from Dalhousie's Bakrota Hills. This is one of the most popular tourist spots around here, eponymous too.
For a date with the occult, book your calendars for a visit to the eponymous as well Khajjiar Nag Temple, dedicated to the snake lords and a famous tourist destination.
In another eponymous stint, these are a bunch of villages that look like picture postcard features up among the hills so high, and are noted for their spectacular apple orchards.
Khajjiar is the perfect spot for that weekend getaway you have been planning for months now. Replete with hills and gods and orchards, this place is as much a delight to see as it is to be in. Khajjiar can be ideal for families as well as couples, and is very welcoming most of the time. So, whether it is clear skies or snow that you want to see, make sure to use this weather guide and plan ahead. Do enjoy to the fullest and tell your friends all about it!