Delhi on account of its location in Northern India bears a close proximity to the Himalayan ranges and by extension, a plethora of scenic hill stations like Shimla, Kullu and Manali which are nestled in the lap of the Himalayas. It is also quite close to the Aravali Ranges and the historic city of Agra. There are thus, many beautiful places near Delhi where one can hope to venture for a romantic getaway. However, since places like Nainital, Shimla are already a popular tourist spot, here we list down a few of the unconventional honeymoon destinations near Delhi:
1. Auli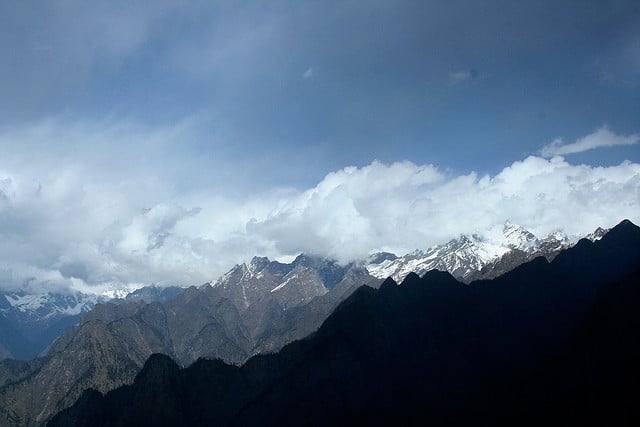 Photo by Michael Scalet, CC BY-SA 2.0
Also known as "Auli Bugyal" which means meadow, Auli is a lesser known skiing destination located about 394 kms from Delhi. Apart from skiing, the highest man-made lake is located right next to the Clifftop Club Hotel. Surrounded by high peaks like Mana, Kamet and the tallest of them all, Nanda Devi, Auli gives one a feeling of utter bliss, spirituality and solitude that led to it being named as "Devbhumi" or the land of Gods. It is quite pleasant in summers to visit Auli when temperatures are quite pleasant. It evokes a feeling of oneness and fulfillment that every couple should experience together.
2. Orrcha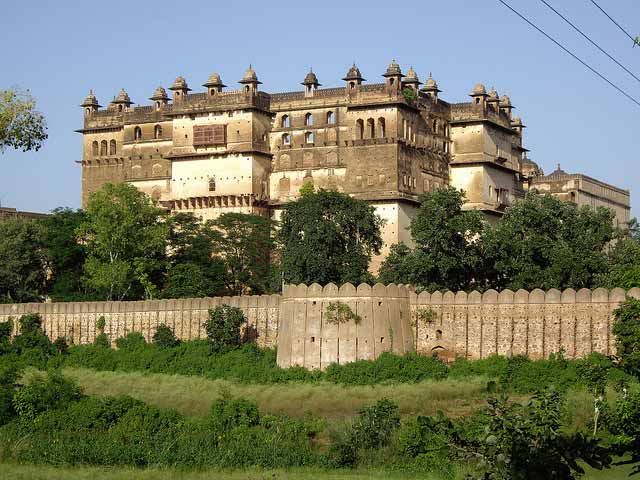 Photo by krebsmaus07, CC BY 2.0
Well known for the Fort of Orrcha built by the Rajput Chief, Rudra Pratap Singh, Orrcha will be a delightful visit for all those couples who are enamored by history and wish to go to one of the less visited places. Located about 464 kms from Delhi, Orrcha is abode to the Jahangir Mahal which is considered as one of the most beautiful specimens of Mughal architecture. The buildings in Orrcha have been documented many times for their historical significance and the majestic Orrcha Fort is also one such place where couples might wish to reminisce about the bygone era and enjoy their peace in this small, scenic town.
3. Manesar
Manesar traces its roots back to being a sleepy village; however, recently it has experienced a surge of development. Despite that, Manesar remains a scenic spot where one can witness the beauty of Aravalli Ranges. It is perhaps the only place in India adopting a new concept of "farm tourism", whereby people are encouraged to understand the farming lifestyle. With abundance of farms and spas located in offbeat rural areas, couples can enjoy a pure, unburdened relaxing stay away from the hustle of city life. Couples can also enjoy beautiful sunsets and boat rides on Damdana Lake.
4. Ranikhet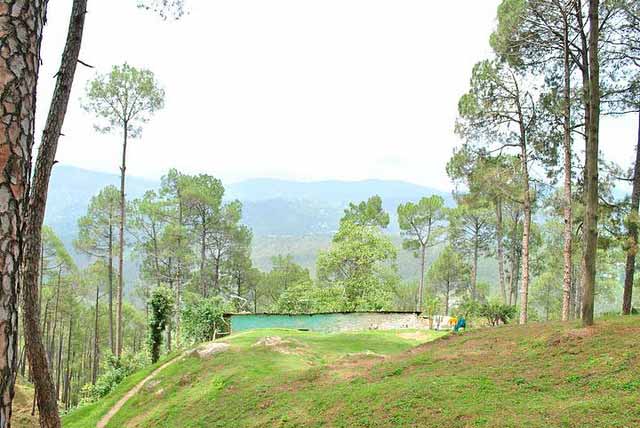 Photo by Parth Joshi, CC BY 2.0
Located within sight of the western Himalayan peaks and 350 kms from Delhi, Ranikhet is a small village spread across two cantonments. This place is best enjoyed in the months from March to October. It is home to a wide array of flora and fauna like pine, deodar and oak trees and leopards, mountain goat, Indian hare and the red fox. Apart from Jhula Devi and Rama temples, the Chaubatia Gardens located about 10 kms from Ranikhet houses a plantation of peaches, apricots and is renowned for its apple orchards. Close to the wilderness and maintaining a beautiful expanse of greenery, every couple can enjoy long, peaceful walks together amongst the beauty of nature.
5. Chail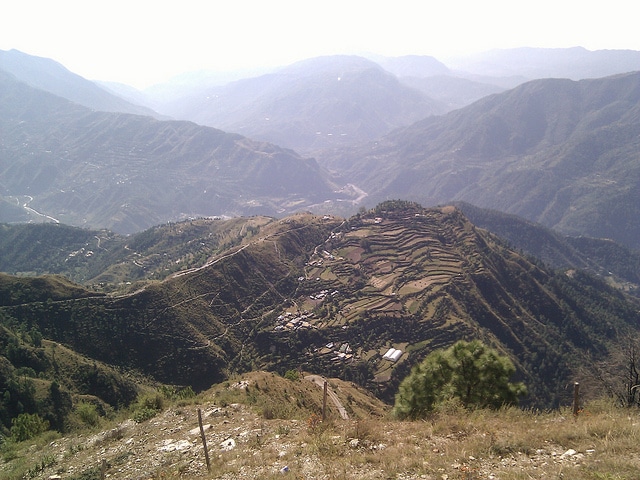 Photo by Abhishek Kumar, CC BY 2.0
House to the Chail palace and located 356 kms from Delhi, Chail is considered as hiker's paradise. The Chail cricket ground is the highest cricket ground in the world. The magnificent Maharaja's palace built in 1891 is elaborately furnished. Surrounded by tall deodar trees, with a view of Shimla and Kasauli at night, Chail is a retreat in every sense of the term. There are comfortable log cottages and enjoy the sight of lush greenery and long walks in this picturesque hills station.
6. Naukuchiatal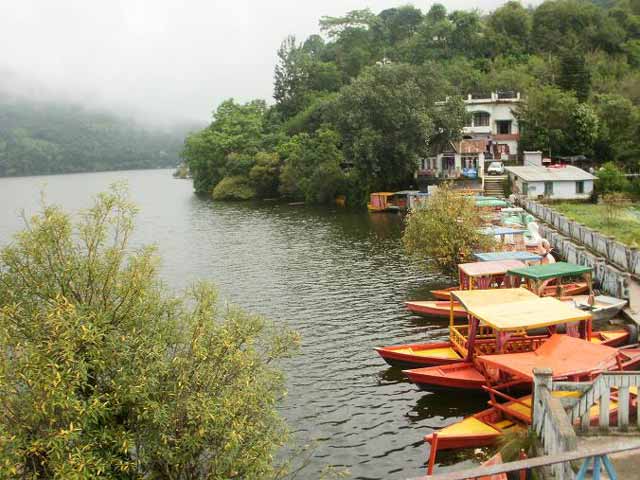 Photo by Manoj Khurana, CC BY-SA 3.0
The word "Naukuchiatal" means "lake of nine corners", this lake is situated 1220 meters above sea level and surrounded by hills covered in trees and rich growth of shrubs. The statuesque Hanuman temple is located here with beautiful cave designs on the lines of the ones found in the Vaishno Devi Shrine. This small, quiet village will be a great retreat for all couples spending time together. It also houses a beautiful lake resort and a location for paragliding.
7. Nahan
A small town in Himachal Pradesh, Nahan is located 267 kms from Delhi. The town itself is quite a beauty, located on a hilltop in the Shivaliks. Dotted with temples and gardens, the gently sloping walks of Villa Round evoke nostalgia. Take an evening walk in the mall road which is the hub of activities and see beautiful gift shops, temples and Rosin & Turpentine factory. The Pakka tank flanked by a fountain, Shanti Sangam is an all-scenic spot that can be visited in the city. Dhaulakhan, about 20 kms from Nahan, houses a sprawling orchard of citrus fruits and mangoes where one can try out various juices, pickles and jams.
8. Kanatal
Kanatal, located 319 kms from Delhi attracts a large tourist population each year on account of its scenic beauty. With a breath-taking view of the snow lade mountains and green forests, it evokes a strangely reminiscent romantic aura which contributes to its popularity. One can even venture off to Dhanulti, located about 12 kms from Kanatal and enjoy the unspoilt natural beauty with gurgling streams and fruit orchards.
9. Kasauli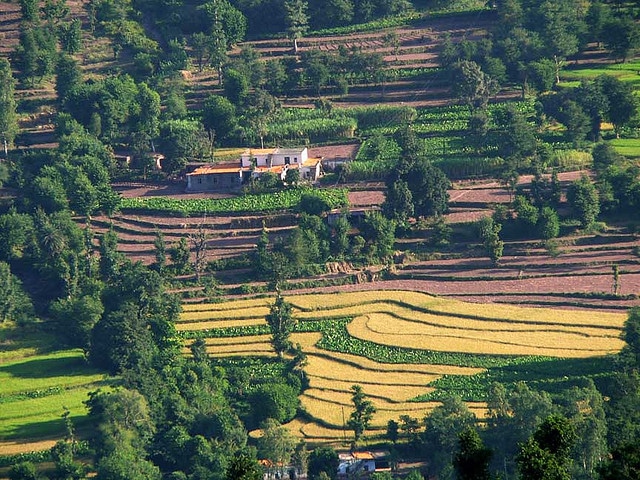 Photo by Koshy Koshy, CC BY 2.0
Located at a distance of 298 kms from Delhi, Kasauli is majorly known as a health resort with an elevation of 1900 metres above the sea. Apart from the landmark Baptist Church, and the Christ Church which houses imported stained glass windows, one can even view many wildlife species from the Gilbert trail in Kasauli. The Kasauli brewery is the oldest distillery for "scotch whiskey" in Asia. This hill station seems to be stuck in the 19th century as it retains all of the purity and distant beauty of the last century.
10. Palampur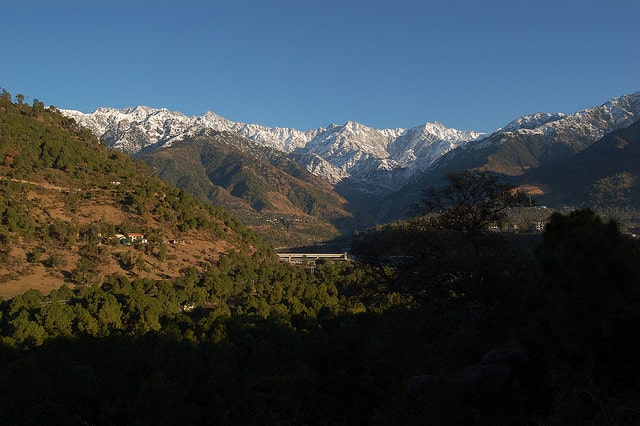 Photo by Sumeet Jain, CC BY-SA 2.0
Surrounded by tea gardens and pine forests, Palampur is located about 505 kms from Delhi. Owing to its location at the meeting point of the hills and the plains, Palampur has a remarkably distinctive look where one side we can see the snow laden mountains and on the other, the vast expanse of the plains. Neugal Café remains an attractive must visit spot and so does the trek to the Birni Mata temple which winds through thick oak and rhododendron trees. Criss-crossed by numerous streams, Palampur is also the world's best paragliding spot with the 2015 Paragliding world cup being held here. Flanked on all sides by major tourist destinations like Dharamshala and Manali, this beautiful land amalgamating the beauty of both streams and hills is an ideal romantic destination.
Being one of the most historic regions in India, Delhi itself has several spots that are perfect for a romantic outing. Nevertheless, if you want to spend some quality time with your significant other, then you better visit the above locations to escape the bustle of Delhi for a romantic escapade like no other.