Visitor Information
Famous For: Biodiversity park, lakes, flora and fauna.
Entrance Fee: There is no entry fee to visit deer park. It is free of cost.
Visiting Time: It follows the sunrise to sunset timings. During summers, it is open from 0500 – 2000 hours and in winter the place is open from 0530 – 1900 hours.
Visiting Duration: The entire place can be thoroughly visited in a span of 3-4 hours.
Popularly referred to as the "lungs of Delhi", it is a green respite from all the hustle and bustle of the city. It is a haven for the bored city dwellers who want to take a sigh of clean fresh air. Amongst all the congested city life of Delhi, the deer park is one amongst the few green zones which the people can still enjoy and cherish. The sight of bountiful vegetation and shimmering lake will incite a sense of positivity and happiness around you! It is one of those places which your children will definitely ask you to take them there again! There are wonderful types of birds like the rose-ringed parakeet and the rarer barbet. The colorful sights will keep the kids engaged in a beautiful natural world.
It is one of the most ecologically sensitive areas in Delhi. It supports a network of various interdependent animal relationships. The sight of deer herds prancing around is a very beautiful sight and not something to miss out on.
Traveler Tips
Go well-equipped with shades and hats during the summer season. It can get really hot out there.
Littering of any sort is not allowed. You are supposed to collect your waste in a bag, and then dispose it in a dustbin when you find one.
Wear comfortable footwear and light cotton clothes for easy travel.
You are not allowed to feed any animals. It is strictly prohibited.
Throwing stones or any other objects at the animals to get a reaction is prohibited and punishable by law.
Be careful about the local vendors. They tend to exaggerate the prices of goods.
Things to Do
Take an early morning jog through the green trails of the park.
Enjoy the scenic beauty of the park with your family on an outing.
Photograph the beautiful deer in their green and lush habitat.
Take the kids to a nature walk and allow them to discover some of the amazing aspects of Mother Nature.
Availability of Guides
There are no guides required for this place. All the signs are self-explanatory and written in Hindi and English. The place is very easy to navigate through and the workers are very helpful! You will not find any problems in finding your way in this park.
Best Time to Visit
This place is an all-year attraction. You can visit it at any time and still be lost in its green beauty! But a lot of people aren't very comfortable with the blistering heat in the summers and the chilling cold of the winters. The summers are there during May-June and the winters during December-January. But if you pack in the right clothing you can enjoy the deer park even during those months.

How to Reach
Located in South Delhi, it is easily accessible by road transport from Safdurjang Enclave. There are regular taxis and buses that ferry people to and fro. Delhi is quite famous for its extensive metro network. Metro is another efficient and cheap form of transport to take you to the Deer Park.
Interesting Facts and Trivia about Deer Park
It is also known as A. N. Jha Deer Park after a social worker called Aditya Nath Jha. Mr. Jha was a great humanitarian and a former member of the Indian Civil Service. He has been awarded the Padma Vibhushan for his work for the nation.
The park has different wings totaling to four. They are Rose garden, Deer park, Fountain park and the District park. Each one of them a spectacle on their own.
It also comprises of slices of our beautiful history. It houses some historical tombs from the Mughal era.
It is one of the largest green areas in Delhi considering its bustling location in the city.
The main attractions of the Deer park are the deer. They are kept in a large enclosure where they are free to roam around. They can be found grazing in the green pastures or sometimes having friendly fights.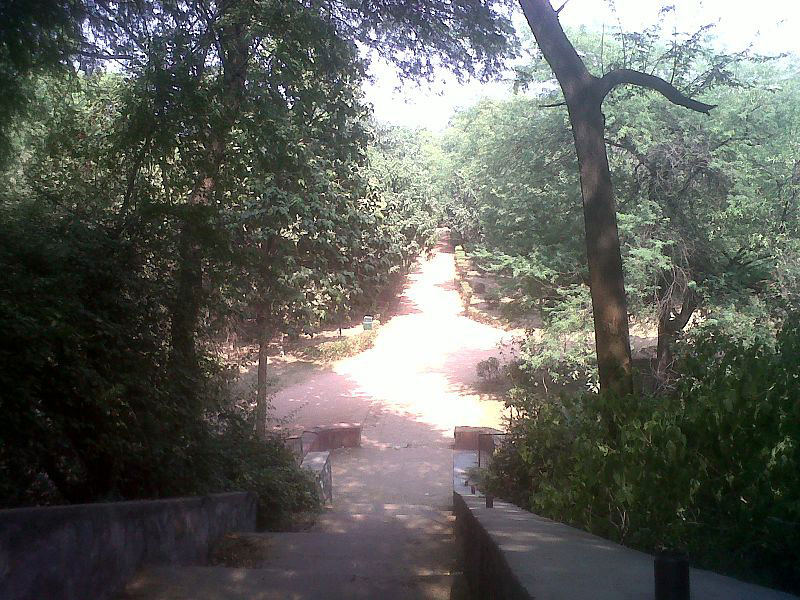 Nearby Attractions
Deer Park Lake
Hauz Khas Village
Impulse Art Gallery
Firoz Shah Tughlaq Tomb
Domus Art Gallery
Nearby Places to Eat
Smoke House Delhi
Imperfecto
Café Out of The Box
The Hungry Monkey
Charcoal
Elma's Bakery
The Deer Park is a really beautiful place and definitely a place for a family picnic. It has all the things that will leave your children spell-bounded and enthralled. If you are planning a trip to Delhi then definitely make a point to visit the Deer Park. Have fun roaming around in Delhi!