Visitor Information
Famous For: Pilgrimage site, Taking the first dip here before visiting any other theertham, sunrise point, conduction of holistic rituals like prohithams, yangnya, tharpanam, etc. Place of beliefs and faiths.
Entrance Fee: Free of charge for sightseeing but they charge ₹60 for the conduction of Pujas (like the holistic rituals mentioned above) besides the fee of the pandit.
Visiting Time: Agniteertham is open from 5am to 6pm all through week and can be visited accordingly.
Visiting Duration: Ideally for 1-2 hours but can be extended according to interest.
Along the southern coastline of India, in the divine town of Rameswaram, stands stoic the Ramanathaswamy temple inviting devotees to its doors from time infinite.
The shore calling, just opposite this opulent temple, is fondly called as Agniteertham and holds much relevance for the devotees of Southern India. Rameswaram being the land of peace and piousness, boasts of 64 theerthams (holy water bodies) but it is believed that one should initiate their pilgrimage by taking their first dip in the Agnitheertham thus emancipating yourself of all impurities and then with your sins washed off, you can now move on to other teerthas. Other beliefs include mixing the ashes of the dead person in Agniteertham would provide moksha for them. Yet another belief is that childless couples will near children after having a dip here.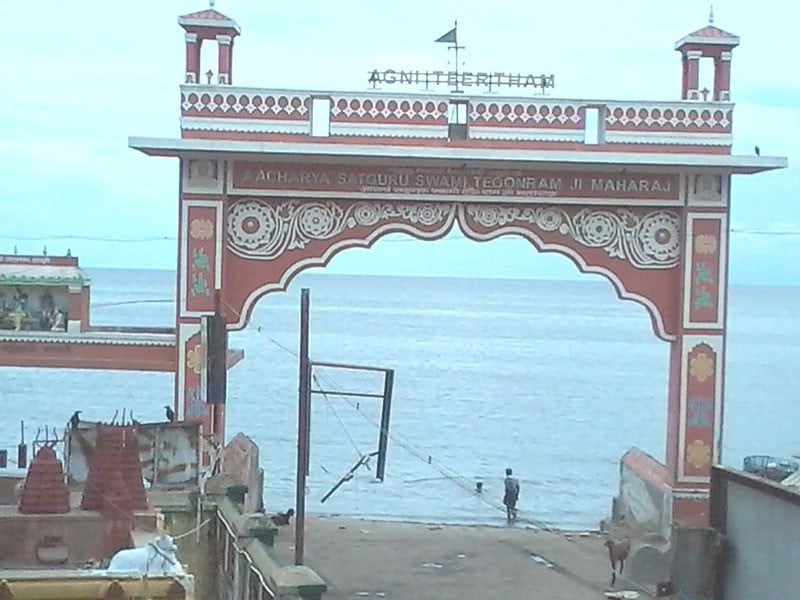 Traveller Tips
Visit the theertam early in the morning during sunrise time to experience the most exhilarating morning of your life and absorb maximum piousness in the air.
Lockers are provided near the shore of Agnitheertham to store your belongings like mobiles, wallets, etc. as these aren't allowed inside the temple. Travellers are suggested to leave all their belongings in your hotel room or car itself, even chappals (unless its summer) to relish a hassle-free dip in the piousness.
A rate charge has been displayed there for the various pujas that are conducted by the pundits on the shore, you just have to select your vidhi.
Although there are mostly​ eloquent with English but there might arise a language problem if you are strictly Hindi-speaking. In such a case, you'll have to be cautious as there's a slight chance they might charge exorbitant rates for the pujas. Make sure to check initially.
The ingredients and articles required for the puja vidhis are provided here itself. So, you don't need to worry about those.
When here, keep an open mind to experience most benefits spiritually and remember being sceptical won't make a lot of difference.
Things to Do
Take a dip in the Agniteertham keeping in mind the belief that all your sins would be washed away and you'd be cleansed.
You could come with the aim of getting pind-danams (ritual for your ancestors), prohithams, yangnyas, tharpanam, dosham removal rituals performed under the expertise of the Tamil Brahmins here.
Visit the Ramaswamy temple right opposite to this and carry on with the other theerthams.
Availability of Guides
There are no guides as such but the pandits on the shore assisting you through your puja ceremonies.
Best Time to Visit
October to April is the best time to visit Agniteertham. Winters here are pleasant and cool, and a good time to visit any of the nearby areas.
How to Reach
Buses named 'Temple' (1A, 1B, 2) can be taken from Rameswaram bus stand with Agniteertham being the last stop.
Reach Dhanuskodi Railway Station and take an auto from there to reach here.
Take road trips from Madurai, Chennai to reach Agniteertham.
Interesting Facts and Trivia About Agniteertham
Legend​ says that Sita ma when asked to give the agnipariksha by Lord Ram, sat in fury in the pyre made by Lakshmana on her orders. She had claimed that she was pure and untouched and believed that fire wouldn't even touch her because of her sanctity.
Owing to the truth in her words, deeds, hymns, the fire instead of turning her to ashes, made Agni God to appear in front of Ram and announce her chastity. But since he touched a pure chaste woman, a sin befell on Agni God's lap. To sanctify himself, he jumped into the sea in Rameswaram and hence it is called as 'Agniteertham'.
This holiest of holi ttheertham has been mentioned in Skandaa, Narada Purana and Sethu Purana.
It is the only theertham outside the temple premises whereas otherwise there are tanks inside the temple that serve as theertham.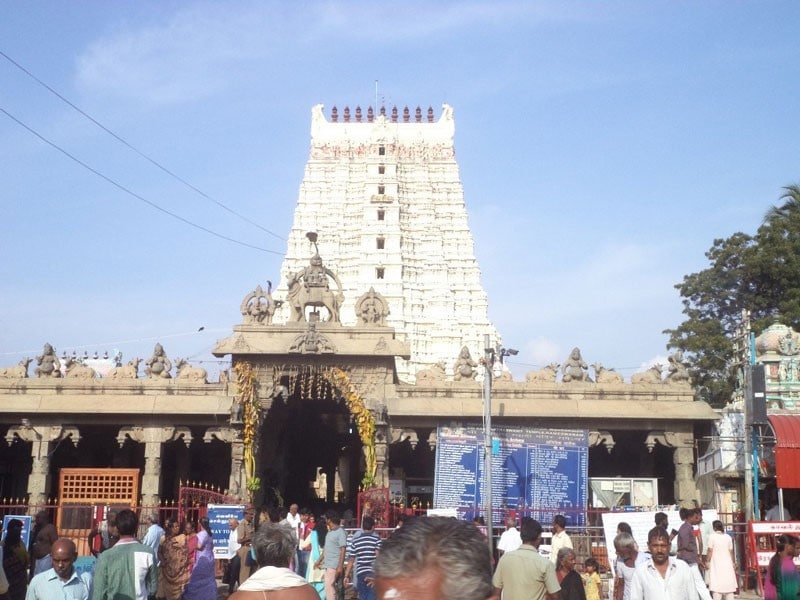 Nearby Attractions
Ramanathaswamy Temple
Rameshwaram Temple
House of Dr. APJ Abdul Kalam
Holy island water sports rental services
Kalam sea shell mart
Pamban Bridge
Dhanuskodi Beach
Annai Indira Gandhi Road Bridge
Burial place of Dr. APJ Abdul Kalam
Ruined Church of Dhanuskodi
Nearby Restaurants
Hotel Sunrise View
Sriram Hotel Island Star
Jiwan Residency
It is the most visited theertham with a number of good reasons. This place can be experienced in its full vividness not through blogs and pictures but only by coming down and soaking the pious, serene air. If you are a religious person then a visit here is must to satisfy your soul.