Visitor Information
Famous For: Botanical Cultivation and Plantations, Conservation and Preservation site of the Tropical, Dry Forest, Sightseeing, Photography, Nature Love, Provision of Botanical Services, Conduction of Educational Programs for Schools.
Entrance Fee: The entry into the main Botanical Garden for adults is Rs. 20 each while for kids it is Rs. 5. If you wish to enter the fish aquarium premises a fee of Rs. 15 for adults and Rs 5 for kids is charged. While at the Toy Train centre, you pay Rs. 10 as an adult and Rs. 5 as a child.
Visiting Time: The Gardens are open to heave a sigh of relief amongst the greens and learn about botany from 10am to 5pm every day.
Visiting Duration: A thorough visit to the Botanical Garden may last anywhere between 20minutes to 2 hours.
In the quiet heart of the Tamil old town in Pondicherry, to the south of the bus stand, rests the tranquil spot of Auroville Botanical Gardens. Coupled with its greenery and exotic variety of plants and flowers, the Botanical Garden sits to entice kids and interested adults into a world of amusement and awareness. It was sprung as a motivation to conserve and preserve the depleting Tropical Dry Evergreen Forests of the Coromandel Coast of Southern India. Moreover, what's even more enticing is the fact that what flourishes as the Botanical Gardens today, was actually a 50 acres of shabby cashew land that got extricated from the department of real estate back in August 2000. It sure has grown explicitly well since then.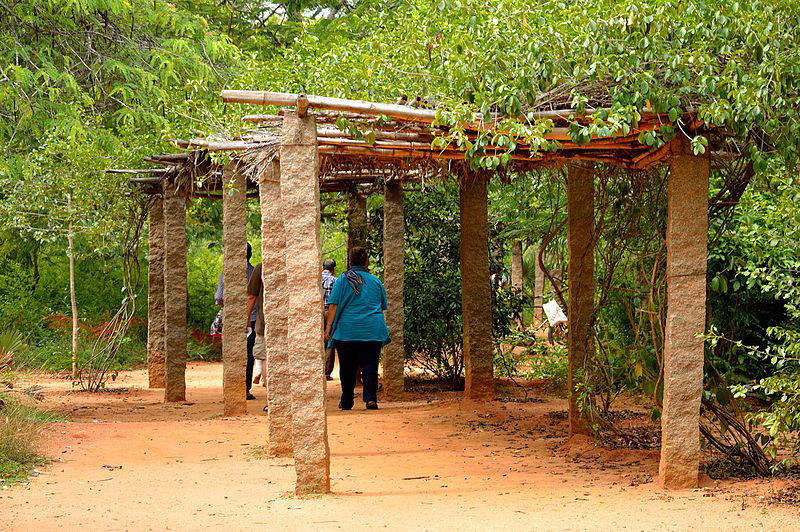 Traveler Tips
If you are a student of botany or have been fascinated with the study of different varieties and exotic species of flowers, you cannot miss this place out on your trip to Pondicherry.
The thing that most travelers take home with them from this park, apart from tonnes of new found knowledge, is the memory of seeing and touching rare unusual really huge trees and getting clicked next to them. You will not find those trees anywhere else so easily.
The Fish aquarium here is extremely well maintained and you'll be surprised at the varieties of fishes that you see here.
When here, do not fail to notice how beautifully the flowering trees in the arboretum are arranged to form a circular walk of sorts. Inside this circular walk, come the smaller specialist garden of orchids, cactus etc.
Be cautious to step here if you're allergic to pollen or a certain kind of plants or bees.
If you observe very closely, you will find that there has been created a maze of sorts from the concentric hedges of TDEF wherein the gaps are interconnects pathways.
Do not attempt to visit this place when it is raining because it gets really muddy and all the dirt in your walking pathway and shoes will make it a nuisance for you.
Some of the segments of the park are not that greatly maintained and might serve as a disappointment to those who have seen a lot many other better developed Botanical Gardens.
Make sure to not litter the place around when here, and keep all your residual food packets, etc. with you until you find a dustbin.
Things to Do
Come with your friends, family, especially little kids to this wonderful covenant of foliage and lush around to get a break from the everyday hustle of the city life.
Enhance your knowledge of Botany or inculcate a hidden interest in knowing about plants and trees from the myriad of species found here.
Get really cool pictures of you and your family next to rare unusual trees and structures.
Toy Trains also run at a particular point at the Garden to keep the mood fun and hip.
There is also an amusing fish aquarium to check out for the marine lovers. You'll be taken aback at the varieties of fish this garden has in store for you.
There is also a nice musical fountain inside.
There is a kid play area too.
On weekends, watch the 2 shows staged by the musical fountains.
Buy organic seeds, quality garden tools, plants from the 'Garden Shop' inside office building.
Availability of Guides
There are no guides available but the officials here are extremely friendly and will help you out with details of a plant or give you a tour of the place if you're really keen.
Best Time to Visit
The months between October to March offer the best kind of weather and mood to visit the Garden.
How to Reach
You first reach Pondicherry (From Chennai through local trains, flights or buses) and take a bus or cab to reach the ECR road. You walk up to the Auroville junction.
Interesting Facts and Trivia About the Botanical Gardens
More than a 250 species of trees have been planted and impeccably preserved here over the course of years.
They have come up with a webpage called plantekey.com that aims to provide information about species of plants throughout the world.
Acacia, Bauhinia, Cassia, hibiscus, Orchids and Plumeria are explicitly available here.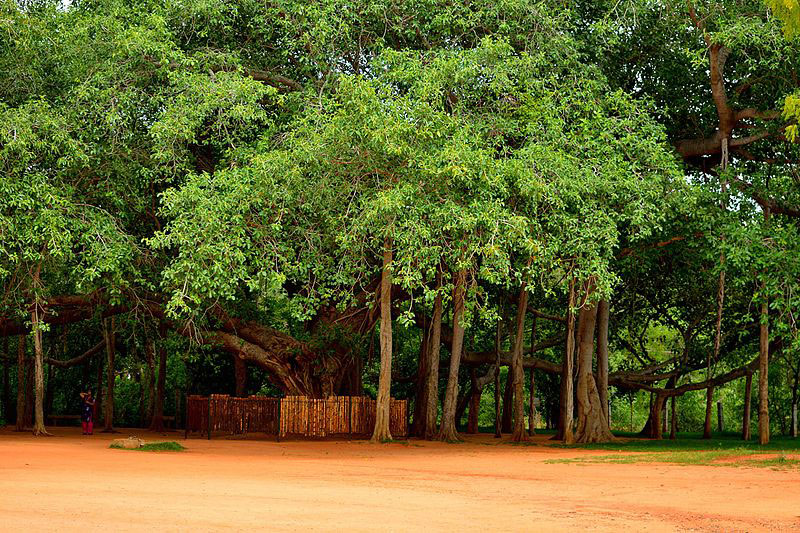 Nearby Attractions
Pondy Biking Tour Centre
Matrimandir
Verudaraja Perumal Temple
Seaside Promenade
The Rock Beach
Ayurveda Medicine Class, Pondicherry
Nearby Restaurants
Villa Shanti
La Villa
Lighthouse
Palais De Mahe
La Casita
Kofi Bar
The Smoothie Bar