The power of nature is overwhelming, as you can never find a parallel to it. The mighty river, majestic mountains, dense forests, roaring waterfalls and everything that is natural, is beautiful, mysterious and powerful. A natural surrounding can stimulate you, calm you, and challenge you to explore its beauties or stun you into silence to enjoy its serenity. If you are game to enjoy the limitless beauties of nature, Kashmir could be the right place for you. Kashmir in the Indian state of Jammu & Kashmir is the land that is beyond description, greets you with its snow capped mountains, picturesque valleys, serene lakes, magnificent trees, vibrant flowers and with a scope to indulge in plenty of adventures including trekking, water rafting, canoeing and a lot more. Here are the leading places to visit in Kashmir, the dream destination.
1. Breathtaking Lakes
It may be a gross injustice if one lake is mentioned and the other overlooked as every lake in Kashmir needs special mention. Here is an earnest attempt to cover the important lakes of Kashmir.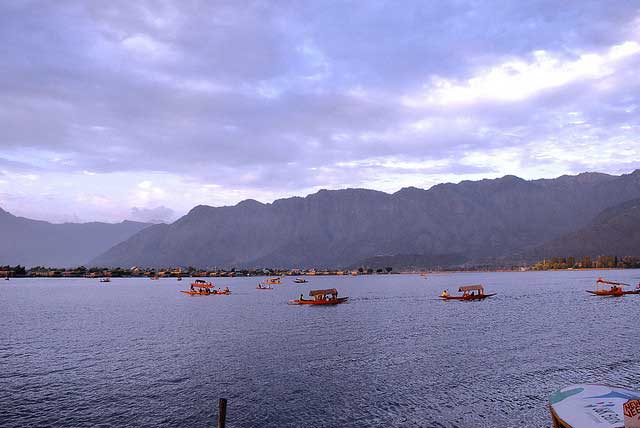 Image credit – Basharat Alam Shah, CC BY 2.0
The second largest lake in Kashmir, Dal Lake, is one of the leading attractions in Kashmir. The view of the lake is stunning with mountains on its three sides and lush greenery on its banks. Houseboats not only give you an excellent opportunity to travel the length and breadth of the lake but they also provide you unique experience that will remain fresh in your memory for long.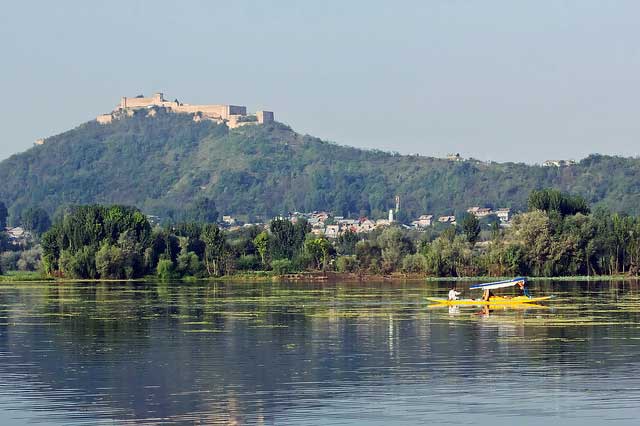 Image credit – June West, CC BY-ND 2.0
Nagin Lake lies at the foot of Zabarwan Mountain. It is a part of the famous Dal Lake. Willow trees and poplar trees surround the lake. Though the lake is smaller when compared to Dal Lake, it is quieter and nice. The serenity of the place, birds flying around and the beautiful sunset render magic to the atmosphere.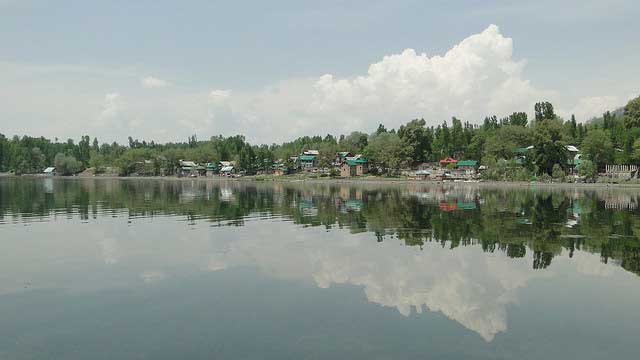 Image credit – Ankur P, CC BY-SA 2.0
The Lake is situated amidst scenic landscape. On one side is Aha-thung, a low hill and on the other is a plateau. The depth of the lake makes it most beautiful and this is the deepest lake in Kashmir. Located 30 km from Srinagar, the place is birdwatcher's haven as it is home to many aquatic birds. The well-maintained garden adds beauty to the lake.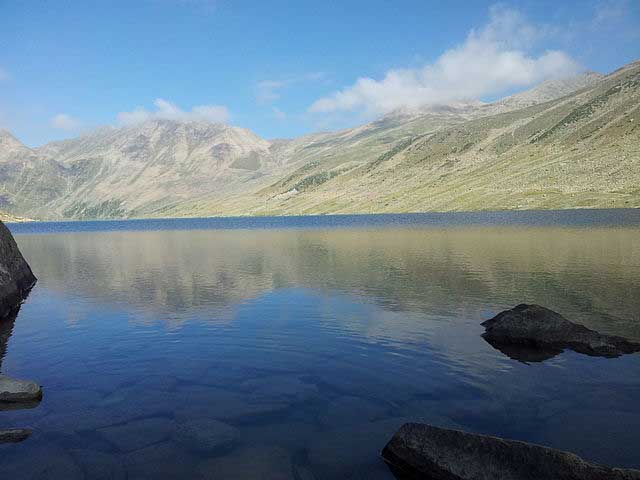 Image credit – Mehrajmir13, CC BY-SA 3.0
Also known as Gangabal Lake, it is one of the high altitude lakes in Kashmir. The lake is considered to be the original source of Ganga. Gangbal trek is considered the most important and sacred pilgrimage and this place are referred to as 'Haridwar of Kashmir'.
2. Gorgeous Gardens
Everything about Kashmir spells beauty. There is magic in the air and the gardens of Kashmir take you to a different world. Here are some 'must visit' gardens in Kashmir.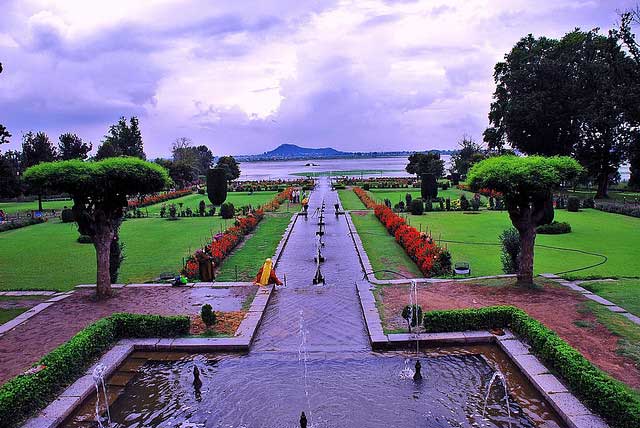 Image credit – Basharat Alam Shah, CC BY 2.0
Mughal Gardens is a magnificent display of the Mughal architecture. Three gardens that combine to form the Mughal Gardens include Nishat Bagh, Chashma Shahi and Shalimar Gardens. Nishat Bagh was laid out in 1634 AD. It is situated on the banks of Dal Lake. The garden has twelve terraces and the lowest terrace connects to Dal Lake. Shalimar Bagh garden is considered to belong to 6th century AD but it vanished later.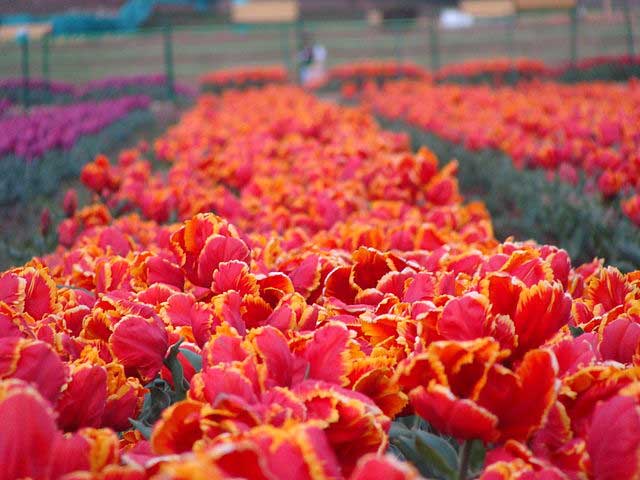 Image credit – Abdars, CC BY-SAA 3.0
Lying on Zabarwan Mountains foothills, the garden is a delight to your senses. Considered Asia's biggest tulip garden, it receives footprints in great numbers from various parts of the world. The garden was ready for public view in the year 2006. There are over 70 different varieties of tulips in the 30-acre garden, which is home to over one million tulips.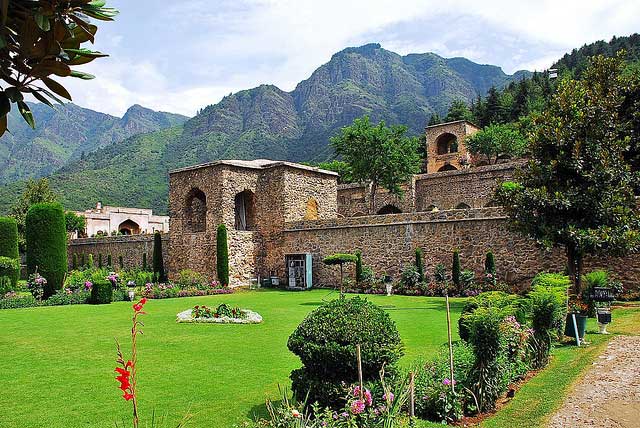 Image credit – Basharat Alam Shah, CC BY 2.0
Constructed by Shah Jahan's son Dara Shikoh in the year 1650, Pari Mahal is a beautiful work of architecture. It was named after Dara Shukoh's wife Nadira Begum, who was also called as Pari Begum. Situated at the top of Mountain Zabarwan, the six-terraced garden overlooks Srinagar.
3. Spectacular Valleys
It is obviously not possible not to mention valleys when we talk about Kashmir. Here are some important valleys in Kashmir that are never missed on a tour.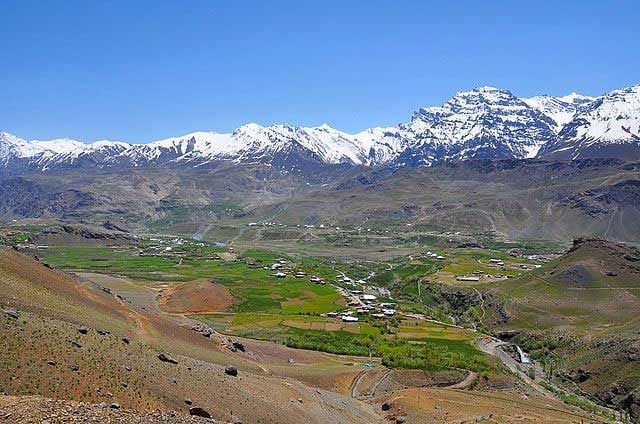 Image credit – Narender9, CC BY-SA 3.0
Drass Valley ranks second in the list of coldest inhabited places of the world, the first being Oymyakon in Siberia. However, the position now seems to have changed contrary to the existing list as global warming has pushed back Siberia to the second place and ranks Drass Valley at the top. It is situated at an altitude of 3230 m. Being a tight valley with cold winds blowing constantly, Drass is colder than many high altitude places on earth.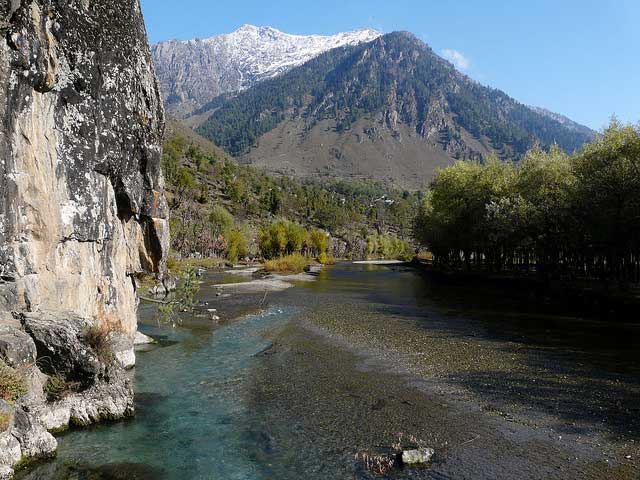 Image credit – Partha S. Sahana, CC BY 2.0
To put it simply, you will be awe-inspired by the beauty of the valley, which surpasses all your expectations. The snow-clad mountains providing a perfect backdrop, the River Lidder flowing through the valley, the magnificent trees all around and flower bed on one side, you just cannot ask for more.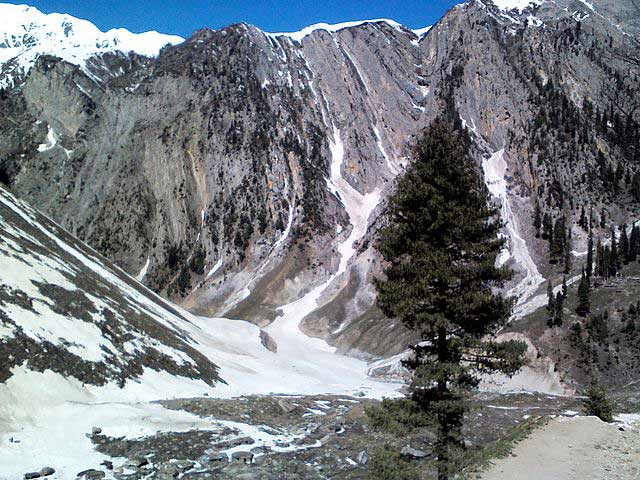 Image credit – Mehrajmir13, CC BY-SA 3.0
Baltal Valley is one of the beautiful valleys in Kashmir. Located on the banks of River Sindh, the valley offers breathtaking views. It is located at an altitude of 2743 meter above sea level. It is a famous camping place as pilgrim tents are seen all along the picturesque valley to facilitate the stay of tourists to Amarnath.
Belonging to a part of Kashmir that is unexplored, Warwan Valley is situated in Kishtwar district, which is at an altitude of nearly 7000 feet above sea level. No descriptions can do justice to the stunning views of waterfalls and lush greenery from this height.
4. National Parks
While the entire Kashmir Valley looks like a huge park with limitless beauty, the national parks here may be an humble representation of the timeless beauty of the land.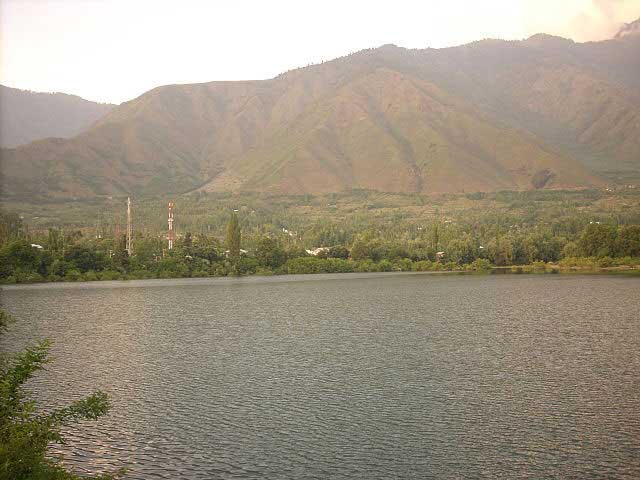 Image credit – Nadeem Hassan, CC BY-SA 3.0
Situated 22 km away from Srinagar, Dachigam National Park covers an area of over 141 sq km the variation in the altitudes of this national park challenges the adventurer in you as it ranges from 5500 ft to 14000 ft. The name Dachigam refers to 'Ten Villages' and it was declared a national park in the year 1981.
Covering an area of slightly over 32 sq km of land, Overa National Park is situated 76 km away from Srinagar. The variation in altitude from 3000 m to 5425 m, the park presents an interesting experience as you move along its length and breadth.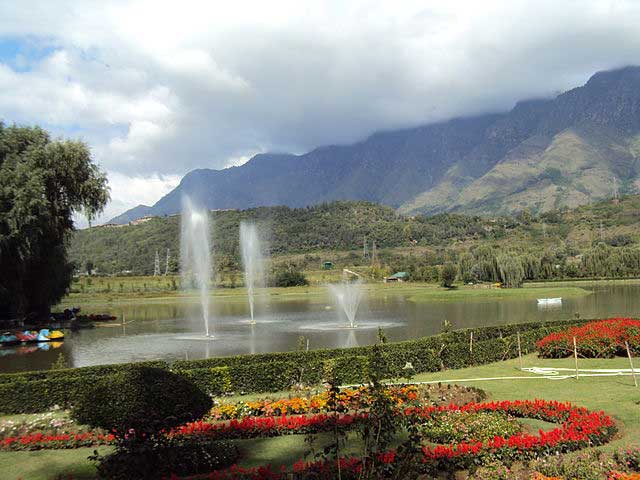 Image credit – Vinayaraj, CC BY-SA 3.0
Jawaharlal Nehru Memorial Botanical Garden was set up in the year 1969. However, it was completed in the year 1987. Located at Zabarwan mountain foothills, the garden covers a sprawling 80 acres of land. The garden is divided into four sections namely sporting garden, botanical garden, and research section garden and plant introduction center.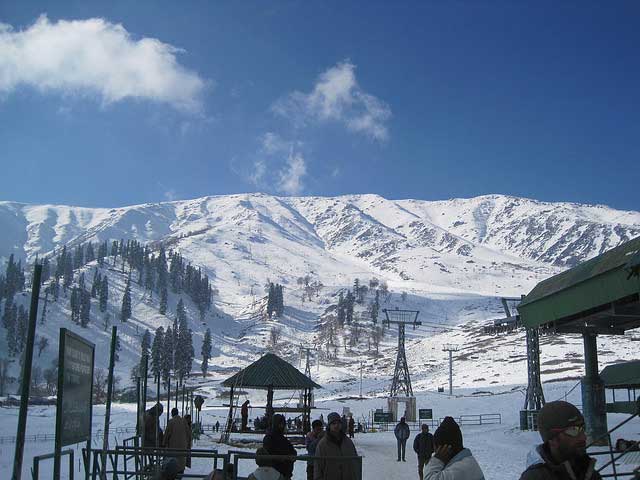 Image credit – fran-42, CC BY-SA 2.0
Located at an altitude of 13500 feet, Apharwat Peak is a destination that you cannot afford to miss on your Kashmir tour. It is 13 km from Gulmarg and it is very near the Line of Control between India and Pakistan. Gondola ride, the term referring to cable car system, lets you have breathtaking views of Himalayan peaks. You can go hiking until you reach the first phase and opt for gondola for going to the second phase.
Sinthan Top is one of the best places to visit in Kashmir. At 12000 feet above sea level, you are sure to be enthralled by some of the best landscapes in the snow-clad region. From the top, you will love the 360-degree view, which is snow all over. The fact that the place remains unexplored makes it all the more inviting.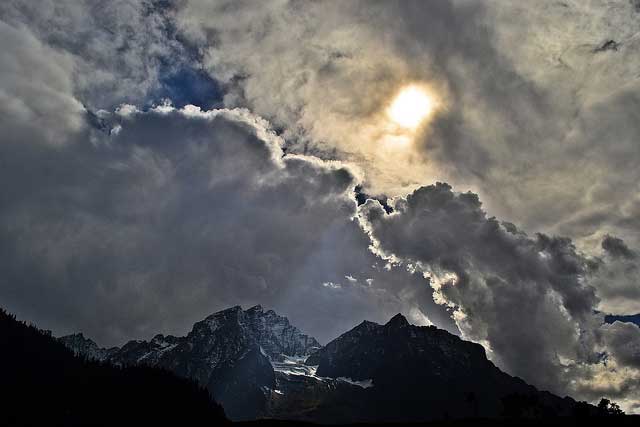 Image credit – Soumyadeep Paul, CC BY 2.0
Sonamarg is situated on Srinagar-Ladakh Highway and it is 80 km away from Srinagar. Sonamarg means 'Meadow of Gold' and it is named thus as the rays of the sun are reflected by the peaks making the entire valley sparkling bright. The mountain ranges here rank amongst the highest ranges in the world.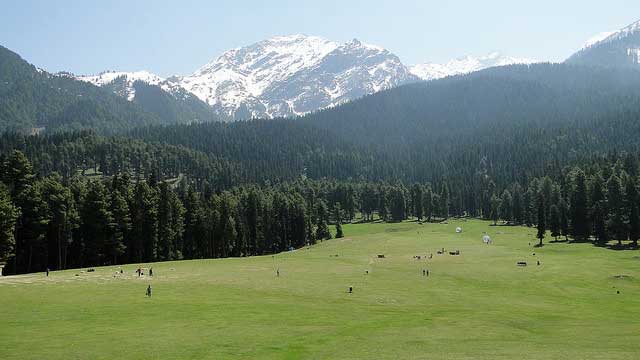 Image credit – Ankur P, CC BY-SA 2.0
Baisaran is one of the best places to visit in Kashmir. It justifies being called Mini Switzerland. You will find the land surrounded by dense pine forests and vast lush green meadows. The place offers a picturesque view of Pahalgam. It is a perfect place to unwind.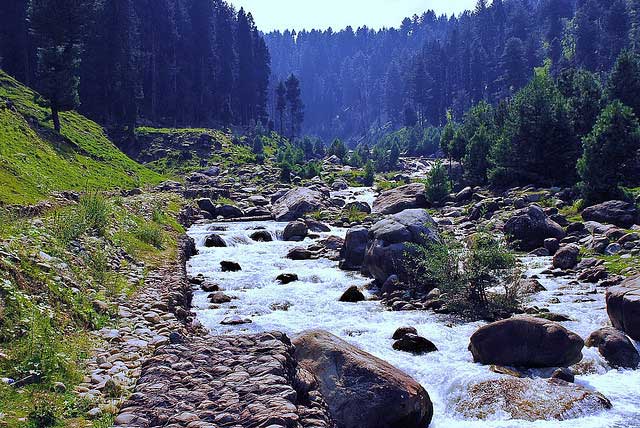 Image credit – Basharat Alam Shah, CC BY 2.0
Yousmarg is nearly 47 km from Srinagar. The divine beauty of the place is beyond words. Dense pine trees, grassy pastures with golden colored flowers and snow-clad mountains take you to a different world. Once here, take time to visit Doodhganga, a stream with steady flow of water.
Perfect Planning Goes a Long Way
The beauty of tourist places in Kashmir is unparalleled. Nature lovers and adventurers love the place for what it has to offer. Nature is always at its best when untouched. However, it is the adventurer in man takes pride in attempting to reach impossible heights. Scaling the peaks that are the highest in the world is undoubtedly a great achievement but judging the magnitude of nature eludes mankind and will continue to do so. The attempts, however, bring joy and a great sense of pleasure. Plan well to enjoy your tour to Kashmir so that you could make the most of your trip that offers a lifetime experience.