Gulmarg literally meaning "a field of flowers" is one of the few places in the world that possesses such an unearthly beauty. One trip to this place can make a person fall in love with the warm culture and immense beauty of Kashmir. This meadow of flowers and its people welcome tourists with open hearts and leave them with memories worth a lifetime.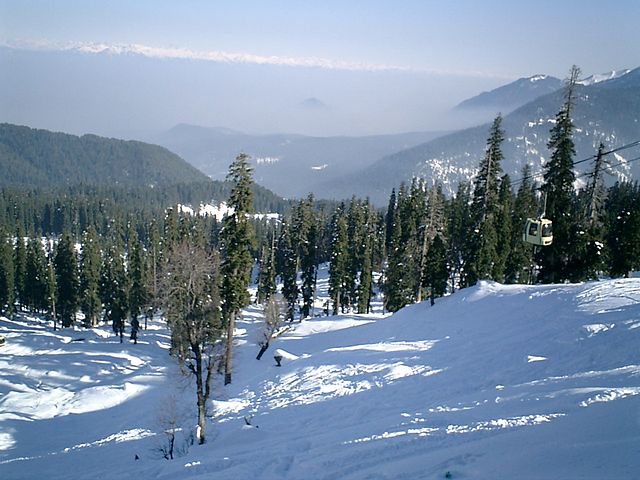 Climatic Conditions
Gulmarg being in the higher reaches generally has a cool climate and the average temperature ranges between 20.6 degrees Celsius in the peak of summer and as low as – 7.4 degrees Celsius in the peak of winter. This area experiences snowfall as well.
Best Time to Visit
The best time to visit Gulmarg is dependent on the kind of vacation the traveller seeks. This destination satiates every case of wanderlust, catering to varied types of travel activities. The months from March to June are the warmest months of the year, thus providing travellers an opportunity to enjoy activities that involve the natural greenery of the area. The months through October to February are the coldest months in Gulmarg and bring snowfall and extreme winters and are more suited to winter sports and such snow-related activities. The months through July to September bring in the monsoon, the monsoon here is relatively light and make for a pleasant climatic setting.
Attractions/Things To Do
Gulmarg has a host of attractions like trekking and nature walks to enjoy the natural greenery and fauna of the area. In the winter months one can enjoy winter sports like skiing and snowboarding. Gulmarg is also home to the highest cable car system in the world. The ride in the Gondola has an extremely picturesque view. Amongst other attractions Gulmarg has the famous Gulmarg Biosphere Reserve, the shrine dedicated to Baba Reshi, the sprawling Gulmarg golf course, Seven Springs and the Maharani Temple.
How To Reach
Air
The nearest airport to Gulmarg is Srinagar airport located at a distance of 56 kilometers.
Rail
The nearest railway station is situated at Jammu, which is located at a distance of 290 kilometers.
Road
One can travel by car as Kashmir is connected to other cities via National Highway 1-A, as well as within Kashmir by bus as Gulmarg is efficiently connected by bus routes to Srinagar as well as Sonmarg.
Distance From Major Cities
Srinangar: 56 kilometers
Jammu: 290 kilometers
New Delhi: 903 kilometers
Accessibility And Accommodation
There are regular flights to Srinagar as well as Jammu from all major cities, as well as regular trains to Jammu. One can go around Gulmarg in hired cars, which can be arranged by all hotels and guesthouses. Accommodation is easy to come by as there are a variety of hotels catering to every budget.