Indore is one of the largest and most modern cities in the state of Madhya Pradesh. It is also the most populous and an important educational hub. Indore has seen both Maratha Raj and British Raj reigns. There are various tourist attractions like Rajwada Palace, Maheshwar, Patalpani Water fall, Mandavghad, Indore Zoo and even Yeshwant Club.
Indore also offers many one day picnic and weekend getaways within its vicinity. Such places are frequented by families and groups of friends looking for some quality time and some peace from the busy city routine. The best among these are mentioned below.
1. Khajrana Ganesh Temple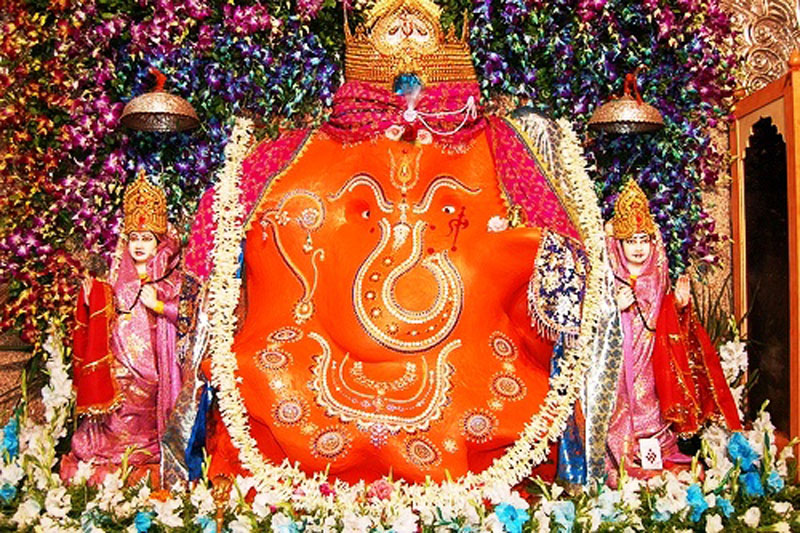 Located at a mere distance of 6 kms from Indore city, Khajrana Ganesh Mandir is an important religious pilgrimage site of Hindus. It is famous all over the world for having the largest Ganpati statue. When looked closely, it can be observed that the eyes of the deity are made of diamonds. It was constructed by Rani Ahalyabai Holkar, and now is under the care of the local government body, but managed by the Bhatt household. The major festival celebrated here is Vinayak Chaturthi, when hordes of devotees come here to celebrate and seek blessings of the deity. It is located in a calm and serene environment.
2. Indore Museum
Indore Museum is located at the outskirts of the main city and is also known as Central Museum. It was established in the year 1929. The two gigantic galleries of the museum house a wide range of artefacts, ranging from pre nomadic to post independence eras. The Parmar sculptures of Hinglajgarh, intricate ornaments, Jain sculptures, Shiva and Parvati statues, a rich royal door frame, stone tools and weapons, ancient coins and stamps, arms and ammunition are some notable things to see here. Historians, aspiring archaeologists and students spend a lot of time here.
3. Patal Pani Waterfall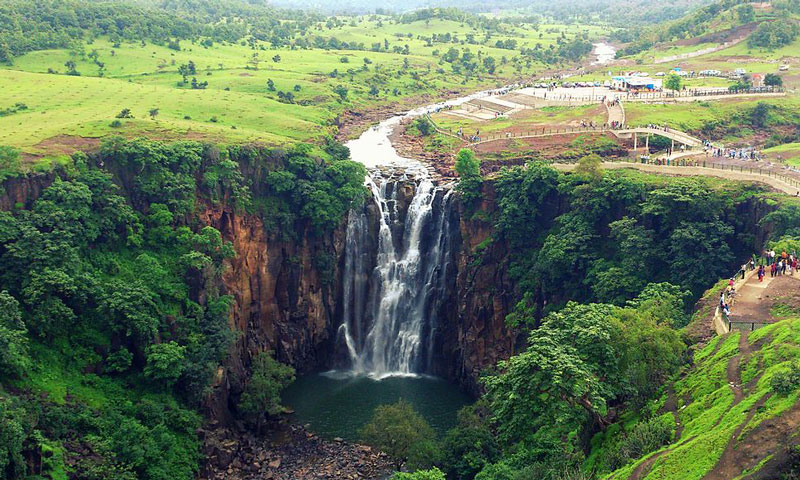 Situated at an hour's drive from Indore, this beautiful place makes a perfect one day picnic spot. The Patal Pani waterfall falls from a majestic height of 300 feet. The monsoon season is when the falls are at their mightiest, other times just reduced to a narrow stream. The word Patal Pani translates to 'Hell Water' in Hindi. Legend says that the pool which is formed at the base of the waterfall reaches the underworld, is as deep as that. The area around the waterfall also serves as a trekking route. In the year 2011, high monsoons raised the water levels, resulting in a flood. From 50 on spot tourists, 3 people were washed away in a mighty flow of water and died.
4. Meghdoot Upvan
This beautiful garden is one of the largest in the state of Madhya Pradesh and is located 15 minutes away from Indore city. Meghdoot Upvan is a popular and frequented tourist and picnic destination. Colourful flowers, lush trees, beautiful fountains, green lawns, lights at night, all add to the charm of the garden. It also has a Joggers' Track, which local people use for morning and evening walks and jogging. The entire park was renovated for the better in 2001, which led to its beautification.
5. Ahilya Fort
Located at Maheshwar, 91 kms from Indore, this historic fort was a main centre of handloom weaving from as early as the 5th century. Ahilya Fort is on the banks of the river Narmada and is surrounded by ghats. Maheshwar served as the capital of Malwa region under the rule of Maratha Holkars. In the latter part of 18th century, the Maratha queen Ahilya Devi Holkar constructed this fort, many temples and other public buildings. After 1818, Indore was made the capital. The fort now comprises of a heritage hotel and resort, consisting of 13 spacious rooms. The beauty of Maheshwar has inspired many filmmakers to shoot scenes from their movies here, the most famous among them being movies like Ashoka, Bajirao Mastani, Neerja, Yamla Pagla Deewana and other Tamil films.
Indore is host to many tourist destinations in and around. These getaways are necessary for the little peace and calm required after a busy week or month. So be with history, or God or just in the company of nature, there are a lot of options available.