Chanderi is a small town situated in the district of Ashoknagar in the state of Madhya Pradesh. It is an extremely beautiful place surrounded by lakes, hills and forests all around. Chanderi is well known all over India for its exclusive Chanderi Sarees and these are exported to other countries as well. There are ample places in Chanderi which are worth visiting when one makes a trip here. There top 5 places which are a must visit are:
1. Chanderi Fort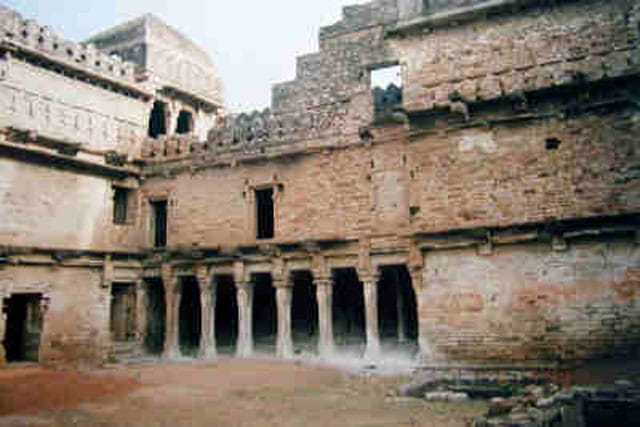 Situated at 71 metres above the city level over a hill, Chanderi Fort was constructed during the reign of the Mughals. It was originally built by king Kirti Pal in the 11th century but had to be rebuilt several times as it had faced multiple attacks. The Chanderi Fort has several tourist attractions within its premises like the Khilji Mosque, Hawa Paur, Naukhanda Palace and the tomb of Hazrath Abdul Rahman. The fort has three gates, the first being called as "Khooni Darwaza" while Hawa Paur is the third and highest gate of the fort. The fort gives an amazing view of the entire town below.
2. Badal Mahal Gate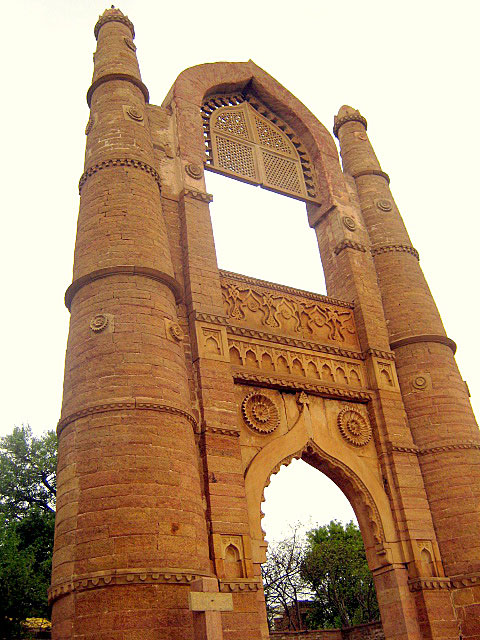 Badal Mahal Gate is a famous tourist spot in Chanderi and quite a unique place as well. It consists of only one tall gate without having any mahal or palace within it. Built in the 15th century, the Badal Mahal gate was constructed to celebrate an important victory in Chanderi's history. The gate has an arched entrance with two huge minarets on either side of the arch. The gate has been very skillfully carved with beautiful designs by very skilled craftsmen.
3. Jama Masjid
Jama Masjid was built in the 13th century by Ghiassudin Balban and is one of the most important and popular tourist attractions in Chanderi. It is a huge and magnificent structure and the largest mosque present in Bundelkhand. On the top of the mosque there are three huge domes built over the hall which give the mosque a very magnificent look.
4. Shehzadi Ka Rauza
Shehzadi Ka Rauza is the burial site of Mehrunnisa, the daughter of a governor and her lover who was the chief of the army. Mehrunnissa and her lover breathed their last at this particular place and were buried exactly at the same place. A fort and a pond was built around the resting place of both the lovers so that it could be out of reach of people.
5. Koshak Mahal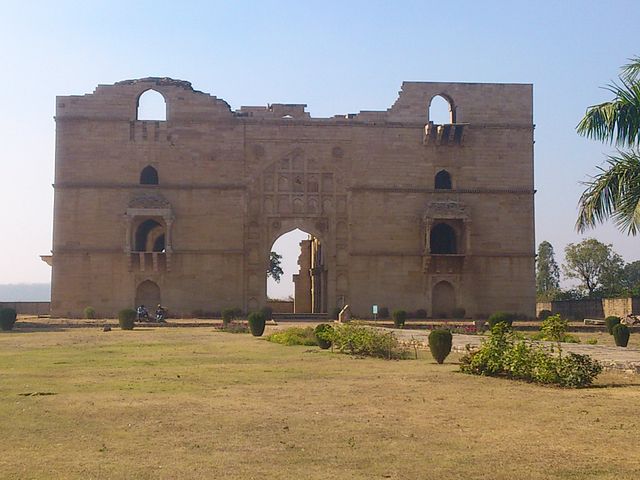 This monument was constructed by the Sultan of Malwa to commemorate a victory. Though they had initially planned to make a seven-storey structure but could complete only three storeis. Sultan Mehmood Sharki was defeated by Mehmud Shah Khilji in the battle of Kilpi. The Koshak Mahal was constructed by Mehmud Shah Khilji to celebrate his victory. The ceilings of the monument are embellished with beautiful designs and all the windows are carved with different designs. Standing on this structure one can get a wonderful view of the paddy fields lying across the monument. The stone used to construct this monument adds beauty to the structure and also created 2 man-made water bodies.
Chanderi is a beautiful place for someone who loves to get away for a short trip and enjoy the beauty of nature as well as historical monuments. A large number of temples are also present for those who wish to pay religious visit and offer prayers to their Gods. Chanderi sarees can also be bought for a less price when compared to buying it in city. A must visit place; Chanderi has much to offer to tourist who come to visit this land.
Other Major Tourist Destinations In Madhya Pradesh: