"The House of Slytherin shall I say, for all the rare reptilians found here at day!"
National Chambal Sanctuary spread across a sprawling landscape of 635 sq km, is a Tristate sanctuary lying in the states of Uttar Pradesh, Madhya Pradesh and also Rajasthan. The sanctuary supports the highest population of some critically endangered species such as the Gharial (crocodile), the red-crowned roof turtle and our national aquatic animal, the Gangetic dolphins. The sparkling waters of Chambal River circulate within this sanctuary through ravines and beside the hills, creating an impeccable view of the wild. Motor boats take the tourists around the sanctuary. Eco-tourism by foot is also possible, but it is recommended that you take a guide with you when traversing through the ravines.
[Also Checkout: Wildlife Sanctuaries in India]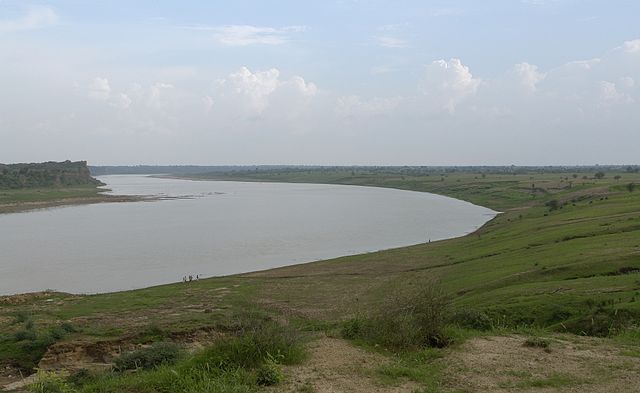 Climatic Conditions
Being part of the triple states, this sanctuary experiences wide variations in the climatic conditions. Temperature during summers stays around 25˚C to 35˚C with days being hot, while during winters, the temperature can fall in the range of 2˚C to 10˚C. The nights are colder in mid-December, sometimes even foggy.
Best Time to Visit
The best time to visit Chambal is during the months of November to March when the temperature isn't swinging between the extremities and you can witness a lot of migratory birds flying around.
Wildlife & Vegetation
1. Reptiles
As already mentioned, this place is a haven for the rare and endangered reptiles and other species as well. Efforts have been made for protection and breeding of crocodiles. The rare muggar crocodile and a huge population of gharials can be found in the crystal clear waters of Chambal river. The rare Gangetic dolphin also finds shelter in this place. You can also find marsh crocodiles, smooth coated otters, terrapins and many species of fishes as well.
2. Animals
Rhesus macaque, golden jackal, Jungle Cat, Indian flying fox, Langur etc are found here.
3. Birds
Chambal is also home to an enormous variety of avian species. The highest population of the Indian Skimmer in the world is found in Chambal. Bar headed-goose, Sarus Crane, Eagle, Greater and Lesser Flamingos, Red-crested Pochard, Indian Courser, Brahmini Duck, Common Teal, Cormorants, Pelicans etc are also found here.
4. Vegetation
The forest here mainly supports freshwater ecosystem to accommodate the reptiles such as crocodiles and turtles.
Distance From Nearby and Major Cities
Chambal is co-hosted by three states: Uttar Pradesh (UP), Madhya Pradesh (MP) & Rajasthan (RJ). It is connected to cities of Agra, New Delhi and many others as follows:
Etawah, UP: 67.4 km via NH 2
Mathura: 120 km
Bharatpur: 125 km
Gwalior, MP: 173 km via NH 92 and NH 2
Agra, UP: 188 km via NH 2
Morena, MP: 195 km via NH 92
Lucknow, UP: 211 km via NH 2
New Delhi: 378.5 km via Taj Express highway
Jaipur, RJ: 427.4 km via NH 11 and NH 2
How to Reach
By air: Nearest Airport is Agra.
By Rail: Nearest Railheads include Agra and Mathura.
By Road: Chambal is easily approachable via road from Agra. Agra is well connected to major cities like New Delhi via Yamuna Expressway.
Local Attractions
Parts of the Chambal Sanctuary fall in the city of Agra. Chambal is thus close to the Bharatpur Bird Sanctuary in Agra and one of the seven wonders of the world, the Taj Mahal. Other monuments nearby include the Fatehpur Sikri and Agra Fort. Chambal is also close to the ancient architectural wonder of Khajuraho temple in Madhya Pradesh. You can also pay a visit to the royal city of Jaipur, which is easily approachable by road.
Accommodation
The Chambal Safari lodge is a home away from home with decent facilities. The Safari Lodge is situated close to the aforementioned local attractions and also offers a ride on the river cruise!
Government maintained accommodations include the Forest Rest house and PWD Inspection Bungalow. Private hotels and resorts are available at Agra, Gwalior and Jaipur.
Entry Fee
Indians: Rs. 50
Foreign nationals: Rs. 600
Small Vehicles: Rs. 100
Mini Bus: Rs. 200
Large Vehicles: Rs. 400