"Look for the bare necessities; the simple bare necessities. Forget about your worries and your strife." -The Jungle Book.
And yes you shall indeed forget your worries in this paradise, residing in India's heart: Madhya Pradesh alongside the border of Maharashtra. Best of both worlds!
Lying amidst the Seoni and Chinndwara districts of Madhya Pradesh, this tropical deciduous teak forest derives its name from the Pench river gushing down all the way from north to south and dividing this piece of land into two. Nestled among beautiful valleys and hills, the park was elevated to the status of a National Park under 'Project Tiger.' Pench National Park is home to a vibrant diversity of flora and fauna. As you make your way through this forest, images of Mowgli might flash through, reviving memories of your childhood as the famous 'Jungle Book' by Rudyard Kipling is believed to be based in this forest. A walk through these woods is indeed a walk down the memory lane.
[Also Checkout: Top 5 National Parks in Madhya Pradesh]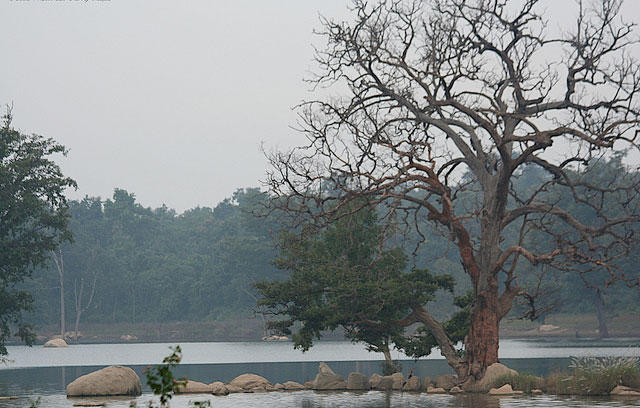 Climatic Conditions
Climatic conditions in Pench swing to the extremes from baking hot in May to chilly winters in December and heavy showers during July/August. Consequently, the temperature here ranges from 42˚C in May to 4˚C in December, while annual rainfall is around 1300 mm. The park is closed during the month of July and August due to rainfall. Due to the hot weather in May, the Pench River usually dries up.
Best Time to Visit
The best time to visit Pench National Park is between November and May for they say that the blossom season is during winters turning the forest into the magical woods of mystical beauty! Hear, hear ye photographers!
Wildlife & Vegetation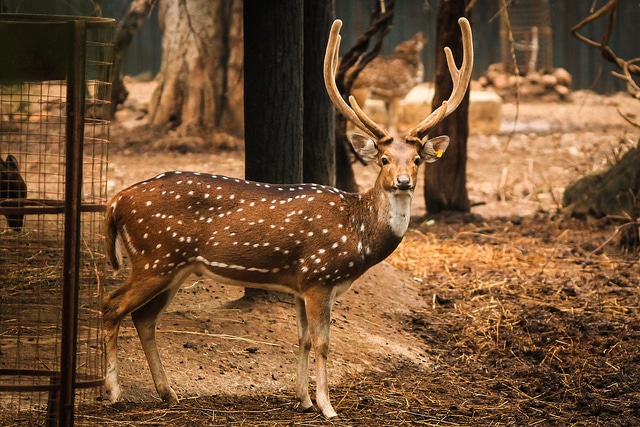 Photo by Spencer Wright, CC BY 2.0
Spread across an area of 757 square kilometres, the Pench National Park is home to an amazing variety of wildlife including the tigers, dogs, leopards, jackals, nilgai, fox, striped hyena, chital, sambar, gaur, langoor, cheetah etc all of which amounts to a population comprising of as many as 39 mammalian species, 13 species of reptiles and 3 amphibian species. The Pench national park is the 19th Project Tiger Reserve. The wildcat Tiger is the main cat species that can be found in this park. If you're lucky enough, you might be able to see a tiger or two of the 25 wildcats residing in these woods (According to 2011 Tiger Census). However, you could easily say hi to Chitals, Sambars, Nilgais, Wild boar or the Spotted deer.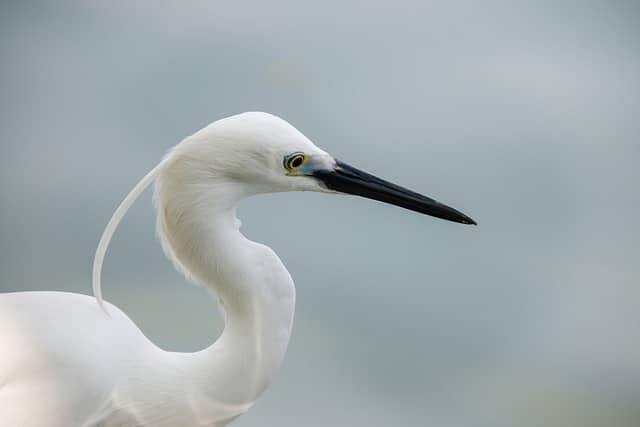 Photo by Frank Vassen, CC BY 2.0
Over 210 avian species including migratory birds such as peafowl, junglefowl, crimson-breasted barbet, egret, Brahmini Duck, Pochards, Barheaded Geese, Coots, Malabar Pied Hornbill and many more others can be found in the Pench National Park! Well, don't you forget to grab those binoculars!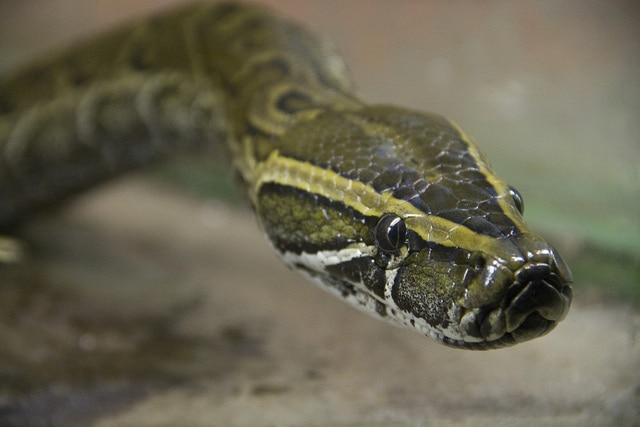 Photo by AleGranholm, CC BY 2.0
Common reptiles mostly include snakes such as Rat snake, Green vine snake, Russell's Viper, Indian Rock Python, Spectacled Cobra, Indian Gamma Snake and many others slithering their way across the woods and grasses of Pench!
While there is a huge variety of fauna here, flora doesn't lag behind! Over 1200 species of plants (including some rare, endangered species too!) adorn this area primarily composed of dry deciduous teak. Some magnificient species such as those of amaltas, saja, dhaora, salai etc can also be found. The landscape is covered lush green grass and shrubs. Amidst the open canopy and grassy patches lie the white kulu trees that seem to stand out among the greenery. Bamboo can also be found in some places. Such heterogeneity in vegetation supports the dynamic diversity of this park!
Distance From Nearby and Major Cities
The Pench National Park is connected to two major cities: Nagpur and Jabalpur. Nagpur lies at a distance of approximately 90kms from the Pench while, Jabalpur is 200 kms away. Both Nagpur and Jabalpur are well connected to major cities such as Delhi and Mumbai. Distance between Pench and some major cities is as follows:
• Nagpur: 167 kilometres via NH 7
• Jabalpur: 177 kilometres via NH 7
• Bhopal: 408 kilometres via NH 26/ NH 12
• Hyderabad: 662 kilometres via NH 7
• Lucknow: 676 kilometres via NH 7
• Jaipur: 966 kilometres via NH 26
• Delhi: 967 kilometres via NH 26
• Mumbai: 970 kilometres via SH207
• Chandigarh: 1216 kilometres via NH 26
• Kolkata: 1242 kilometres via AH 45
• Bangalore: 1254 kilometres via NH 7
How to Reach
• By Air: Nagpur airport is 88kms (2-3 hours) away from Pench via road. Jabalpur Airport is 200 kms away from Pench via road.
• By Rail: Nagpur Junction is the nearest railway station.
• By Road: Travel via NH no. 7 from Nagpur towards Pench. Distance: 88 kms.
Local Attractions
Pachdhar Village situated at a distance of 18 kms from the Pench offers a fascinating glimpse of village life with potters carving out wonderful pieces of art from lumps of mud. The Pench National Park is also connected to many more wildlife sanctuaries and national parks including Kanha National Park, Bandhavgarh National Park and Nagzira National Park. Tread on the paths to nature's wonders!
Accommodation
A number of hotels and resorts are available around Pench. These include: Tiger Corridor Resort, Pench Jungle Camp, Baghvan Wildlife Resorts, Tribal Camp Resort, Taj Hotel etc.
Other Useful Information
• Entry Fee: Rs. 15 (for Indians), Rs.150 (for Foriengers)
• Mini bus with guide: Rs. 150
• Visiting hours: 5.30 a.m to 6 p.m (Summers) and 8 am to 5 pm (Winters)
• Contact: +91-92127-77223
• Photography is allowed.
The Pench National Park with its breathtaking picturesque beauty and marvelous diversity is sure to dazzle you!