Pachmarhi Biosphere Reserve was established for the protection and preservation of wildlife in the year 1999 by the government of India. Located in Madhya Pradesh, Pachmarhi Biosphere Reserve is a prominent part of the Satpura Range. The entire sanctuary spans an area of 4926 square kilometers and encompasses three separate wildlife sanctuaries within its boundaries.
Out of the total 4926 kilometers, 500 square kilometers belong to Bori Sanctuary, 524 square kilometers belong to Satpura National Park and Pachmarhi Sanctuary covers an area of 461 square kilometers. Besides a multitude of flora and fauna, Pachmarhi Biosphere Reserve is also home to a collection of tribal population that inhabits the region. Pachmarhi Biosphere Reserve also carries archeological significance with numerous caves found in the area which are known to have been used by the local population during a time yet undetermined. Pachmarhi Biosphere Reserve is nourished by several water-bodies that exist in the forest area, fueling the dense greens. Rivers and streams flow throughout the land but Tawa reservoir is known to be the most prominent source of water in the region.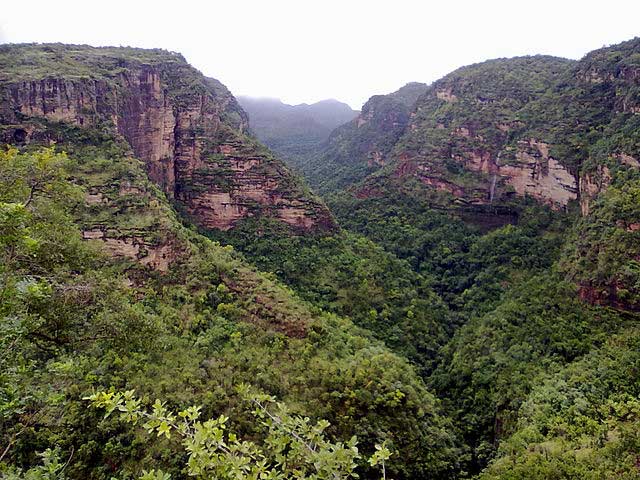 Climatic Conditions
The summers in Pachmarhi Biosphere Reserve are moderately warm with temperatures reaching to a maximum of 35 Degree Centigrade. The summer season usually starts during the month of May and lasts till July. The monsoon brings heavy rains between the months of July and September. The weather during this time of the year is humid while the mercury drops due to cooling of the surface. Foggy weather can be experienced at length and the wildlife receives nourishment for rejuvenation. Winters in Pachmarhi are cold and can touch below 4 Degree Centigrade at a minimum. The winter season usually lasts between November and February.
Best Time to Visit
Between the months of October and March is ideally the best time to visit Pachmarhi Biosphere Reserve. During this time, the weather turns pleasant and temperatures drop. Warm clothing is advised during the winter months.
Wildlife at Pachmarhi Biosphere Reserve
There are several species of birds, mammals and reptiles inhabiting Pachmarhi Biosphere Reserve. At one time, there were populations of Lions, Elephants and wild Buffalos found in the region. Now, however, fewer species are found but the remaining species have found themselves to be thriving due to the efforts of forest officials. Some of the important fauna found in Pachmarhi Biosphere Reserve are enlisted below.
Mammals
Panthers, tigers, wild boar, guars, barking deer, cheetal deer, rhesus macaque, otter, sambar deer, flying squirrel and giant squirrel
Reptile
Crocodiles lizards, geckos, skinks, snakes etc.
Birds
Honey buzzard, crested serpent eagles, black eagle, Malabar pied hornbill, vulture, paradise fly catcher and Malabar whistling thrush amongst others.
Distance from Nearby and Major Cities
Bhopal – 207 km
Nagpur – 258 km
Indore – 415 km
Agra – 701 km
Hyderabad – 758 km
Pune – 845 km
Mumbai – 904 km
Delhi – 911 km
Jaipur – 914 km
Kolkata – 1346 km
Bangalore – 1347 km
Chennai – 1388 km
Trivandrum – 2069 km
Nearest Airport
To reach Pachmarhi Biosphere Reserve via air, one has to de-board at Bhopal, which has the nearest airport. Bhopal airport has connectivity with most major cities and is located at a distance of around 200 kilometers from the reserve.
Nearest Railway Station
Pipriya railway station is at the closest proximity to Pachmarhi Biosphere Reserve at a distance of 47 kilometers. Taxis, busses and other public transports can be availed from the railway station till the reserve or nearby hotels.
Road Accessibility
The reserve is well connected by road. NH 19 passes through the center of Pachmarhi Biosphere Reserve and several other roads are made for tourists as well. The cantonment area is located nearby and there are several roads constructed for getting around.
Accommodation Facilities
There are several guest rooms available on rent in the town and market area. Several of them are reasonably priced and equipped with all amenities for comfortable lodging. Other higher end restaurants are situated around the reserve by Madhya Pradesh Tourism which is the best deals for tourists to opt for.