If you are planning a pilgrimage and would like to land in a destination that is a blend of religion, nature and rich culture, Nalbari in Assam could be the one that fits the bill. The land is famous for ancient temples, lush greenery and great culture. People from various parts of the world frequent this place to visit the famous temples and they are enthralled by the beauty of the place that has great expanse of paddy fields and dense forests where the rarest of animals live. Make Nalbari your holiday destination to visit the temples of the ancient times and enjoy the immense beauty of nature. Here are the leading nine places to visit in Nalbari.
1. Billeshwar Temple
Billeshwar Temple, dedicated to God Krishna, is over 500 years old. It is believed that a Shivalinga was unearthed in this place and hence it is interesting to note that a temple for Lord Krishna is constructed in this site. Legends state that a priest who lived here owned a cow, which regularly gave milk to virina, a grass type. The king of the state was intrigued about it and he ordered the place to be dug up to find a Shivalinga on the spot. Following the incident, a temple was constructed here but it was dedicated to Krishna. Ahom king and Lakshmi Singha rebuilt the temple, which faced the wrath of natural disaster.
2. Shripur Dewalay Mandir
Shripur Dewalay Mandir is believed to have been constructed by Sib Singha, an Ahom king. It is believed that a part of Goddess Parvati, when she was born on earth as Sati, fell here. Hence, the temple is dedicated to Goddess Parvati. The people celebrate Kali Puja and Durga Puja in this temple.
3. Basudeb Devalay
Basudeb Devalay belongs to the period between 1718 and 1744 AD. It was constructed by Sib Singha, an Ahom king. King Sib Singha's brother Sib Singha made his contribution by donating 64 bighas of land to Basudeb Devalay. The legend centering on the construction of this temple is interesting. It is believed that a fisherman of this region was unable to remove his fishing net from a pond for seven days. On 7th day, it is said that Lord Basudeb appeared in the dream of a local person and asked to be released from the net. Following this, the person went over to the pond to find two large stones. Since efforts to remove the stones by King Sib Singha failed, a temple was built by him at the site.
4. Hari Mandir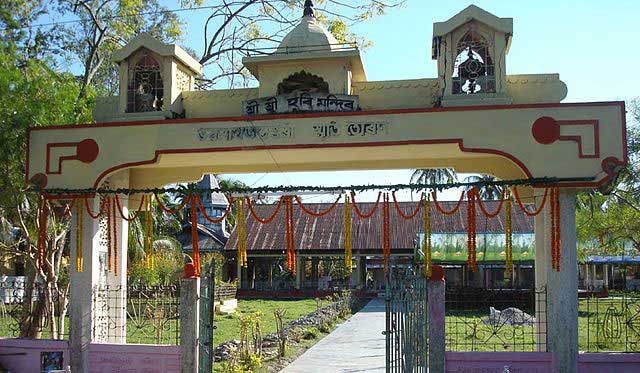 Hari Mandir was constructed in the year 1965. Dedicated to Lord Krishna, the temple is famous for the celebration of Ras Mahotsava Festival, which lasts up to 15 days. Devotees from various parts of India reach Hari Mandir to take part in the festival that is celebrated with grandeur. Rambahadur Pratap Narayan Choudhury had donated land to construct the temple.
5. Buddhist Temple
Buddhist Temple is located 30 km away from Nalbari. The temple was constructed by Nepalese and in the year 1965, it was initiated by Chhatra Singh. A new Gumba was constructed in the year 1971 by Chhatra Singh. The new Gumba earns a place among the biggest Gumba in Nalbari district. Devotees visit the place for annual Buddha Jayanti celebration.
6. Jaypal Than
Famously called as Kshudra Dingdingi, the temple Jaypal Than is located 13 km away from Nalbari's south. According to legend, Kapali, a cow discovered the temple. It is believed that the incident occurred during the rule of Sib Singha, Ahom king between 1718 and 1744. Following an earthquake, a major part of the temple was buried underground.
7. Sonkuriha
Sonkuriha has to be included in your itinerary if you love nature and watching birds. Migratory birds are seen here in great numbers. You will love your visit if you plan it during winter.
8. Fenguwa Rampart
Fenguwa Rampart earns its name after King Fenguwa who ruled the kingdom between 1350 and 1365. To ensure safety, he constructed a lengthy and broad wall, which is called Fenguwa Rampart. The fort here is of historical importance.
9. Daulashal Temple
Daulashal Temple is dedicated to Lord Krishna and his brother Balaram. It is situated at Nalbari district's south at a place called Daulashal. A huge temple was located near a canal in the early days. Since temple refers to doul and canal refers to khal in local language, the place was called Daulakhal, which later became Daulashal. The temple has been around for a long period and it has been witness to Mughal invasions in this part of the country.
Nalbari has many ancient temples. Apart from temples, the beauty of the place attracts tourists in great numbers. The sunset point in Nalbari offers spectacular views of sunset. Overall, Nalbari is a place, which attracts you not only with its rich culture and ancient temples but also with its scenic landscapes.
Also Checkout These Hot Destinations In Assam: