Hoollongapar Gibbon Sanctuary was segmented from the Hoollongapar Reserved forest in Jorhat district of Assam. In the year 1997, it was declared a separate protected reserve, having its name derived from the dominant species of trees in that region called Hollong or Dipterocarpus macrocarpus. The reason behind the uniqueness of this wildlife sanctuary is that it is home to India's only nocturnal primate, the Hoolock Gibbon. The Hoolock Gibbon can be found throughout the forest reserve in groups of two, one being male and the other female.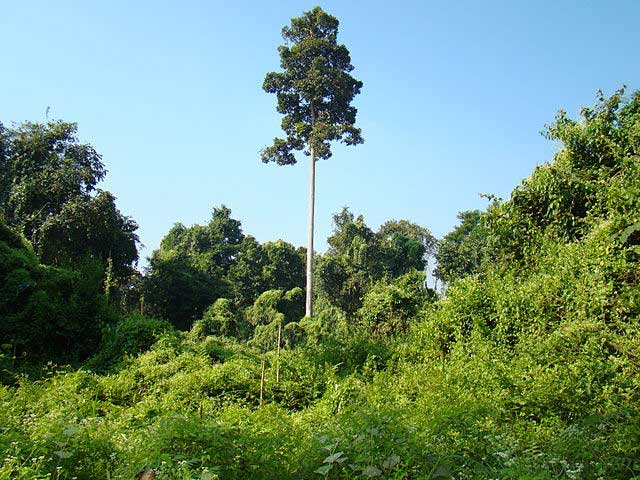 They are mostly monogamous and thrive in lush greens on top of the tree canopies. Hoollongapar Gibbon Sanctuary is set amidst a picturesque location, surrounded by tea gardens and small villages. The upper canopy of the forest comprises of the tall Hollong trees while the lower canopy is mostly dominated by Mesua Ferrea, a type of shrub found abundantly in the region. The total area coverage of Hoollongapar Gibbon Sanctuary is around thirty square kilometer and is located only twenty kilometers from the nearest town settlement.
Climatic Conditions
The climate in Jorhat is usually pleasant with temperatures ranging between fifteen to twenty eight degrees in the summer and around seven to eighteen degrees in the winters. It rains during the monsoon between July and September and the area receives heavy rainfall, nourishing the forest area. Monsoons make the park inaccessible at times with leeches thriving during the season.
Best Time to Visit
Hoollongapar Gibbon Sanctuary is best visited during the winter months as the climate is pleasant throughout the day. Humidity is at a minimum during the months between October and March. The summers are not very hot but there are chances of heavy sunlight and heat during noon.
Wildlife at Hoollongapar Gibbon Sanctuary
Animals
Hoollongapar covers only a short span of area but houses abundant wildlife. It has around seven to eight species of primates along with other mammals, reptiles and birds. Listed below are the lists of known species found in the region.
Mammals
Western hoolock gibbon, stump-tailed macaque, northern pig-tailed macaque, eastern Assamese macaque, Bengal slow loris, Indian rhesus macaque, capped langur, hog deer, sambar, porcupine, tiger, common leopard, jungle cat, large Indian civet, small Indian civet, common palm civet, himalayan giant squirrel, hoary-bellied squirrel, Indian elephant, marbled cat, leopard cat, common mongoose, common Indian mongoose, Indian fox, jackal, wild boar.
Reptiles
Indian rock python, cat snake, Indian cobra, common rat snake
Plants
There are a few hundred species of plants, shrubs and trees in Hoollongapar covering the entire expanse of the forest area. The dominant species of plants are the hoolong trees; however, there are other prominent species over the landscape as well. Some are listed below.
Ou tenga, amari, gahorisopa, borhamthuri, bandardima, bitachapa, bhelekor, chalmogra, bhelu, bon aam, bonpetha, borpat, nahor, holong, garjan, himolu, selleng, rudraksha, dewa sam, dhuna, amora, moj, arjun, halakh, kendu, sationa, sachi, cham kothal, kath badam, gamari, hingari, lemtem, paroli.
Distance from Nearby and Major Cities
Delhi – 2196 km
Mumbai – 2343 km
Bangalore – 2313 km
Bhopal – 1736 km
Chandigarh – 1775 km
Kolkata – 751 km
Guwahati – 255 km
Shilong – 265 km
Nearest Airport
It is not very difficult to reach Hoollongapar Gibbon Sanctuary from Jorhat. The main Jorhat City houses the nearest airport with connectivity till Kolkata and all major cities across India. The closest international airports to Jorhat are in Guwahati and Imphal.
Nearest Railway Station
The nearest railway station to Hoollongapar is the Meleng Railway station which is located on the periphery of the forest with its railway line passing through the sanctuary. Other than this, the Jorhat Town railway station is situated in the heart of the city.
Road Accessibility
Reaching Hoollongapar via road is also an option .NH 37 passes right through Jorhat and crosses NH1, intersecting at a few kilometers south from the Sanctuary. It is a destination worth a visit for every nature enthusiast and for everyone who seek to rejuvenate their mind and bask in the serenity of this place for a while.
Accommodation Facilities
There are many hotels and guest houses in the main city of Jorhat. It is possible to find accommodations on arrival as well as make pre-bookings through phone or internet. Taxis are readily available in the city, which go till the wildlife sanctuary. Once in the forest, special terrain vehicles are provided to visitors with a tour guide and an armed guard for safety of the passengers. It is optional to take up a room in the forest rest house where meals can be provided for as well.