Assam has a lot to offer to its tourists and one such leading attraction is Goalpara in Assam. Goalpara district is an excellent holiday destination thanks to its stunning landscapes, rich culture and ancient temples. If you are planning a pilgrimage or if you are seeking to go to a destination that lets you have a feel of wilderness and lets you stay close to nature, Goalpara could be right for you. Here is a list of leading 8 places to visit in Goalpara to experience the essence of its nature and culture.
1. Dadan Hill
The stunning landscape of Dadan Hill is sure to enthrall you. The spectacular views of the rivers and terrains attract nature lovers and pilgrims are attracted by the temple on top dedicated to Lord Shiva. Dadan, a general of Sonitpur's king Bana had built the temple. Legend goes that Bana had killed a wild elephant here as it disturbed him while on meditation. A rock form of the elephant is seen here. Trekkers and climbers would love visiting Dadan Hill.
2. Kumri Beel Lake
Kumri Beel Lake is yet another stunning display by nature in Goalpara. Situated 11 km from Goalpara, the lake is surrounded by dense forests and wide expanse of marshy land. Much to the delight of bird watchers, migratory birds are seen in large numbers. This natural lake offers boating facilities.
3. Urpad Beel Lake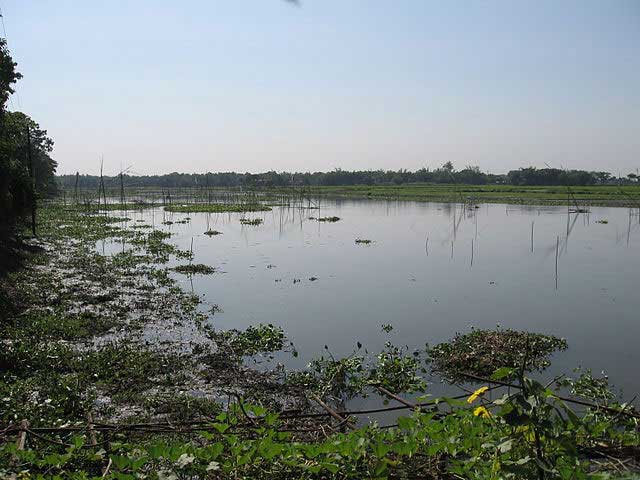 Urpad Beel Lake is yet another natural lake in Goalpara district. Ranked amongst the biggest lakes in lower Assam, Urpad Beel Lake supports the livelihood of the people in nearby villages with its rich natural resources. The lake abounds in fish. Some of the flowering plants that grow here include lotus, water lily and water hyacinth. The lake attracts migratory birds in great numbers.
4. Surya Pahar
Surya Pahar is a hill that attracts pilgrims as well as art lovers. Ruins of ancient temples are found in various parts of the hill. Sculptures representing three different religions namely, Hinduism, Jainism and Buddhism are seen here, which attract followers of all these faiths. Numerous Shivalingams are unearthed here. Monuments and stupas related to Jainism and Buddhism are visited by pilgrims on their tour to Goalpara.
5. Manas National Park And Wildlife Sanctuary
Manas National Park and Wildlife Sanctuary is one of the leading attractions of Goalpara. Declared World Heritage Site by UNESCO, the sanctuary is home to a wide range of animals including tiger, elephants, golden langur and pygmy hogs. You could go raft riding to view various animals. You would love the elephant rides and forest safaris that would unfold the beauty of the forest. Elephants are the most commonly seen animals in the sanctuary.
6. Nandeswar Devalaya
Nandeswar Devalaya, dedicated to God Shiva, is one amongst the ancient temples of Goalpara. It is considered a construction dating back to 10th century. It is built on Nandeswar Hill top. Various festivals celebrated here attract devotees from all parts of India.
7. Hulukunda Pahar
Yet another treat to nature lovers in Goalpara is the scenic Hulukunda Pahar. The hill offers spectacular views of Goalpara town and the majestic Brahmaputra river. The hill once housed SDO's office during British regime.
8. Pir Majhar
Pir Majhar is one of the religious sites in Goalpara. It is visited by Muslims and Hindus alike, who seek the blessings of Pir by offering candles and money. It is the tomb of Hazrat Sayed Abul Kasem Kharasani. Uros-Mubarak, Pir's death anniversary is observed every year. It is a must visit place as it stands proof of integrity between followers of two different faiths.
Religious sites in Goalpara are many and so are the places with natural beauty. Apart from the tourist places in Goalpara, you could find stunning destinations in nearby states that could easily be accessed from this part of India. Williamnagar is one such destination, which is a part of Meghalaya. If you are all set to have a great vacation, Goalpara could be your dream destination.
Other Major Tourist Destinations In Assam: