"The north-eastern skies above this island have witnessed some of the rarest of flights"
Dibru Saikhowa National Park is assimilated within an island bound by Brahmaputra and Lohit rivers along the periphery. It is situated 12 km from the town of Tinsukia in Assam, at an altitude of 118 metres above sea level. Spanning an area of 765 sq km, this sanctuary is one of the nineteen biodiversity hotspots in the world and is also a biosphere reserve. It is popular among bird watchers as it is an abode to and welcomes several extremely rare and endangered endemic and migratory birds. All through the woods, you can hear unusual yet beautiful echoes of these flying creatures, and if you're lucky you might even spot some!
Climatic Conditions
The climatic conditions at Dibru Saikhowa are of the tropical type with temperature staying within the limits of 7˚C to 34˚C. The summer season can be hot and wet with June, July & August being the hottest months, while winters remain just the opposite: cold & dry with December and January being the coldest. The months of June to September receive most of the rainfall with annual rainfall ranging between 2300 mm to 3800 mm.
Best Time To Visit
It is recommended that you plan your visit to Dibru Saikhowa around November to April as this is the best time to spot some of the rare migratory birds.
Wildlife & Vegetation
1. Animals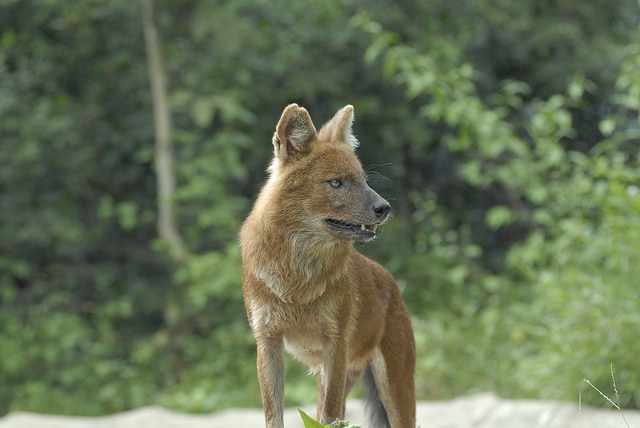 36 mammalian species have been found to reside in Dibru Saikhowa wildlife sanctuary. these include The Royal Bengal Tiger, Jungle Cat, Small Indian Civet, Sloth Bear, Dhole, Leopard, Elephant, Clouded Leopard, Slow Loris, Gangetic Dolphin, bright coloured wild horses known as feral Horses, Pig Tailed Macaque, Assamese Macaque, the rare and endangered Hoolock Gibbon, Capped Langur, Asian Elephant, Hog Deer, Malayan Giant Squirrel, Wild Boar And Sambar etc.
2. Reptiles
Dibru Saikhowa is known for housing a rich and diverse variety of herpetofauna which includes monitor lizards, turtles and snakes.
3. Birds
The list of birds found at Dibru Saikhowa is endless and unique. In fact, the park was primarily meant for conservation of White Winged Wood Duck. This place is the natural habitat of the bird. You can spot many other beautiful species including Marsh Babbler, Black-Breasted Parrot bill, Swamp Francolin, Purple Heron, Greater Spotted Eagle, Spot Billed Pelican, Large Whistling Teal, Ruby Cheeked Sunbird, Little Pied Flycatcher, Japanese Bush Warbler, Slenderbilled Vulture and so many more!
4. Vegetation
Dibru Saikhowa is situated at the flood plains of the Brahmaputra and Lohit rivers and consists mainly of moist mixed semi-evergreen forests, deciduous, littoral and swamp forests and grasslands. It is the largest salix swamp forest in north east India.
Distance From Nearby and Major Cities
Dibru Saikhowa lies near to the town of Tinsukia and Dibrugarh also known as Mohanbari. Distance from this and other major cities is as follows
• Tinsukia: 45 km via NH 713A
• Dibrugarh: 91 km via NH 713A
• Guwahati: 529 km via NH 713 A
• Manipur: 582 km via NH 713A
• Sikkim: 1059 km via NH 713 A
• Kolkata: 1577 km via NH 31
• Lucknow: 1834 km via NH 713A
• Delhi: 2393 km via NH 713A
How to Reach
• By air: Nearest airport is Dibrugarh/Mohanbari (40 km) from Tinsukia.
• By rail: Nearest railway station is Dibrugarh.
• By road: The town of Tinsukia is well connected to Dibrugarh via road. Buses are available on this route. Private taxis can also be hired.
Accommodation
Accommodation is not available inside the wildlife sanctuary as entry is closed before sunrise and after sunset. However hotels and resorts are available within the town. Here are a few options:
• Banashree Eco-camp – Brilliantly located. Basic amenities provided.
Guijan District, Tinsukia, Assam
Phone: +91 374 2237666; 2237419
Cell-phone: +91 9435335462; 995494940
email: banashree_eco@yahoo.com
• Mancotta Chang Bungalow, Dibrugarh – the lap of luxury.
Purvi Discovery (P) Ltd
Jalannagar, Dibrugarh 786 005
Assam, India
Phone : +91 373 2301120, 2300035
Email : purvi@sancharnet.in
Other Useful Information
• The park remains open during the months of November to April.
• Entry in the sanctuary requires permit.
• Entry in the sanctuary is closed before sunrise and after sunset.
• Picnicking and night halt is not permitted inside the park.
• Tourists can enter the park from Guijan Ghat or Saikhowa Ghat.
• A small motorised boat is available inside the park.