Ambala is one of the 21 districts of Haryana and is the administrative headquarters of the district. It's famous for its army cantonment, air force base and has a prominent railway junction. It is now winning popularity for its industries, scientific instruments and metal casting. It is well connected through rail, road and air and is the ideal spot to deluge you in simplicity and pleasing idleness. Below is the list of top five major tourist attractions of Ambala:
1. Rani Ka Talab
Rani Ka Talab is a 400 year old scenic and historic pond and is situated in Ambala Cant and is manned by the army. It is surrounded by Kailash Mandir and Indra Park for travellers to stroll around. Anand market, halwai bazaar, Indra market and the pond are also few of the places which are loved by travellers. Raja Ka Talab was also constructed along with Rani Ka Talab but now Raja Ka Talab has been carved out into a modern park known as Patel Park. During the British rule, it was called as Company Bagh.
2. Sisganj Gurudwara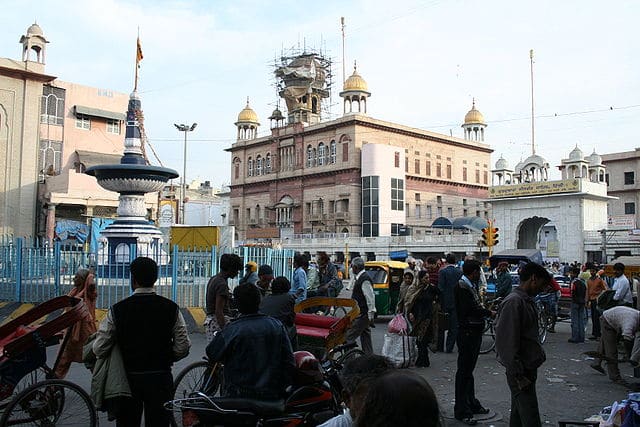 Devotees visit this shrine almost daily in large numbers and take dip in holy tank water. Sisganj Gurudwara is also known as Baoli Sahib. It was sanctified by Sri Guru Hargobind and Sri Guru Gobind Singh. It is 190 kilometres away from Delhi and is on National Highway 1. Guru Gobind Singh spent seven months of his childhood over here.
It has been erected near the famous Anandpur area of Haryana and has a large dome. It is one of the most significant gurudwara of Haryana. It is also known as the Badshahi Bagh of Haryana. It is believed that this gurudwara disciplines the Sikh followers from wrongdoings in accordance to the sermons of Guru Granth Sahib-the holy book of Sikhs. Guru Gobind Singh held a congregation at that place and now that place houses Guru's bed, weapons and utensils used in the langar. Devotees visit this gurudwara in large numbers in order to pay tribute to the tenth Guru.
3. Jain Mandir
Chintamani Sri Parshavnath Jain Mandir is one of the finest temples of Ambala. It was founded by Shri Vijay Inder Jain charitable trust. It is located near Halwai Bazaar, Ambala city. It is believed to house 2500 years old idols. It was established 150 years ago. Idols were excavated at Pinjore. The shrine consists of four idols of Jain deities. Chandra Prabhu is the biggest sculpture in the temple.
4. Holy Redeemer Church
Strong in faith, rejoicing in hope, burning with charity and on fire with zeal, the Holy Redeemer Church is ideal for worshipping and praising the Lord and his wonders. It was built under the British rule when troops of East India Company were posted from Karnal to Ambala. It is located on Lawrence road, Ambala.
The church once collapsed and was rebuilt in 1905. It consists of an altar of the old church and has huge towers, sturdy pillars and elevated Gothic roof. The ancient residence of a priest is used as a dispensary and reading room currently.
5. Hanuman Mandir
Hanuman Mandir was built 250 years ago. The artistic engravings and sculptures beautifully adorn the park. The artwork is much in tandem with the art of the Mughal School of painting. It is much frequented by pilgrims and is situated on the old Grand Trunk Road. Flocks of people visit this temple, especially on Tuesdays, Saturdays and Hanuman Jayanti (which is mostly marked in April every year). It is near the railway station of Ambala city and is also known as Shree Panchmukhi Hanuman Mandir.
Ambala is brimmed with roadside dhabas (local eateries), fine dining restaurants, cottages, Dharamshalas (inns) and hotels. The North Indian food cuisine offered over here is savoured scrumptiously by the travellers. It is indeed a great weekend getaway from nearby places like Delhi-NCR and hence, one must visit it in a lifetime.
More Tourist Destinations In Haryana: