Baikunthpur is a hamlet in the district of Koriya, Chattisgarh. This little town is situated on the river basins of Ganga and Mahanadi. A huge portion of the basin is drained by rivers, namely Teej, Hasdeo, Gobri and Gopad. The district also boasts of a rich wood cover. Trees like Khair, Mahua, Sal, Bamboo, Shisham, Gamhar, Tendu and a wide variety of others line the district. The town also witnesses a huge number of visitors during its national level football tournaments and its large-scale Durga Puja celebrations. Churcha, the primary coal mine in the area is a well-known tourist attraction. Here are the five popular places to visit in Baikunthpur.
1. Ramdhar Waterfall
Nestled among the banks of river Banas is the Ramdhara Waterfall. The height of this opulent water fall is estimated to range between 100 feet to 120 feet, while the girth is around 25 feet. The plush waterfalls are surrounded by dense woodland, and provide the nature enthusiasts with a panoramic view.
2. Gavar Ghat Waterfall
Positioned on river Hadso, this waterfall is about 60 feet high and 5 kilometers wide. Travelers who visit the Gavar Ghat Waterfall can also stop by another waterfall which situated about 5 kms away from this one in a village named Tarra. The banks of the waterfall also prove to be an excellent picnic spot with drizzling water drops and cool winds.
3. Amrit Dhara Waterfall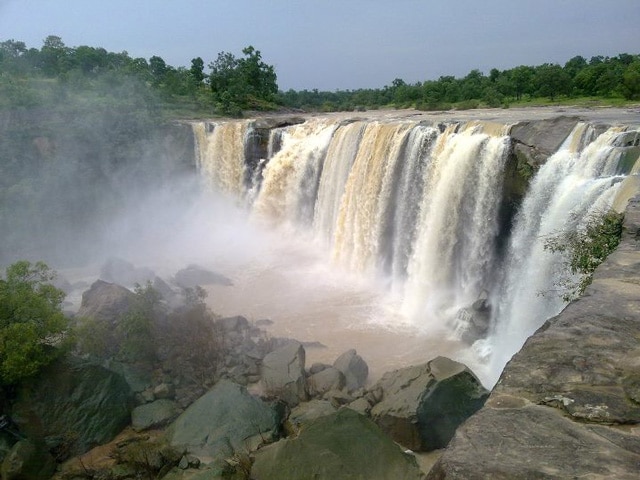 Amrit Dhara Waterfall is situated on the Baikunthpur-Manendragarh Road. It is located at a distance of about 7 km from Nagpur. Positioned at an altitude of about 90 ft, this waterfall is about 15 ft wide. The majestic waters attract a number of tourists around the year. The sight of the sprawling waters is one of sheer beauty and magnificence. Tourists who visit this spot tend to find peace and calm in the bounty of nature. Further, those who visit the waterfalls can also make a visit to the nearby temples devoted to Lord Siva. Subsequently, the area witnesses a huge crowd during the season of Maha Shivratri.
4. Manas Bhawan
Manas Bhawan is a state-run place which hoists most of the cultural activities and events in Baithunpur. Organised and supervised by the state government of Chattisgarh, this building is the venue for multiple conferences, lectures, festivals and activities.
5. Akuri Nala
Akuri Nala, also known as "the natural air conditioner of Koriya", is located at a distance of about 65 km from Baikanthpur. Nestled amidst boulders and lush foliage, this place is cool even during summers, hence the sobriquet.
The spot is covered by rocks upto 100 metres. This facilitates cycling and waking.
The town is well connected by air, rail and road and the suggested time to visit this magnificent place is during October, November, December and February.
Some More Tourist Destinations Of Chhattisgarh: