Baloda Bazar is a district in Chattisgarh, which came into existence on the first of January, 2012. It is believed that the district was named after 'bail' (bull), 'boda' (mule) and 'bazaar' (market). Obvious from the name, this place is famous for its cattle market, also known as the bhais parsa market. It is one of the most ancient settlements in the history of India. Baloda Bazar boasts of a number of eminent scholars, religious leaders and personalities such as Shaheed Veer Narayan Singh, Dharmadas Ji and Guru Baba Ghasidas.
This district is soaked in culture and heritage. Baloda Bazar showcases a variety of culture and practices. It has unique styles of dance, music as well as drama. Dewar Nacha, Raut Nacha, Padki, Pandwani, Panthi and Soowa are some of musical genres and dance dramas. Women and men, as they take part in these celebrations both flaunt vibrant and multi-hued dresses and ornaments. The district is also known for its cement industries like L&T cement, Lagarge cement, Ambuja cement etc. Here are five places to visit in Baloda Bazar.
1. Madku Dweep Island
This island is located on the calm waters of River Shivnath. It is situated at a distance of 80 km from Raipur. The Madkau Dweep Island is a spot for excavation. Coins, epigrams, ruins of temples and handicrafts from past ages have been ungrounded here. Archaeologists claim that they have been over 19 Shiva temples devoted to the God around these cluster of islands. The Island therefore, attracts a number of Hindu devotees. Other than this, the place is also boasts of a Christian Mela in the month of February. The island has lush and opulent surroundings, and is a famous tourist spot in Baloda Bazaar.
2. Giroudpuri Dham
This is a village located along the confluence of Jonk and Mahanadi rivers. Situated at a distance of about 80 km from Bilaspur, Giroudpuri Dham is a well-known pilgrimage spot in Chattisgarh. This place is known to be the birth land of Guru Ghasidas, the founder of Satnami Panth. A seat of this revered figure is installed at Giroudpuri Dham. People come in huge numbers from across the country to pay homage to Guru Ghasidas. People seek to unite with the divinity as they chant away in devotion- Jai Satnam Jai Satnam Jai Satnam.
3. Surang Tila Temple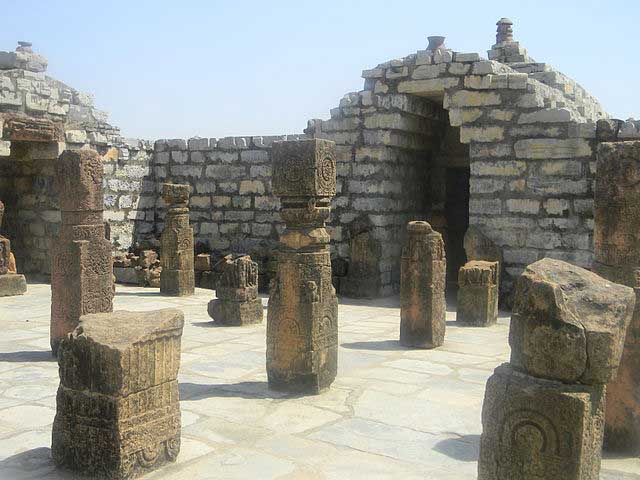 The Surang Tila Temple is illustrative of a unique and magnificent architectural craftsmanship. It is a massive tri-pyramidal structure constructed of opaque white stones. These pyramids are super-structured over platforms which are about 30-35 feet high. Above the platforms are multiple temples devoted to the Hindu God Shiva. The temple soaks you in its solitude and calm and then instils in you a renewed sense of vitality. The Surang Tila Temple is an ideal weekend getaway location for those who seek a break from the monotony of everyday existence. The place also attracts a number of photo fanatics and nature enthusiast.
4. Bethel Church
Bethel Church in Chattisgarh is believed to have been constructed by the Britishers over a hundred years ago during their brief stay in India. The church is constructed much in line with the many other churches in Britain or elsewhere. Bethel Church attracts a number of followers across the year. The chapel, with its intricate design fills the devotees with a sense of peace and joy.
5. Laxmana Mandir
The Laxmana Mandir is constructed on a raised platform. Constructed hundreds of years ago, this temple boasts of intricate craftsmanship and elegant interiors. This opulent and majestic temple is devoted to Lord Vishnu and witnesses hundreds of devotees from across the country. The temple is accessible on all days and is a perfect getaway for those who seek calm and tranquility amidst the hassles of everyday life.
Baloda Bazar therefore, is an ideal holiday destination for those who wish to soak themselves in rich history. The many temples and churches across the place ensure that you return with transformed souls, full of vigour and vitality.
Other Interesting Places In Chhattisgarh:
Top Tourist Places In Kanker