Tawang in Arunachal Pradesh is a typical beautiful little hill station. It has everything a hill station could possibly want to make it perfect. It has the tinkling flowing lakes, the white flecked hills, the quaint, calm, pretty monasteries and the gorgeous passes with tremendous geographical significance. All the beauty outside and chill would definitely make you want to sit back in the evenings inside your hotel, warm and gorging on spicy food, or maybe momos, I'm sure! The best time to visit Tawang would be from March to June each year, when summer visits the country to make a grand tour of it.
Months        
Conditions  
Our Recommendation
March to June
Summers are the perfect time to visit Tawang as the climate is most pleasant. You will enjoy Trekking and other tourist activities along with the sightseeing.
Popular Tourist Season

 

July to September
Monsoon is a good time to visit if you love rains. The city looks enchanting and the climate is also refreshing.
Ideal Time

 

November to February
Winter are harsh, but if you love snow then you should surely visit Tawang during this part of the year. January is the coldest month here.
Ideal Time

 
Summers in Tawang are the ideal time to be touring it. The summers are cooler in comparison to its climate at other times of the year, which makes it automatically cool and pleasant for other people to visit it. The weather is ideal for sightseeing, and you could go visit the numerous monasteries and lakes. Also, festivals colour and light up the place, especially around March. There are music festivals as well.
Monsoon in Tawang is not the most popular pick among tourists. There is not too much rainfall, but being located in the hills, there's always a chance that showers could cut communication, or make roads risky. Plus, there are no rains potent enough to beautify the surroundings further, and occasional rains may add a dampener to your sightseeing plans.
Winters in Tawang are sufficiently chilly, and it is highly advisable to carry good stocks of woollens. It is colder than the average Indian winter, but snowfall isn't too frequent. The sightseeing activity takes a hit, though, and this season is not as popular for tourism purposes as summer is.
How to Reach Tawang
Tawang can be reached by air through the closest Tezpur airport, but the distance between the two is such that you would have to take a taxi or other conveyance to a hotel. The railway station is also Tezpur, which offers trains to Tawang. The roads are connected to Tawang as well, and you could take buses that go to and fro very frequently between Tawang and places like Bomdila, Assam.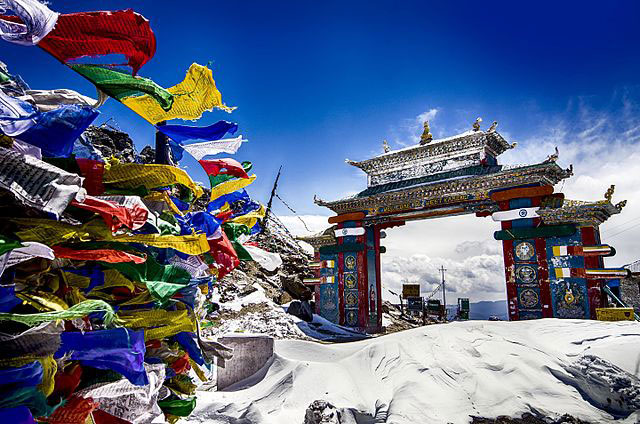 What to Do and See in Tawang
It is the premier tourist destination of the whole state of Arunachal Pradesh. It is of immense geographical significance, and as diverse as it is beautiful to look at. It is snow capped one season, and completely free from it the next! Also, it photographs beautifully.
Is for the culture lover and world explorer who would love to take a peek into Buddhism. The second largest monastery, it beautiful, rich in culture and should be on the must list of every visitor to Tawang. No disappointment.
These beautiful falls are another must see item of Tawang. It is magnificent, flowing right into the Tawang river, and also helps power generation wise, as it is a source for hydro power production.
This is another attraction for both nature enthusiasts, budding photographers and adventure seekers. While the views are magnificent and it photographs really well, the trek to the high above the world peak provides ample stimulation to trekkers through challenge.
Tawang offers a choice selection of diverse types of tourist destinations, and it is up to you to pick and choose. But for once, you really will be spoilt for choice. There are monasteries and lakes, falls and peaks, and just about everything that makes a hill station worth its salt. And it can satisfy every sort of tourist from the adventure junkie to the nature aficionado to the culture geek. Use this weather guide to plan ahead, cash in on season and make the most of your Tawang vacation. Happy sojourning in the hills to you!