Located in the Northwestern part of Arunachal Pradesh at an elevation of 10,000 feet above sea level, the Tawang Hill Station has much to offer any tourist who stops by here. Although it falls within the disputed land between India and China and shares its borders with Bhutan and Tibet, this hill station has the rich and vibrant culture and breathtaking natural beauty which is difficult to find anywhere else. Dotted with mountains, gorges, passes and majestic water bodies, this area is deeply religiously significant to the Buddhists, due to the presence of Tawang monastery, the second largest monastery in the world. It was here that the 6th Dalai Lama was born and here that the 14th Dalai Lama stayed initially after he had to flee Tibet. Tawang is a great learning center for Buddhist monks and the Dalai Lama visits this place often in order to hold a religious discourse.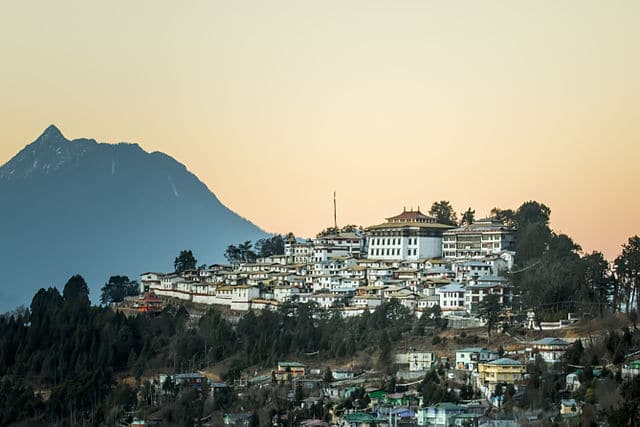 Climatic Conditions
Tawang faces moderate summers and harsh winters with a medium amount of rainfall. The summer months are from March to June and the temperature never goes beyond 25 degrees Celsius. During the monsoon months of July to September, the area experiences pleasant weather, low humidity and moderate rainfall. However, in the winter months, that is November to February, this area experiences harsh weather, with temperatures dropping to – 12 degrees Celsius.
Best Time to Visit
The best time to visit Tawang is during the spring and summer season, when the natural surroundings are in full bloom and the weather is mild and encourages exploration. The best months are March, April, May, June, September and October.
Attractions/ Things To Do
The picturesque beauty of Tawang can be observed in its rich culture and religious resonance. Tawang has a number of attractions that are uniquely awe striking and imprint themselves in the memories of tourists who visit here. Paradise Lake is a still freshwater lake that is surrounded by mountains. The water here is crystal clear and breezes are cold. A short distance from Paradise Lake is Sela Pass which is a popular tourist destination. The pass is covered in snow throughout the winter months. Tawang monastery is a sight to behold with its gigantic golden Buddha statue. The monastery holds deed religious significance amongst the locals and is a revered spiritual site. Gorsam Chorten is another religious structure that adds to Tawang's scenic appeal. It is the largest Stupa erected for the Buddhist religion and was built in the early 12th century. Gorsam Chorten has been visited by many scholars, holy men and tourists alike through the years. It still stands strong as it did through the ages.
How to Reach
Tawang is best accessed by road, going through the Sila Pass. However, air and rail connectivity is possible by the nearby town, Tezpur. The Salonibari Airport in Tezpur is a six-hour drive away from Tawang and is connected to all major cities across India, as is the Tezpur Railway Station, which is also well connected to all neighboring states and cities. While travelling by road to Tawang, one can hire the Arunachal Pradesh State Road Transport Corporation buses or a private bus or taxi service
Distance from Major Cities
Tezpur – 150 kilometers
Guwahati – 166 kilometers
Itanagar – 193 kilometers
Kolkata – 659 kilometers
Delhi – 1431 kilometers
Hyderabad – 1776 kilometers
Ahmedabad – 1995 kilometers
Chennai –2012 kilometers
Pune – 2091 kilometers
Mumbai – 2148 kilometers
Bangalore – 2198 kilometers
Accessibility and Accommodation
One may find luxury and budget hotels in and around the main city but many prefer to go for the more reasonable medium and budget accommodations. Popular hotels and lodges in this category in Tawag include the Hotel Gakyi Khang Zhang near D.C.Office, the Tawang Tourist Lodge, the Tawang Inn, the Hotel Pung Teng house, the Nefa Hotel and the Siddhartha Hotel in Nehru Market, the Buddha Hotel in Old Bazar Line and the Gorichen Hotel in Old Market.