Eaglenest Wildlife Sanctuary is located in the Himalayan foothills of West Kameng District of Arunachal Pradesh and stretches across 218 square kilometers. This scenic Sanctuary is perched at an altitude range of 500 meters to 3,250 meters and derives its name from the Red Eagle Division of the Indian Army, which was stationed in the area in the 1950's. This Sanctuary forms a part of the Kameng Elephant Reserve. This beautiful Sanctuary is home to some newly discovered and rare species. The picturesque hills and the mountainous wildlife are immensely captivating and take your breath away.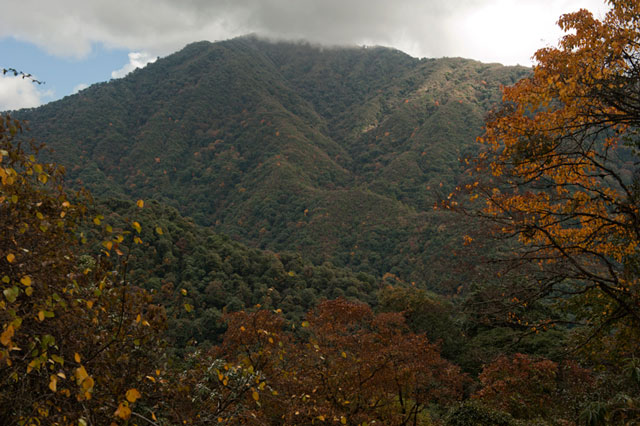 Climatic Conditions
The Eaglenest Wildlife Sanctuary has a subtropical climate and it receives plenty of rain in the month of April, due to the high altitude it even receives snow in the peak of the winter months. The temperature drops down to as low as zero degrees Celsius.
Best Time to Visit
The best time to visit the sanctuary is during the cooler months of October to April during which the weather is more conducive to travel and tourist activities.
Wildlife at the Eaglenest Wildlife Sanctuary
Eaglenest Wildlife Sanctuary has about 34 species of amphibians, 24 species of snakes, 7 species of lizards, 454 species of birds and 165 species of butterflies. The wildlife here is prolific, making it one of the most ecologically protected areas of the country.
Flora
The vegetation in the area is lowland evergreen forests, broad-leaved forest, bamboo, conifers, roadside scrubs and farmland.
Animals
The fauna found at the Sanctuary include Asian elephant, capped langur (endangered specie), Bengal tiger, red panda, gaur, Asiatic black bear Arunachal macaque, etc.
Birds
The Avians found at the Sanctuary include cormorants, Oriental white (black-headed) ibis, herons, kites, black stork, ducks, hawks, jungle fowl, eagles, harriers and vultures, falcons, pheasants, quail, and peafowl, black-necked crane, rails, plovers, dotterels, waders, stone-curlew, pigeons, cuckoos, owls, swifts, trogons, kingfishers, rollers, hoopoes, hornbills, broadbills, larks, martins, shrikes, bulbuls, nightjars, shrike, brown dipper, accentors, ibis bill, thrushes, lapwings, bee-eaters, Old World flycatchers, parrot bills, gulls, fairy-bluebirds, warblers, nuthatches, sunbirds, Oriental white-eye, pittas, bunting, finches, munia, sparrows, parrots, starlings, small pratincole, orioles, drongos, wagtails, barbets, woodpeckers, ashy wood swallow and jays.
Reptiles
The reptiles found in the Sanctuary include agamids, geckos and skinks. Abor Hill agama was rediscovered at the Sanctuary after 125 years.
Other rare species found here include the Darjeeling false-wolfsnake, Anderson's mountain lizard, common slug snake, Günther's kukri snake and keelback snakes
Butterflies
The butterflies found at the Sanctuary include grey admiral, Bhutan glory, scarce red-forester, tiger brown, jungle-queen sp, dusky labyrinth, white-edged bush-brown, and white owl.
Activities In the Sanctuary
The Sanctuary can be accessed on foot, bikes and motorcycles can also be used to explore the area. Usage of jeeps and cars is only permitted for a few months in the year and completely banned through the months of June till October.
Distance from Nearby and Major Cities
Bomdila– 50 kilometers
Nearest Airport –The nearest airport is at Tezpur, which has a good frequency of flights to and from Kolkata.
Nearest Railway Station –The nearest railway station is at Bhalukpong.
Road Accessibility – The Sanctuary is well connected by road to the Tawang – Tezpur road. There is a frequent bus and taxi service between Tawang, Itanagar and Tenga (Bomdila).
Accommodation Facilities
Accommodation in this area is available the Forest Rest House in Ramalingam and Public Works Department Inspection Bunglows are available at Dedza and Tenga. Alternate accommodation is available at Singchung, Bompu, Sessni, Kellong etc. in the form of Inspection Bunglows and GREF sheds.
Entry Fee
An Inner Line Permit is required for Indian nationals and a Restricted Area Permit is required for foreign nationals for entry into Arunachal Pradesh. This Permit can be obtained from the office of the Deputy Resident Commissioner. These permits are required at Bhalukpong. The Circle Officers at Tenga, Singchung, Bhalukpong or Bomdila can issue fresh permits for extension of stay, however this option is available only to Indian nationals.
Forest entry permits are issued by the Divisional Forest Officer.
Address: Pakke Tiger Reserve,
Seijusa. E. Kameng district,
Arunachal Pradesh.
Phone +91-3778-222229.
The Bugun tribe of Tenga and the Sherdukpen tribe of Rupa which lost their right over the Eaglenest Sanctuary area now charge an entry fee of Rs. 500 per day for foreign nationals and Rs. 100 for Indian nationals, which goes into the Bugun Welfare Society.