A tour to a place away from home is the time you regain your original self from the mechanical self that your hectic schedule had forced on you. While breaking away from routine could give you a great breather, a perfect destination could bring the best out of you on your holiday. Dirang is one such location that helps you enjoy, rediscover yourself and be inspired. Located in West Kameng district, this small hill station welcomes you with snow-capped mountains, gushing streams and lush greenery. Dirang is a perfect environment where you will feel at home away from home.
With the spectacular landscape pleasing your eyes and the pleasant weather comforting your body and soul, you could not expect a better place to stay on a holiday. The 5 places to visit in Dirang is a bonus for your stay at Dirang. Settle back and have a great time amidst scenic hills, roaring rivers and rich greenery everywhere around you.
1. National Research Centre On Yak
The National Research Centre on Yak is located amidst the Eastern Himalayan ranges. Founded by Indian Council of Agricultural Research, the center is responsible for conserving Indian Yak. The yak firm belonging to this centre is located 31 km away from Dirang. Researches on genetic resources and problems associated with yak production are conducted here. Improving yak and yak products are part of an agenda of the centre. National Research Centre on Yak is open for tourists' visits on permission.
2. Dirang Dzong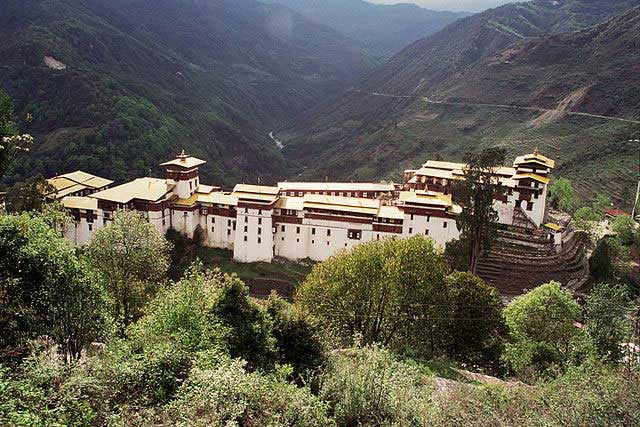 Dirang Dzong, which is a tribal area, is on the shores of Dirang River. The architecture of the tribal colony is stunning. Some of the houses are over 500 years old. The houses were built to sustain the hostile weather in the region. The foundation of these houses is of stone and the walls and roof are built of wood. Dzong, as the fort is referred to comprises this settlement and it inspires you with its architecture, which is an influence of Buddhist kingdoms. Though the fort is now in ruins, the ruins are proof of architectural excellence of the olden days. Views from Dirang Dzong are spectacular.
3. Hot Water Spring
Hot Water Spring is yet another favorite spot for tourists. Flowing from nearby hills, the Hot Water Spring falls into River Dirang. Rich in sulphur content and praised for its curative powers, Hot Water Spring attracts people in great numbers. The bath is particularly refreshing when you visit this place in winter.
4. Sangti Valley
Sangti Valley is situated 7 km away from Dirang. The location of Sangti Valley is beyond description. It is surrounded by Eastern Himalayan ranges and you will find this area rich in dense forests and rivers. Black-necked cranes migrate to this valley from China during the months of November and December and after the winter months are over, they set back to their homes during April and May. These birds are referred to as tung tung ka uk by the people of Sangti Valley.
5. Kalachakra Gompa
Kalachakra Gompa, which refers to a monastery, is located above Kalachakra, a village in Dirang. This monastery is over 500 years old. It is frequented by those who follow Buddhism as well as others who love the serene atmosphere.
Other attractions in Dirang include Regional Apple Nursery, Progeny Orchard and Kiwi Farms. If you travel further while on your stay at Dirang, you may visit Bomdila, which is a famous tourist destination. Tourist places in Dirang are not only picturesque but it also offers scope for trekking and bird watching. You would enjoy your stay at Dirang gaining a grasp of nature and its ways. Also check out other places to visit in Arunachal Pradesh to learn more.
Also Checkout These Hot Destinations In Arunachal Pradesh: