Visitor Information
Famous For: Water Falls, Hydro Electric Power Station
Entrance Fee: NIL
Visiting Time: 8 AM to 4 PM
Visiting Duration: Depends on how much time you want to spend there.
Shivanasamundra Falls are twin falls and are on the banks of the Kaveri Banks. The phenomenal site is very pleasant and soothing to the eyes. There is a power station here which is decades old. This place is the perfect getaway for a day from Bangalore. Smooth road, amazing views, and relaxation.
Traveler's Tips
Travelers should carry their snacks and mineral water to the place because for a good restaurant they will have to travel a bit far.
The balconies near the Barachukki falls are the safest haven for those interested in photography. Besides being safe, the place also gives the best angle to shot the beauty of the falls.
Generally, in the weekends, the place is overcrowded and stays in the limelight. So, if you want to spend some quality time here, alone then you must visit this place on weekdays.
Things to Do
There is not much to do in this place other than getting hypnotized by the overwhelming scenic beauty. Though there are some temples nearby which you can visit for the sake of religion or out of your love for ancient structure and customs. There are Shivanasumdram temple and Somnathpur temple.
Do visit both the viewpoints, that are, Bharachukki and Gaganchukki. There is also one infamous viewpoint in between and is named Dargah Viewpoint and this one is really important to capture.
Best Time to Visit
The waterfall is in its full strength in the monsoon season, that is, from June to September. Other seasons also see the waterfall but it is not in its full glory. If you are really in a mood to see some splendid scenic beauty around two falls surrounded by a more breathtaking valley, making it all more seductive and beautiful, then we recommend you to wait till the monsoon arrives.
How to Reach
This place is easily approachable by car. The road is smooth and is an easy drive from Mysore which is 65 km from Mandya and also from Bangalore which is 120 km far from this place.
Interesting Facts and Trivia about Shivanasamudra Falls
The Hydroelectric power station placed here is Asia's first hydroelectric plant and was set up in 1902.
There are two separate streams, western and eastern. The western one is known as Gaganchukki, whereas the eastern one is known is Barachukki.
The waterfall has made its way in the top 45 waterfalls all over the world and this is quite a huge achievement.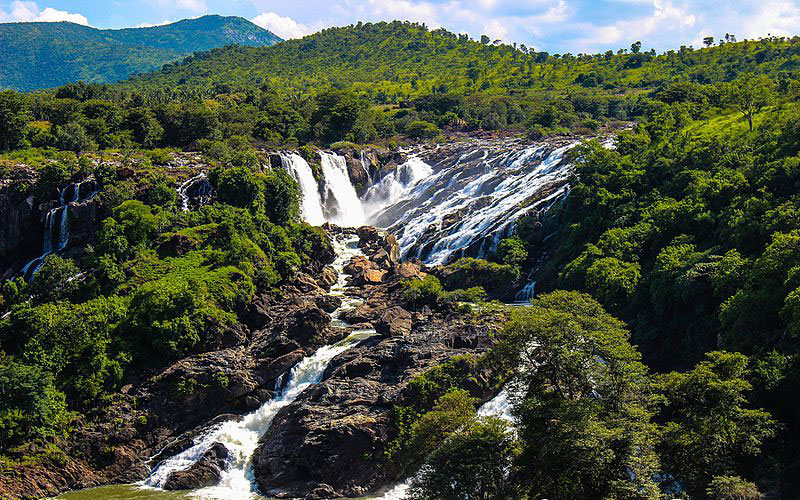 Nearby Attractions
Krishanaraj Sagar
Daria daulat bagh
Srirangpatam fort
Bheemeshwari Wildlife sanctuary
Karighatta temple
Tipu sultan museum
Saumya keshava temple
Basaralu temple
Shimsapura falls
Melkote temple wildlife sanctuary
Kokrebellu bird sanctuary
Tannur lake
Pancha pathi temple
Cauvery wildlife sanctuary
Nearby Restaurants
Upsouth
Hotel maurya
Vasudev adiga's
Subbana mess
Fish curry rice
Originating and making its way through the tough rocks of the Deccan plateau, this fall has truly come a hard and long way to provide us an opportunity to see and admire the beauty it flaunts and with this, adorns the whole of Mandya district. The place may be small but the experience you will get herrre   will surely be larger than life. Find your tranquility returning to your soul with the mesmerizing beauty you will be encountering.