Visitor Information
Famous For: Sightseeing, Photography, Boating, Musical Fountains, Experience Seeking and Wandering, Connoisseurs.
Entrance Fee: The fee for entry of adults into this arena is Rs 15 and for the kids upto 10 years of age, it is Rs 5.
Visiting Time: From 6 AM to 8 PM, the gardens are pretty much open throughout the day inviting the wanderers to get a whiff of fresh air anytime they want.
Visiting Duration: Between 2 to 3 hours is the average time of duration that you might spent here. But it totally depends upon personal interest, availability of time and taste.
Bordered between Mysore, Tumkur, Ramnagar and Hassan districts, is the Mandya District of Karnataka stocked with plump sweet sugarcanes and sweeter people. About 18kms away from the Mysore city, towards northwest, in this sweet land of Mandya is the sprawling, beautifully maintained Brindavan Gardens with its grassy green slopes and splurging fountains. Staged below the Kanambadi Dam and across the Cauvery river, they're are the best elucidation of irradiated terrace gardens which had been originally constructed under the reign of Krishanaraja Wodeyar, the King of Mysore.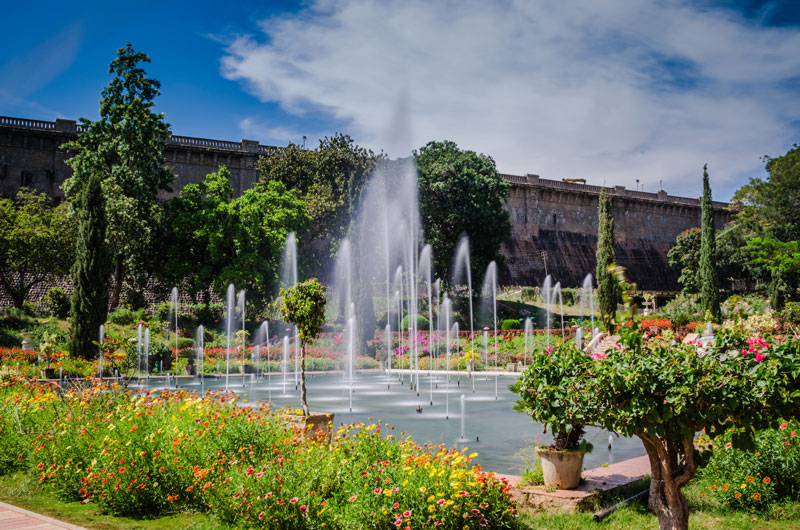 Traveler Tips
Topiary (cutting of bushes and hedges in the shape of animals), pergolas (pathways shadowed by creepers) and gazebos are especially noteworthy here and keep a look out for these.
If you are visiting with kids, don't worry there are various kinds of snacks and much-ons available inside the Garden too at different points.
Symmetric design of the park constructed with keeping in mind the Shalimar Gardens of Kashmir is a beautiful aspect here.
Most advisable tip is that do not visit the place during the swampy monsoon season or at the end of the day when fatigued from your traveling around the city as you won't be able to enjoy the beauty of the place at all and it'll be a waste.
Parking of vehicles is slightly disorganized and a bit of a problem here and so arrange your transportation likewise.
Avoid bringing along very old people as they will not be able to walk the expansive lawns and will get easily tired.
A bit too crowded at times so take care of your belongings and avoid after too dark.
Take ample amount of time in hand when visiting the place as else you wouldn't be able to explore the massive sprawling gardens.
Things to Do
Get your kids to the children's parks and watch them revel in joy across the lawns.
Kill some calories and a lot of negative vibes by walking along the well-maintained and beautiful garden paths that provide a breath of fresh air and a lot of magical aura.
There are musical fountains shows from 6:30pm to 7:30pm throughout the weekdays and from 6:30pm to 8:30pm on weekends. Laser light techniques and the sound work make it very appealing.
There is also a lake inside the garden which has boating facilities.
The Fisheries Station here will provide another fun way to spend your evening making your kids and yourself learn so much about fisheries and procuring it.
There is a rain shelter and a gallery near the musical fountains that makes your visit even more interesting.
Fruit orchards and horticulture farms will make the nature lover inside you go crazy. They're beautifully maintained and make for a good one time visit.
Hydraulic research station set up next to the dam, garners research students and tourists alike for learning and getting amused by the techniques used.
A sculpture of Goddess Cauvery rests here which definitely needs to be checked out because of its deft art.
The Krishnaraja Sagar Dam one level above these Gardens is also visited by most tourists coming here.
Availability of Guides
There are no guides available here, and it might get very crowded at times thus you might not be truly able to appreciate the Garden's details. Take along a localite if possible.
Best Time to Visit
Winters are by far the best time to visit the Brindavan Gardens.
How to Reach
First arrive at Mysore then take a cab or a bus to reach the Brindavan Gardens. Journey to Mysore through air is quite feasible with both Hyderabad and Coimbatore airports being close. Mysore is also connected by roadways to all major cities.
Interesting Facts and Trivia About the Brindavan Gardens
It took five years to complete this extravagant royal outing – from 1927 to 1932.
When you come visit here, you find the beautiful Cauvery flowing alongside, on whose banks it is built.
Krishnasagar Wodeyar is credited to having built this immensely large and popular tourist destination.
The Brindavan Gardens itself, garners near about a whopping 2 million tourists every year.
Digitization of the musical fountains and reconstruction of the damaged ones cost about 50 million, when the garden was revamped in the year 2005.
Department of Horticulture, Government of Karnataka has the ownership and it is responsible for the maintenance of the Gardens.
Ficus trees, and plants of celosia, marigold, bougainvilleas are found in abundance here.
Nearby Attractions
Kukkarahali Lake
Jaganmohan Palace
Mysore Sand Sculpture Museum
Philomena's Church
Lingabudi Lake

Nearby Restaurants
Sapphire
Rrr Mysore
Malgudi Cafe
Vinayaka Mylari
If you're looking for some peace and magic when in Mysore, your search ends here. Brindavan Gardens are calling.