The proud capital of Vijayanagara Empire stands in ruins, attracting tourists from all over, the world. Normally it would take at least two days to explore the place in detail. As an attempt to revive the past glory of Hinduism, the main attraction of Hampi is undoubtedly its copious temples; an effort that remained successful withstanding all challenges of time. Exploring this UNESCO World Heritage Site leaves you in awe of the ancient past.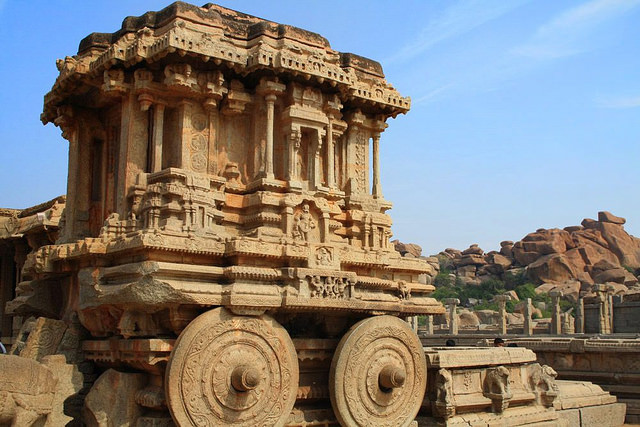 Months
Conditions
Our Recommendation
October to March
October is the festival season here, it's the best time to enjoy for all the history geeks as they can study and explore all the monuments and temples.
Popular Tourist Season
July to September
Monsoon season makes Hampi more beautiful, you will enjoy the scenic beauty as the climate is quite pleasant.
Ideal Time

 

April to July
It's hot and scorching here during summers, so it is less touristy.
Off Season

 
When to Visit Hampi And Why?
Hampi, experiences quite dry and scorching heat waves in the summer which extends from March to July. So, pack lots of water if you chart your Hampi trip during these months. Since you have to walk the place, in order to explore the temples and other monuments, you might tire out pretty easily.
The monsoon in Hampi is not so wet and is quite pleasant when compared to the heat of the summer. Since Hampi receives only an average rainfall, it is quite pleasant for sightseeing. Besides, the lush greenery of the surrounding areas blossom in the monsoon rains, adding to the beauty of the place.
Perhaps the most beautiful and pleasant time to visit Hampi is during the winter season. The climate is cool and since you have to walk for miles, you don't tend to tire easily. The cold might get as low as 15°C, but this is quite rare and even then, it is not so unbearable.
How to Reach Hampi?
The Hospet Railway Station is only a mere 13km away from Hampi. If you like to travel by air, then the Hubli Airport is 167 km away from Hampi if you take the Highway Road. In addition Belgaum Airport can also be accessed and is a five hour drive to Hampi. Both the airports and railway station are packed with cab and bus services which take you directly to the Heritage Site of Hampi.
Some Sights Not to Be Missed in Hampi
Since Hampi is a heritage site, it's more for the explorer who has a love for monuments and ancient relics. Hampi is famed for its rock climbing venue amidst scenic beauty and the dream of every rock climber. Hemakuta Hill, Matanga Hill, Tiruvengalantha, Malyavanta Raghunatha Temple offers you the best rock climbing experience in the country. It would be best for the adventurers to just slow down on this one. Even though Hampi gives you your normal excitements, the real thrill in Hampi is walking these temples halls and listening to their stories. So, make sure you have a local guide with you to give you all the background you need.
The cultural complex at Hampi is a first- hand experience with history and a one day walk around Hampi may not be enough to explore it fully. Among the numerous monuments in Hampi, these are some that you cannot miss at any cost.
Virupaksha Temple
Achutaraya Temple
Vittala Temple Complex
Lakshmi Narasimha Temple
Elephant Stables
Monolithic Bull
Stone Doors
Ugra Narasimha Statue
Kadalekalu
Archaeological Museum