Visitor's Information
Famous For: Street Shopping
Entrance Fee: Nil
Visiting Time: 6 AM to 11 PM
Visiting Duration: Depends on how much interested you are.
Hampi Bazaar in the Hampi village is a vibrant place filled with jewelleries, clothes and antiques. It was once the residential area of the nobles and one of the first open malls of our history. The hampi bazaar has many things to offer to its visitors. The ancient structures are bemusing and impeccable at the same time and they also are a famous location for all the on-going cultural activities. The locals here are largely dependent on this market as this is one of the main hubs for aesthetic and antiquely distinct traditional articles.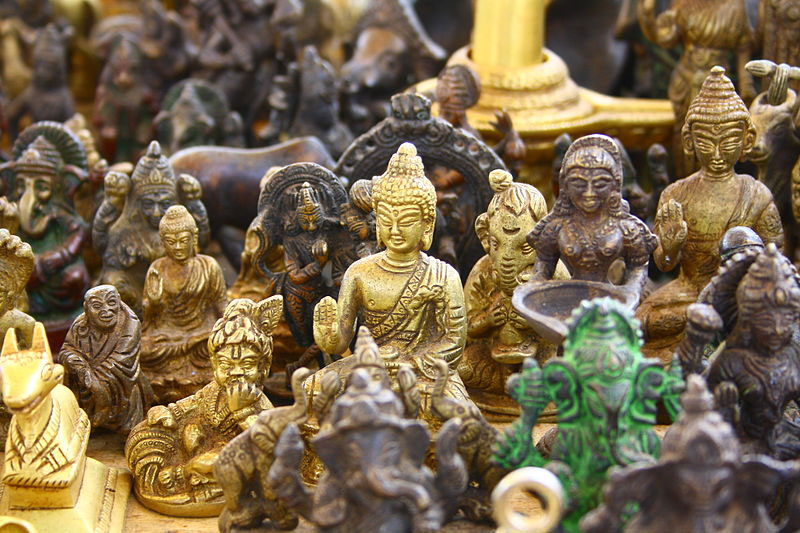 Traveler's Tips
First and the most important tip, there is no working ATM in Hampi. So, make sure you have enough of that currency notes stacked in your bag.
Whenever you go, make sure you see the sunset and sunrise. The view is phenomenal and even if you don't end up shopping, but watching this view, you won't regret.
Some of the pieces sold are local where as some are imported. So, if the seller says that the good is imported, it may happen to be true.
The locals are dependent on this market. So, if you are in a condition to help, do give them something extra to help them in their time of misery.
Things to Do
Sunrise and sunset are the two things you must witness while you are at this place.
What good is your coming to Hampi bazaar if you don't buy anything. Even if you are not interested in shopping, we recommend you to buy something, most probably the traditional jewellery set or the handmade wall décor. Absolutely anything of your choice, but definitely something from here.
And while you are here, you can also go on trekking. There is a hill nearby named Matanga and this is quite a place for undertaking the adventurous yet beautiful trek journey.
At the eastern corner of the bazaar, stands a bull. The bull named after the Lord Shiva's honest servant Nandi, is a home to a wonderful collection of art. There is a two storeyed display of art and photographs and there is no entry fee in there.
Best Time to Visit
The summers here are bit hotter, so the best time to visit this bazaar or market would be in the winter. The months starting from October till February would be an awesome time to visit this place.
How to Reach
The place is well accessible. The nearest airport is Hubli which is 150 km. from there you can take a taxi. Or you can reach by railway station. There are trains which run from Bangalore, Mysore and Karnataka to Hospet, the nearest railway station from where you will have to take a taxi or a bus.
There are also Karnataka State Road Transport Corporation buses plying from Bangalore, Mysore or Gokarna to Hospet and then from Hospet, you can take a local bus to reach Humpi.
Interesting Facts and Trivia About Hampi Bazaar
Back down in 14th century, Hampi used to be the capital of an empire named Vijayanagar.
There is a book written after the Vijayanagar empire by Robert Sewell. The title of the book goes by the name 'The Forgotten Empire'.
It is also known by the name 'Virupaksha Bazaar'.
The present-day Bazaar once used to be the place where the nobles of the Vijayanagar Empire resided.
The bazaar is over a stretch of 1000 m.
The place has been recognised by UNESCO World Heritage Site.
Nearby Attractions
Virupaksha temple
Monolith bull
Hazara rama temple
Queen's bath
Lakshmi narasimha temple
Hemakuta hill temples
Big shivlinga
Vithala temple
Mahanavmi dibba
Matanga Hill
Achyut raya temple
Nearby Restaurants
Mango tree
Golden paradise
Laughing Buddha restaurant
Shankaramma
The goan corner
Tom and jerry
Chill out restaurant
Durga roof top
All tribe's coffee shop
Ventakeshawara restaurant
Iceland
Getaway to Hampi would entirely be a different and amazing experience. Rocks rocks everywhere and every rock with a story, a story of a flourishing empire, the legends that conquered and the tragedy that brought it down. Hampi is the answer if you are a die-hard history or nature enthusiast and you are desperately craving for a place where you could find peace.