This is the fortified area within Vijaynagar, also known as the seat of Kings;  it spans across an area of approximately 14.58 acres, has various structures which are still standing. The enclosure has 3 entrances, 2 on the north and 1 on the west. The structures include Mahanavami Dibba or the Dassera Platform or the 'House of Victory' which is the tallest structure in the area, there are 2 main stairways to the top, the front one is highly decorated with carvings. The kings used this structure as a platform to watch various parades, ceremonies and performances.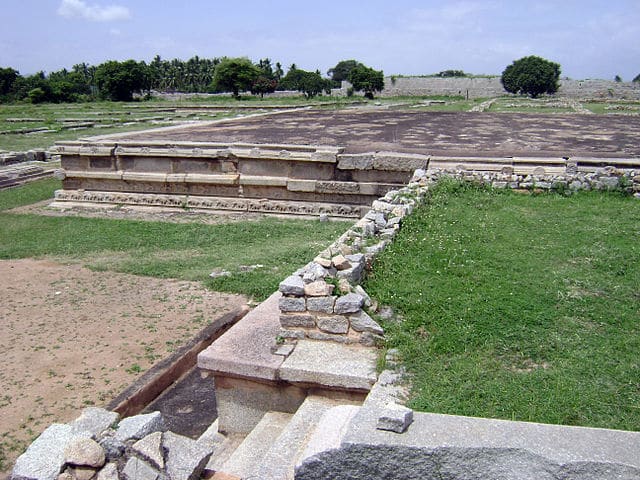 King's Audience Hall or the Durbar hall lies in the northwest corner of the royal enclosure, although the structure is not present a stairway suggests that it could have been a 2 storied structure, on the platform there are 100 sockets for pillars that once supported the structure thus giving it a pseudonym 'the 100 pillar hall', believed to be the place where the king listened to the public and their grievances. The Stepped tank which is about 22 sq meters wide and 7 meters deep, the tank has 5 tiers each of which have been fitted with steps in a very systematic pattern, this tank was probably used by the royalists and for various religious rituals.
The last important structure in the enclosure is the claustrophobic underground chamber which lies between the king's audience hall and the stepped tank, although the ceilings of some of the portions have collapsed you can take a walk in the narrow corridors and explore the rooms; this chamber was probably used as a treasury or a secret discussion room. Most of the structures are in ruins but many have now been restored by the archaeological survey of India.