Located in the centre of Hampi and also the highest point, Matunga Hill is a must visit site if you want a panoramic view of the town and especially Vijaynagar. The hill has a historical value for the Hindus as it is named after the sage Matanga who resided here according to the Hindu mythological epic, Ramayana. You can also visit the monolithic statue of the Nandi bull located here. The north part of the hill ends at the southern banks of the Tungabhadra River where the Kodanda Ram temple is located.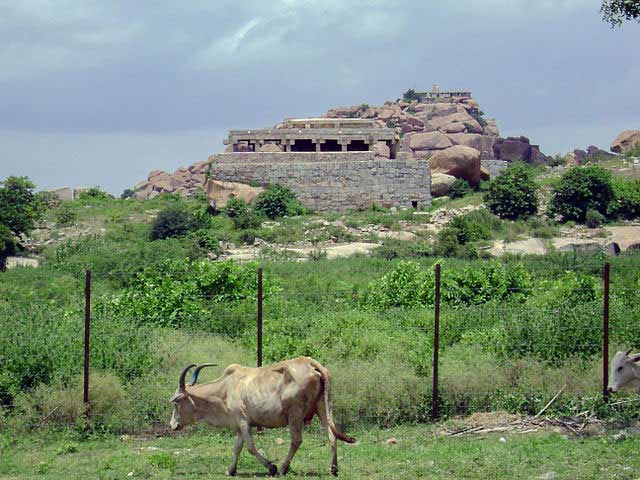 Image credit – Dr Murali Mohan Gurram, CC BY-SA 3.0
The peak of the hill is at its southern part and a trekking trail connects the Hampi bazaar with the Achyuta Raya's temple situated on the hill. At the topmost part of the hill is located, the Veerabhadra temple. The ascent can take about thirty minutes. The rooftop of the Veerabhadra Temple at the summit is the ideal place to view the sunrise and sunset of Hampi.
The view from the top is amazing especially from the eastern side where you can get an aerial view of the Achyuta Raya's Temple complex; at south, the cart trail and Turthu Canal winding through the banana plantations; at north the chain of hills and the river that flows along it's ridges; at west the Hampi settlement with the dominating tower of the Virupaksha Temple.