Visitor Information
Famous For: Hindu Temple, Astounding beaches, Breezy weather
Entrance Fee: There are no entry fees for the Temple. You don't have to pay a dime to enjoy the religious fervor and the presence of the Lord.
Visiting Time: It has a fixed schedule for temple timing. It is better to keep it in mind while visiting the temple. It is open on all the days of the week from 0600 – 2030 hours even on public holidays.
Visiting Duration: The Temple is not very large. One can easily visit the temple and take the Lord's blessings in around 1-2 hours. In case you want to perform any special ritual that could take a bit longer. Their exact duration can be enquired from the temple authorities.
Maha Ganpathi Temple is one of the bedazzling jewels of Gokarna. It is a very famous pilgrimage site and is visited by people from all over the country. Every year it attracts lakhs of footfalls in its compound. It is a very important religious site located in one of the most picturesque locations in India. All of this only adds on to the beauty of this Temple.
It is a very humbling place that triggers your inner calmness and serenity. This place is s must visit for not only the religious but also for the people who want some calm and quiet.
Traveler Tips
Understand the local customs before visiting this place. You should not hurt other people's religious sentiments in sheer ignorance. It is better to enquire about it from the temple authorities.
The Temple has a very strict dress code for the visitors. You are supposed to wear decent clothes.
Photography is strictly not allowed inside. In fact, you will not find many pictures online either for this same reason.
You are not supposed to make unnecessary noise inside. It is insisted that you finish your worship in a calm and composed manner.
Carry hats and water bottles to keep yourself protected from the hot afternoons.
Things to Do
Seek the blessings of Lord Ganpathi, one of the most famed and loved Hindu Gods.
Marvel at the intricate carvings and beautiful structures of the Temple.
Take a walk along the shoreline and feel the lofty breeze.
Join in the celebration of Shivarthri which is celebrated with a lot of enthusiasm.
Availability of Guides
You don't need a guide to find your way in the temple. The directions in the temple are quite self- explanatory. It is very easy to navigate and the temple authorities are always there to help. You can always ask the temple pundits about the legends that surround this beautiful place.
Best Time to Visit
The weather at Gokarna is quite pleasant all year round. But the summers can get pretty hot and humid since it is a coastal city. The best time to visit the Temple would be between August – December. The weather is hardly a debacle in visiting the Temple.
How to Reach
Gokarna is well connected to Bangalore by railways and roadways. You will find regular trains to take you from the major cities to Gokarna.
For commute inside the city of Gokarna, there is a dedicated bus service and various private cab operators. You can also rent scooters and cars for your personal comfort.
Interesting Facts and Trivia about Maha Ganpathy Temple
There are many interesting stories behind the origins of the temple. According to one, King Ravana was carrying back a Shiva lingam given to him by Lord Shiva himself because of his penance. On the way Ravana gets tricked by Lord Ganapathy into dropping the lingam. The lingam stays stuck and is now the Mahabaleshwara Temple. And to honor Lord Ganesha, the Maha Ganpathy Temple was built.
The temple is built on the basis of Dravidian architecture. It has many towering spires and various idols carved inside the temple. It is an enchanting sight to see. A lot of it is made out of granite blocks.
The Ganapathy idol in the Temple is a very unique, because of its standing pose. Standing tall at five feet, the idol is carved out of granite. It also has a hole on the back of the head, signifying the blow inflicted by King Ravana after being tricked.
According to legend, because of Lord Ganpathy's help in preventing the lingam to reach Lanka, he is supposed to be worshipped first before going to any other temple.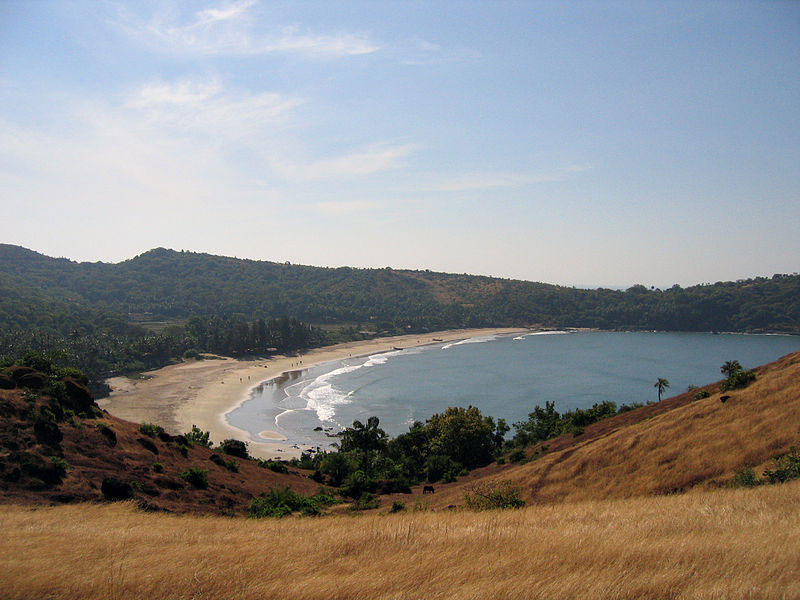 Nearby Attractions
Mahabaleshwar Temple
Kudle Beach
Half Moon Beach
Cocopelli Surf School
Om Beach
Mirjan Fort
Arya Durga Temple
Nirvana Beach
Nearby Place to Eat
Café 1987
Surya Café
Mantra Cafe
Chez Christophe
Prema
Namaste Café
Little paradise Inn
Prakruti Café
Maha Ganpathy Temple is a very crucial place of visit in Gokarna. A lot of people begin their journey from that place. There is a lot to be learned from our past history which is so enriched with our unique culture.
Your kids might think that temples are boring but they are a treasure trove of our age-old traditions and legends. This makes it a must visit place the next time you are in Gokarna.