Visitor Information
Famous For- Sightseeing, Hindu pilgrimage, Indian mythology, wildlife tourism, trekking, and photography
Entrance Fee- Entry charges are 20 INR per head including children.
Visiting Time- It remains open to visitors and trekkers from 8AM until 6PM, all days of year (including Public Holidays).
Visit Duration- You will need up to 3 hours to reach and explore it, starting from the parking area.
This magnificent cascading waterfall is located at Brahmagiri Mountains in Coorg district of Karnataka. It is popularly named as Lakshmana Tirtha Falls as it descends from river Lakshmana Tirtha. Dense forests, teeming with wildlife, surround this site and provide a cool ambience.  Interestingly, its pristine white-water gushes down in several steps from an impressive height of 170 feet. This photogenic cascade is one of the most famous tourist hotspots and religious sites in Karnataka.
Facilities Available
Food and bottled water available for purchase
Public restrooms and washrooms
Seating arrangements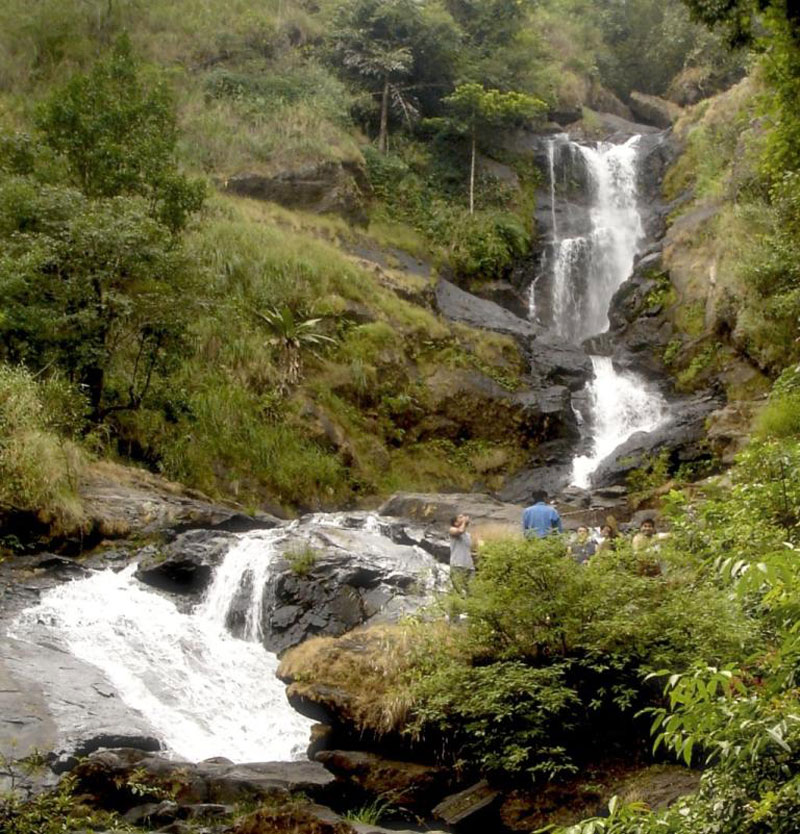 Traveler Tips
Refrain from polluting and littering this picturesque locale.
Wear weather-appropriate clothes and apply insect-repellents on your body.
Obtain legal official permit before going on a trek, beyond.
Take care of your personal belongings.
Ensure personal safety while playing with water under the waterfall or below.
Follow the rules, regulations, and directions mentioned, here.
Things to Do
Take stunning selfies and make beautiful videos to capture the natural beauty of the roaring Falls and surrounding locales.
Enjoy a fun-filled picnic on the nearby lush green fields, with your loved ones.
Stand under its cascading cool water or have a simple swim in the fast moving stream, below.
Watch the antics of different monkeys and colorful plumage of numerous birds that reside on neighboring trees.
Visit the river-side Rajeshwara temple and seek blessings of its deity, Lord Shiva.
Buy refreshments, snacks, or beverages from the onsite canteen that sells only local vegetarian cuisine.
Embark on a trek to nearby Narimale Forest Camp and Brahmagiri Peak. However, you will need a prior authorization from Karnataka Forest Department.
Availability of Guides
You can get a guide on the spot. Volunteers are available to assist visitors with their queries.
Best Time to Visit
Monsoon and winter months of August until January are ideal for making a memorable trip to this mesmerizing waterfall. However, festive months of September, October, and November witness large number of visitors to it, every year.
How to Reach
Mysore Junction (110km) is the closest railway station whereas Calicut Airport (146km) and Mysore Airport (113km) are the nearest airports to this site. Several important towns are well-connected to it via roads, namely, Srimangala (10km), Gonikoppal (32km), Virajpet (48km), and Madikeri (80km). Rent a cab, jeep or bus to arrive at its parking lot. From there, walk through the forest road to reach the famed destination.
Interesting Facts and Trivia About the Waterfall
It is a rainfed, freshwater waterfall and reduces to a slow stream of river water during summer.
Karnataka Forest Department looks after the construction and maintenance of concrete steps, viewing decks, and visitor seats at the Falls.
According to sacred purana 'Ramayan', Lakshman drove an arrow into Brahmagiri grounds to create a river stream to quench Lord Rama's and his thirst. This river was named as Lakshmana Tirth river.
Another legend states that, Lord Rama installed the holy Shivaling with his own hands.
Hundreds of Hindu devotees come here to drench themselves in its cold water, after visiting the nearby temple, during the grand festival of Shivaratri. It is believed that its water washes away a person's sins.
Rare monkey species, such as, Nilgiri langur, Slender Loris, and lion tailed macaque are found in abundance here.
It is home to the endangered butterfly species named Malabar Blue Bandit.
Nearby Attractions
Narimale Forest Camp
Brahmagiri Wildlife Sanctuary
Brahmagiri Peak
Abbey Falls
Jog Falls
Nagarhole Wildlife Park
Thirunelli Temple
Pakshipathalam Bird Sanctuary
Nearby Restaurants
PPM Restaurant
Pristine Vacation Homes
Iruppu waterfall is an ideal destination for, both, nature lovers and holidaymakers. Undoubtedly, you get a chance to marvel at the beauty of Mother Nature, gaze at wildlife in their natural habitats, and escape from the hustle bustle of city life for some time.