Visitor Information
Famous For: Elephant conservation, wildlife safari, photography, adventure sports, family trip, educational tour, bird watching, and wildlife research
Entrance Fee: Boat transportation to the main camp costs 20 INR per head.
Elephant Fun Activities: 800 INR (for Indians), 1437 INR (for foreigners); this package includes interactive sessions with tamed elephants and rides.
Day Stay: 1447 INR (for Indians), 1690 INR (for foreigners); it includes food, coracle boat ride, elephant rides, and camera charges. Taxes are extra, as applicable.
Visiting Hours:30AM till 11AM and 4.30PM till 5.30PM (including 1 hour of elephant ride)
Visit Duration: Approximately 3 hours are needed for its complete exploration.
Overview
Dubare Elephant Camp is an elephant conservatory-cum-training camp, located in Coorg/Kodagu district of Karnataka and 15km from the mainland of Kushalnagar. This delta island is naturally created by Cauvery River and is surrounded by lush-green thick forest. The Forest Department of Karnataka oversees the administration of this wildlife center. It is home to the famous Asiatic Black Elephants.
Guest Facilities
Food service- North and South Indian cuisines only
Luxury cottages with fitted bathrooms
Public restrooms
Drinking water facility
Video/camera allowed
Official telephone number: +91-080-5586154
Traveler Tips
You are not allowed to carry ammunition and firecrackers.
Hunting and bonfires are strictly prohibited.
Follow the rules, instructions, and signboards of this site.
Don't venture outside the camp grounds after sunset.
Inform authorized personnel and take prior permission before embarking on a trek, on your own.
Refrain from irritating the elephants, even if they are trained.
Maintain the cleanliness and sanctity as required.
Pack flashlights, first-Aid kit, and insect repellants for emergencies.
Things to Do
Learn about elephants and camp's history & its functions from elephant trainers (mahouts) or naturalists.
Gaze at, learn, and assist mahouts in bathing, scrubbing, and oiling of trained elephants.
Feed sugarcane bits, jaggery, banana and other fodder to elephants with your hands.
Enjoy elephant ride, jungle safari, and bird watching. Don't forget to carry a pair of binoculars, too.
Indulge in adventure sports like river rafting, coracle rides, and trekking, after paying fee.
You can go fishing, here. However, you will need prior approval by the authorized department. Interestingly, you will have to release your catch of fishes back into the same waters.
Take photographs and videos to capture the beauty of this place as well as your fun moments.
Savor tasty Indian dishes in a buffet-style, at open-sided Gol Ghar. Non-vegetarian food is also served here.
Availability of Guides
Local guides are available for hire to help you navigate forest paths if you go on a trek, here.
Best Time to Visit
September, October, November, December, January, February, and March are ideal months for visiting this training camp. However, if you are looking for river-rafting experience, then you should come here between July-September.
How to Reach
Travel from Kushalnagar or Sidhhapura via road routes. Hire jeep or any sturdy vehicle to reach the riverside. You can also travel from Madikeri that is 29km afar from this jungle sanctuary. From there, rent a boat to reach campsite. Mysore Railway station and Mangalore Airport are situated 100km and 180km away from this location, respectively.
Interesting Facts and Trivia About Camp
Its trained elephants participate in the prestigious, annual event of Mysore Dussehra.
Nearby forest also houses various species of endangered deer, snakes, peacocks, and crocodiles.
Jungle Lodges & Resorts Limited manages the cabins and cottages available for its visitors.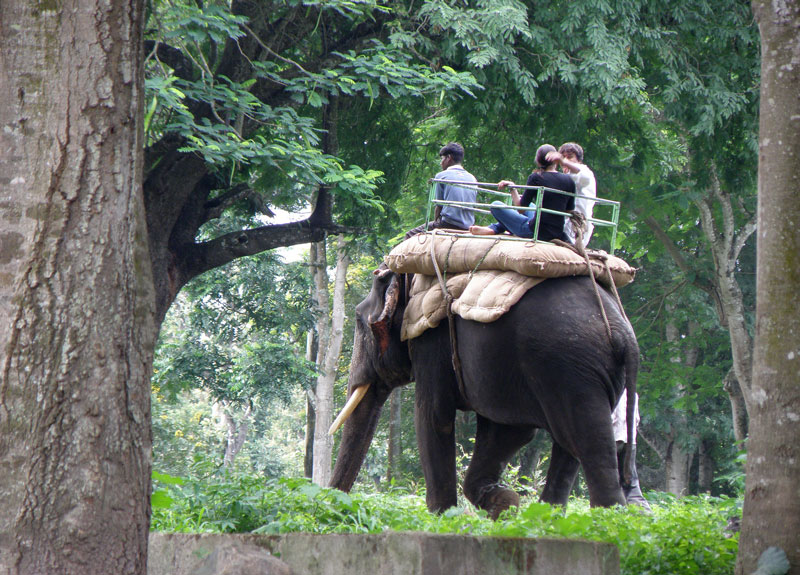 Nearby Attractions
Valnoor Fishing Camp
Nisargadhama
Veerabhoomi
Nearby Restaurants
Coffee Cup
Shanthi Bites
Rangoli Multicuisine Restaurant
Fish Curry Rice
Coorg Planters Court
Hotel Crown Grand Family Restaurant
Maarish
Dubare Elephant Camp not only attracts elephant lovers, nature conservationists, and wildlife photographers, but also college goers and families in a large number. You can play with elephant cubs and frolic with them in shallow river waters. The amazing sunset, cool breeze and sight of playful ivory giants will give you a thrill as well as leave you marvel at wonders of Mother Nature!
Have fun-time with Gentle Giants!