Dudhwa National Park and Tiger Reserve in Uttar Pradesh, India is one of the most scenic and diverse ecosystems in the world. Located in the Lakhimpur Kheri District bordering neighboring Nepal, Dudhwa covers an area of more than 490 square kilometers with 190 kilometers as its buffer zone. Spread on the Terai (green marshy grasslands on the Himalayan outer foothills) it is one of the most fertile places supporting a vast number of forests and wildlife, most of them, endangered. Sal with Shisham, Jamun, Sehore and Gular trees comprise this national park which has been categorized as a tropical semi-evergreen, deciduous, dry-deciduous and swamp forest. The grasslands make up about 20 per cent of this park. The wetlands here comprise a third of the major habitat with marshes, rivers, lakes and streams that are either perennial or dry up during the summer months and fill up after the monsoons.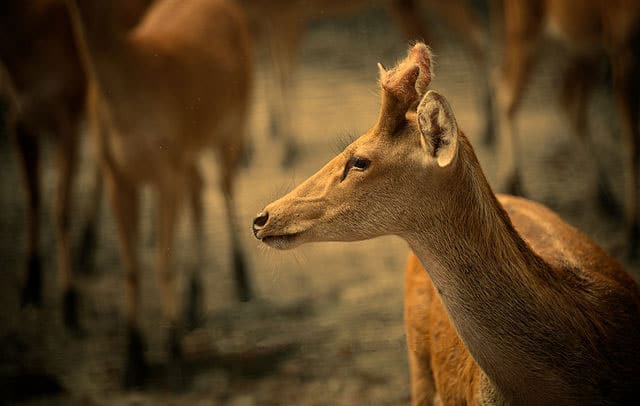 Dudhwa comes under the area of the fertile Gangetic Plains and its altitude differs from about 150 meters to 162 meters in the north towards the Himalayas. Because of it being a protected area, some trees here are over 80 feet tall and are estimated to be more than 150 years old.
Initially Dudhwa was notified as a wildlife sanctuary to protect the swamp deer. With the efforts of the legendary Billy Arjan Singh, it was declared a national park in 1977. Ten years later, it was brought under the ambitious Project Tiger and included nearby Kishanpur Wildlife Sanctuary and Katariaghat Wildlife Sanctuary to become the Dudhwa Tiger Reserve today.
Climatic Conditions
Dudhwa experiences extreme humid sub-tropical climate with dry winters. Summer months are scorching with temperatures reaching more than 40 degrees C. Winters are more pleasant with temperatures around 20 degrees C and 30 degrees from October to March. The park receives an average rainfall of 800 mm to 4500 mm during the monsoons.
Best Time To Visit
The best time to visit Dudhwa National Park is from October end to June. This is when wildlife sighting is at its best.
Wildlife at Dudhwa National Park                 
The Royal Bengal Tiger remains the most popular animal here as with many parts of the country though Dudhwa National Park is also famous for its birds, reptiles, butterflies and deer. In 1984, some rhinos from Assam and Chitwan (Nepal) were relocated to Dudhwa. Leopards, Barasingha, Sambhar, Swamp deer, Chital or spotted deer, Wild Boar, Hog deer, Barking Deer, Blue bull or Nilgai, Rhesus Monkey, Common Langur, Sloth Bear, Otter, Monitor Lizard, Ratel, Jackal, Civet, Jungle Cat, Pythons, Porcupine, Mugger and Ghariyal are sighted regularly. The Hispid Hare, thought to be extinct was rediscovered in Dudhwa in 1984.
Avian life flourishes in this national park thanks to its wetlands. More than 350 species of migratory as well as domestic birds have been recorded here. Swamp Francolins, Bengal Floricans, Sarus Cranes, Painted Storks, Great Slaty Woodpeckers, Barbets, Minivets, Bee-eaters as well as Drongos, Ducks and Geese, Hornbills, Teals, Herons, Egrets, Eagles, Owls and Orioles nest and breed here thanks to the plentiful food and nesting space.
Distance From Major Cities
Dudhwa National Park is 238 kilometers from the capital of UP, Lucknow. It is 50 kilometers from Ramnagar.
Chennai – 2233 kilometers
Delhi – 430 kilometers
Mumbai – 1628 kilometers
Kolkata – 1183 kilometers
Ahmedabad – 1254 kilometers
Bengaluru – 2198 kilometers
Chandigarh – 614 kilometers
Hyderabad – 1609 kilometers
Indore – 1041 kilometers
Nearest Airport
Nepal is about 35 kilometers away from Dudhwa. Lucknow is the closest city with airport facilities at a distance of 238 kilometers.
Nearest Railway Station
The nearest railway station is Dudhwa in the heart of the park and 4 kilometers from the nearest hotel. Palia is 10 kilometers away and Mailani, 37.
Road Accessibility
Frequent, reliable bus as well as cab services ply from Palia, Lakhimpur Kheri, Lucknow and Shahjahanpur
Accommodation Facilities
The Forest Department has many rest houses to accommodate visitors at Dudhwa, Bankatti, Kila, Sathiana and Sonaripur. Advance booking is recommended. There are many private hotels and guest houses in Palia.
Entry Fees
The entry fee is INR 50 per person for Indian nationals and INR 500 per person for foreign nationals. INR 100 is charges for vehicle meeting park norms and it is necessary to take a certified guide along. Safaris are also available.