Established by the 6th Sikh Guru, Guru Arjan Dev, the site is distinguished by its having the largest sarovar (pond) among all the Gurudwaras in Punjab and is a major pilgrim spot for the Sikhs. It was founded in the year 1590 marked by the digging of the lake, which became the biggest lake in Punjab at that time. The foundation stone of Tarn Taran Sahib was laid by Dhan Dhan Baba Buddha Ji, a famous Sikh saint (1506–1631).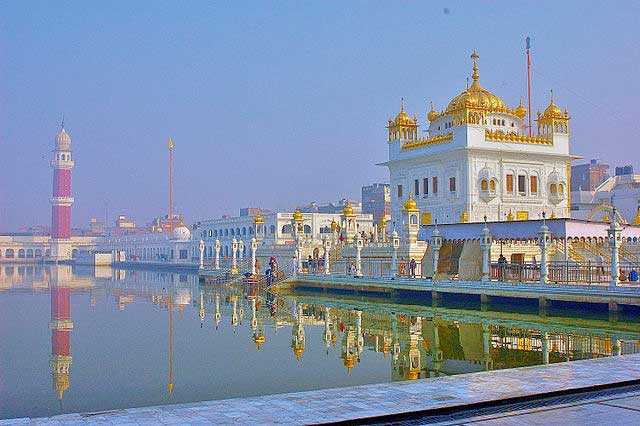 The shrine is an elegantly designed 3 storied structure which somewhat resembles the Golden temple due to it being partially plated in gold leaf. The temple's entrance is through a double storied arched gateway. The dome, also called the lotus dome has an ornamental gold pinnacle with an umbrella esque gold finial. Reflecting glass pieces with an intricately designed stucco work decorate the interior walls and ceilings.
The pond was originally fed through rain water but in 1833 a canal was dug which connects it to the Upper Ban Doab Canal at Rasulpur watermills which is situated 5 kilometres from this place. The name Tarn Taran literally means 'the boat that takes one across the river of life', the name derived from the healing properties of the old pond which was effective in curing leprosy leading to the leper asylum founded by Guru Arjan Dev. The shrine attracts a majority of Sikh pilgrim especially during the day of Amavasya (no-moon).