The Akal Takht (the throne of the almighty/timeless one) is one of the 5 Takhts of the Sikh religion, and is located in the Golden temple complex. The Akal Takht symbolizes the dispensing of Justice and temporal activity of the Sikh religion and is the highest seat of the 'Khalsa' (a military and civil authority in Sikh culture) division, and was built by the 6th Guru, Guru Hargobind Ji. The place was established as a symbol of opposition to the tyranny of the 17th and 18th century rulers.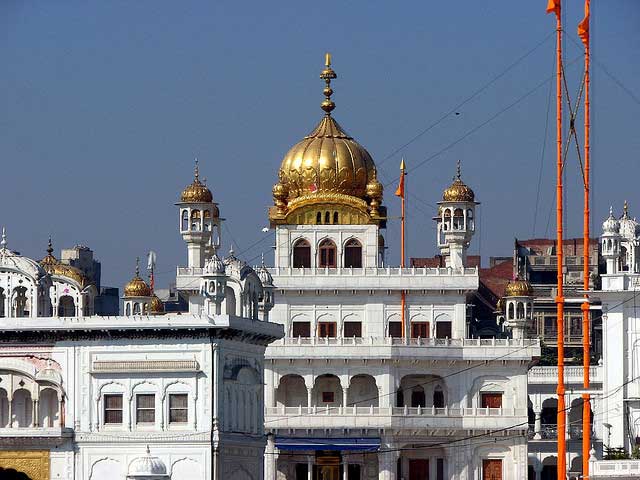 Akal Takht is a 5 story high structure of which 3 were added by Maharaja Ranjit Singh, the place boasts of its intricately designed marble inlays and gold leaf covered dome which complements the splendour of the Golden Temple. Although the building we see today is not the original Akal Takht built by the Supreme Sikh leader, as after the damage caused to the building during 'Operation Blue Star' was extensive so the government decided to rebuild the place, however the Sikh community did not accept the restoration and the building was named as 'Sarkari Takht'.
What we see today was actually re-built in 1986 when the Sikh assembly of the 'Sarbat Khalsa' decided to tear down the old building of the 'Sarkari Takht' and decided to rebuild the whole structure with the Sikh traditions of 'kar seva' or self service and took 9 years to complete. The design is much bigger than the original and the rooms are designed to accommodate a higher number of pilgrims.