"Isolated from the world it resides, protecting the bio-diversity along the hill side"
Spread across an area of 47.5 sq km, Nokrek National Park lying in the West Garo Hills district is truly one of its kind. It is an exotic, unperturbed piece of land with such unique features and mesmerising scenic beauty. Among the lush green bushes and the tall trees is the home of the extremely rare Red Panda. The presence of Red Panda here, has got the world wondering. The endangered Asiatic elephant can also be found here. Nokrek lies about 2 km from the Tura peak at an altitude of 4650 ft above sea level and has hilly terrain. It is situated near Balpakram National Park. Read on to explore the many hidden secrets of these amazing forests.
[Also Checkout: 100 Best Wildlife Sanctuaries and National Parks of India]
Climatic Conditions
The climatic conditions at Nokrek National Park are of the tropical type characterised by high humidity and elevated temperatures. Being part of the "wetty" state of Meghalaya, this place receives heavy rainfall during the monsoon season from June to September.
Best Time To Visit
It is recommended that you plan your visit to Nokrek during the months of October to May.
Wildlife & Vegetation
Nokrek National Park is a biodiversity hotspot in the north-eastern state of Meghalaya. The park is home to many rare and endangered species including the Red Panda, Clouded Leopard, Jungle Cat, Hoolock Gibbons, Serow, Slow Loris, many elephant varieties, Giant Flying Squirrel, Pig-Tailed Macaques, Wild Buffalo, Stump-Tailed Macaques etc.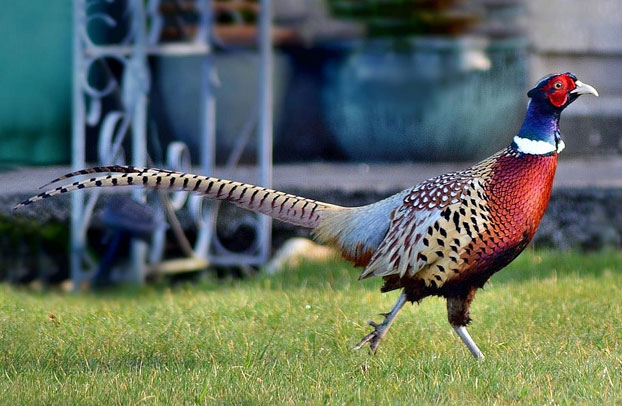 Nokrek is considered an important bird area and bird-watching is one of the activities available here. The bird species found here include green pigeons, hornbill, pheasants, peacocks etc.
Snakes including python and many varieties of lizards are found here.
Nokrek is composed primarily of a hilly terrain covered with thick semi-evergreen and moist deciduous forests. Huge rock pieces comprising of migmatites, gneisses, amphibolites, granulites and also the ones containing iron can be found dispersed across the park. The soil type found here is of sandy, red loamy and clay type. The whole landscape seems to be covered with sedimentary rocks including stones, pebbles and shales. A unique variety of oranges called 'Memang Narang' (the orange of the spirits) is found here and led to the establishment of the first of its kind National Citrus Gene Sanctuary-cum-Biosphere reserve. Other significant plants include the orchids, wild lemon grass, champak, white meranti etc. All of this adds to create the picture-perfect scene of Nokrek before you.
Distance From Nearby And Major Cities
Cities nearest to Nokrek National Park include William Nagar, Tura and Guwahati. Distance from these and other major cities is as follows:
William Nagar: 18 km
Tura: 26 km
Shillong: 146 km
Guwahati: 151 km
Sikkim: 301 km
Kolkata: 383 km
Lucknow: 960 km
New Delhi: 1356 km
How To Reach
By air: Nearest airport is at Guwahati (128 km).
By rail: Nearest railhead is at Guwahati (160 km).
By road: Nokrek can be reached via road from Guwahati and Shillong. Buses are available. Private vehicles can also be hired.
Local Attractions
Popular tourist attractions within the park include the Nokrek Peak which is the highest peak in this region and the enchanting rongbang dare waterfalls.
The limestone Siju Caves within the park are an ideal adventure destination for these are deep water filled caverns.
The glistening waters of Napak lake and the simsnag game reserve are worth a visit.
To get a glimpse of stone-age, visit the Old stone age site at the junction of Ganol and Rongram rivers.
Accommodation
Tourist lodges, hotels, rest houses and resorts are available at Tura, Guwahati and Shillong. Traditional accommodation is available at Daribokgre village, at 3 km from Tura. It is equipped with basic amenities. Log on to http://megtourism.gov.in/accommodation.html for more information.
Other Useful Information
There is no entry fee.