Located in the abode of clouds i.e. state of Meghalaya, Cherrapunjee sits atop an elevation of 1,484 meters above sea level. Cherrapunjee was famous for its annual rainfall and was known as the wettest place on earth before the title was taken away by Mawsynram which is located at a short distance of 80 kilometers from Cherrapunjee. Recently the town has been renamed to its historic name Sohra which was changed to Cherrapunjee by the British during the 18th century. The town is known for its heavy annual rainfall which has held the record for the highest rainfall several times in the past and currently holds the record for the highest rainfall in a calendar year.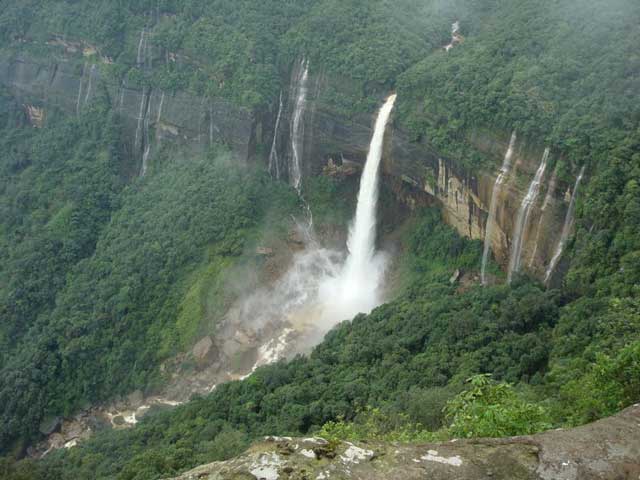 Image credit – Sun-anda, CC BY 2.0
The terrain around Cherrapunjee is mostly covered with xerophytic vegetation owing to the washout of the top soil caused by the heavy rains and ironically faces winter droughts despite of the heavy rainfall. The valleys around Cherrapunjee are covered with the subtropical forests.
Climatic Conditions
Known to be amongst the wettest places on earth Cherrapunjee and the surrounding areas exhibit a subtropical highland climate and receive rains from the Northeast and the Southwest monsoons in a single extended monsoon season. The annual mean temperature is 17 degrees Celsius and hardly exceeds 30 degrees in the months of May and June which are considered as summer months throughout India. Rainfalls start from late March and last till mid-November which hardly allows the temperatures to rise. The winter months start from November and last till late-February with a dry cold montane winter with temperatures that can go as low as 3-4 degrees Celsius.
Best Time to Visit
With annual rainfall exceeding 400 inches, Cherrapunjee is best visited during the drier seasons starting from November till March. The temperatures during these months range between 11 – 5 degrees Celsius with a cool dry montane weather.
Attractions/Things to Do
Cherrapunjee is largely inhabited and developed by the Khasis of Northeastern India and is known for its distinctive culture. Owning to its high rainfall and high elevation Cherrapunjee is also famous for its lush green surroundings and several natural attractions. Cherrapunjee is also a favorite location for adventure seekers as the hills offer a perfect destination for hiking and trekking. River rafting and swimming in the rivers and ponds are also common tourist activities in Cherrapunjee.
Living root bridges, Nohkalikai Falls, Seven Sister's Falls etc are the various important attractions in Cherrapunjee.
How to Reach
Cherrapunjee is well connected with the towns of Shillong and Guwahati by roads with shared-sumo and taxi services. Shillong and Guwahati also make up for the closest airports near Cherrapunjee. As the state of Meghalaya lacks the presence of a railway network, the nearest railway station is located again in Guwahati in the neighboring state of Assam.
Distance from Major Cities
1. Shillong – 52 Kilometers
2. Mawsynram – 80 Kilometers
3. Guwahati – 146 Kilometers
4. Gangtok – 680 Kilometers
5. Kolkata – 1,125 Kilometers
6. Lucknow – 1,475 Kilometers
7. Delhi – 1,950 Kilometers
8. Hyderabad – 2,513 Kilometers
9. Indore – 2,219 Kilometers
10. Jaipur – 2,126 Kilometers
11. Chandigarh – 2,139 Kilometers
12. Ahmedabad – 2,632 Kilometers
13. Mumbai – 2,816 Kilometers
14. Bangalore – 2,987 Kilometers
15. Chennai – 2,773 Kilometers
Accommodation Accessibility
Being a small hill town, there are a few luxury and budget tourist hotels and lounges which can be booked. Cherrapunjee mostly attracts adventurers and trekkers who get around the town on foot. Taxis are also available for visit the nearby places like Mawsynram and Mawlynnong.
Image Credits @ Pankaj Kaushal