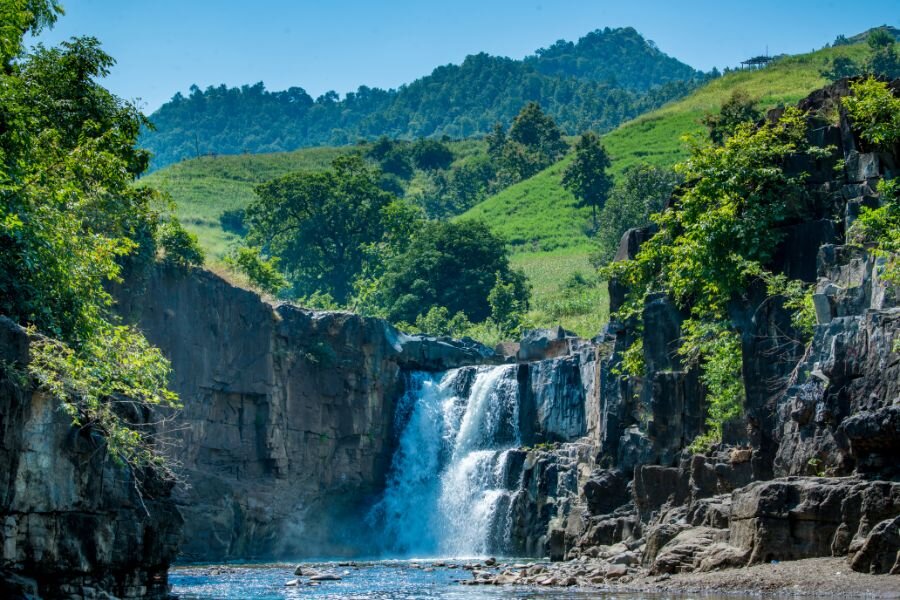 From exploring the dense forest to learning about dinosaurs, there are a lot of attractive sights to explore while visiting the world's tallest statue.
We've selected the best places to visit near the Statue of Unity so you can effortlessly plan your itinerary.
1. River Rafting at Khalwani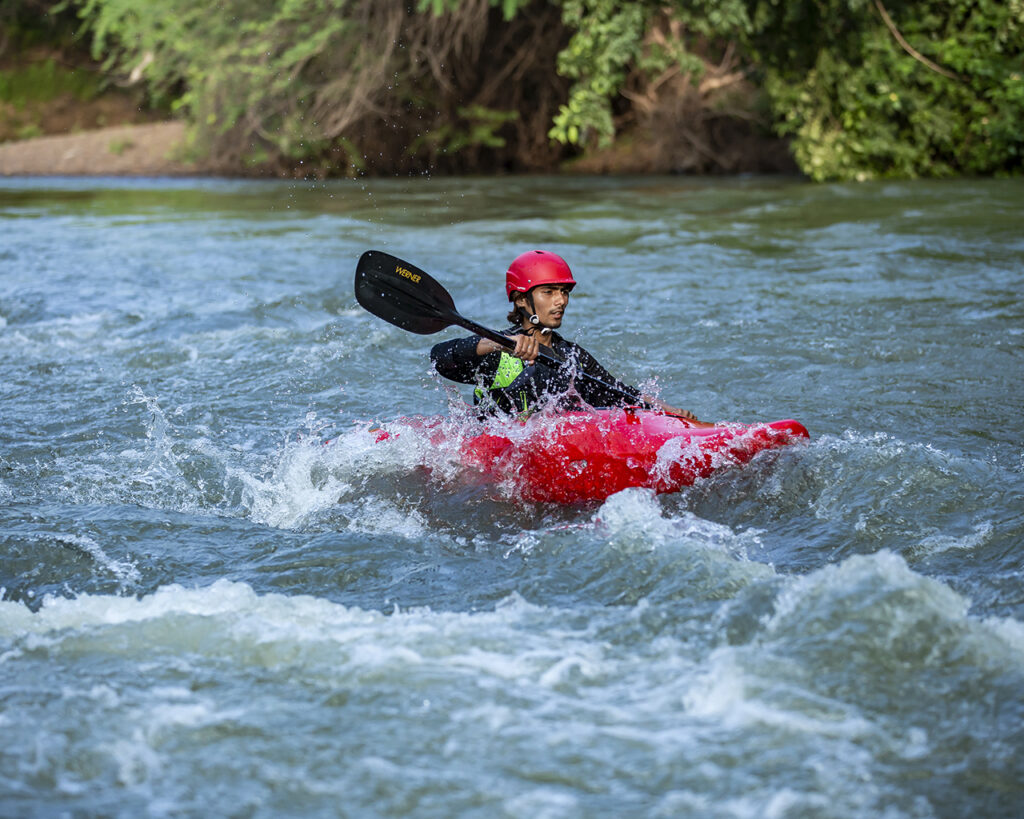 Are you ready for a heart-pounding activity? If yes, it's time to plan your summer or spring holidays for Khalwani, which offers a thrilling river rafting adventure for all adrenaline seekers.
Located just 7 Km away from the Statue of Unity, this adventure goes on for about two hours and covers the distance of 5 km from Godbole gate to Surya Kund. The trainers make sure to give tourists a memory to cherish forever.
Grab your tickets now, so you won't miss out on this unforgettable experience. Remember to bring your sunscreen and waterproof camera!
Eligibility of age: 14–55 years
Time slots:
8 am to 10 am
10 am to 12 pm
1 pm to 3 pm
3 pm to 5 pm
Price: ₹1,000
2. Zarwani Waterfall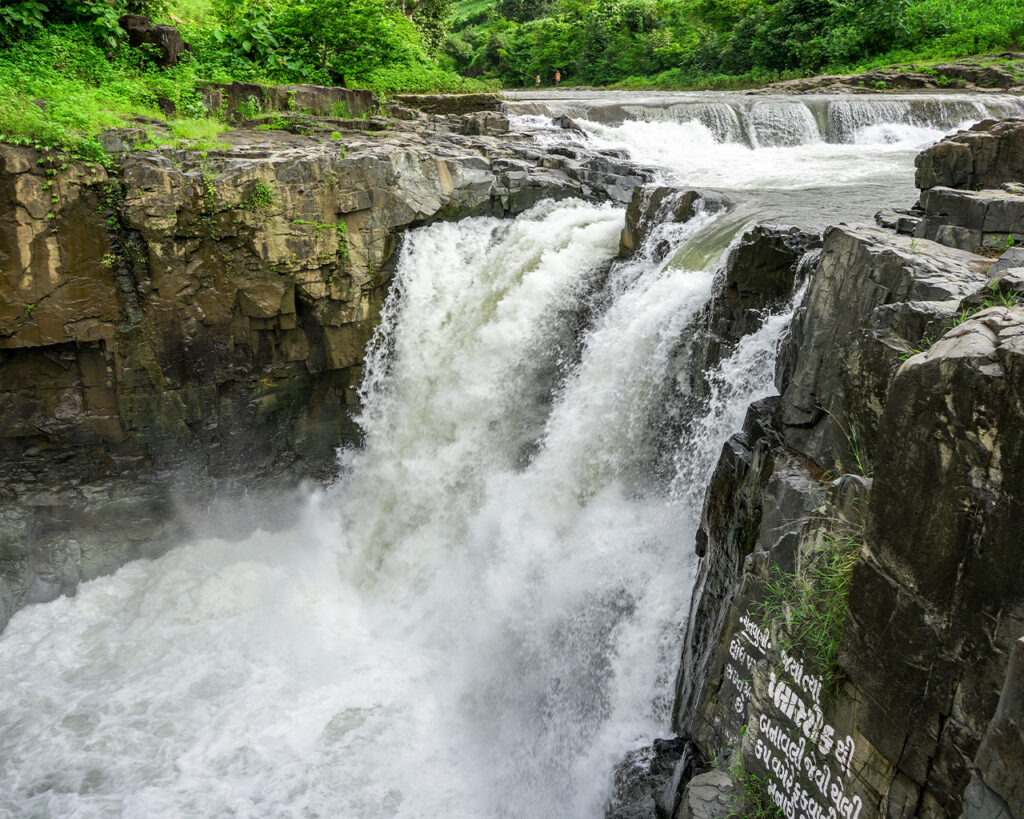 If you are going to see the grand statue with your family and friends, stopping at Zarwani Waterfall would be a bonding experience. Nestled in the heart of the Shoolpaneshwar sanctuary, this captivating waterfall lies just 14 km away from the Statue of Unity.
On the way to the fall, you will enjoy a non-cemented jungle road with twists and turns and a short walk of about 500 metres, which includes crossing rivers. Plan a visit during monsoon or winter for the most enchanting experience.
So pack some extra snacks, shoes and towels for an exciting journey ahead!
Timings: 9 am to 5 pm
3. Panchmuli Lake
Embrace nature with a visit to Panchmuli Lake, which is just 5 km away from the Statue of Unity.
You can enjoy a boat ride for 45 minutes, rowing past the lush green forest and observing the wildlife in their habitat. Enjoy the picturesque mountain views and try not to panic when you hear the lake is home to many crocodiles.
Timings: 9:30 am to 6 pm (closed on Mondays)
Price: ₹413
4. Sardar Sarovar Dam
The Sardar Sarovar Dam was the vision of Sardar Vallabhbhai Patel. It's only right that the dam is watched over by his statue. Built 6.7 km from the Statue of Unity, the dam provides water and irrigation to the dry villages of Gujarat.
There are multiple viewpoints from where you can appreciate the beauty of the dam during monsoons. Some common viewpoints are at the Jungle Safari, the Valley of Flowers and near the Cactus Garden.
You can see the dam from the Viewing Gallery or take the Ekta Cruise for a spectacular view of the Sardar Sarovar Dam and the statue itself.
5. The Miyawaki Forest
If you are into gardening, you need to experience the wonder of the Miyawaki Forest. Inaugurated four years after the statue's establishment, the garden covers two acres of land.
The forest got its name from a Japanese botanist, Dr. Akira Miyawaki, who discovered a method to grow a forest within 3–4 years. Traditional forestry methods generally take 20–30 years.
You might still miss your home garden, but this is your chance to explore new methods to develop a garden.
Timings: 10 am to 5 pm (closed on Mondays)
Price: ₹50 (only online ticket)
6. Maze Garden
Along with Miyawaki Forest, PM Narendra Modi inaugurated the Maze Garden in 2022. Built in the shape of a "Yantra" that brings positivity, this is the largest maze garden in India.
Tourists flock to see its transformation from a barren land to a vibrant ecosystem in only eight months.
After testing your problem-solving skills and finding your way out of the maze, you can also check out the nearby Valley of Flowers.
Timings: 9 am to 5 pm (closed on Mondays)
Price for adult: ₹100
Price for child: ₹50
7. Shoolpaneshwar Wildlife Sanctuary
No plans for the monsoon holidays? You can schedule a visit to Shoolpaneshwar Wildlife Sanctuary. The lush green sanctuary offers a unique blend of history and nature.
The place derives its name from an ancient Shiv Temple and is home to a tribal community called Vasavas. Professional photographers and wildlife lovers would enjoy staying overnight in the sanctuary.
Hire a guide to explore everything the sanctuary has to offer and to ensure you don't get lost when it gets dark. You can also visit Ninai Falls, which is very close to the sanctuary.
Timings: Opens 24 hours
8. Garudeshwar Mandir
Connect with spirituality on your trip to Gujarat by visiting the sacred place of Garudeshwar village. People who worship Lord Dattatreya stop at this temple to seek the blessings of Swami Maharaj before starting their journey to Siddha Kshetra Girniar.
Situated on the banks of the Narmada River, this holy place is just 12 km away from the grand statue. If travelling by train, you can stop at Rajpipla, which is only 2 km away from the temple.
Timings:
5:30 am to 12 pm
3 pm to 8 pm
9. Nilkanth Dham Temple
Another famous spiritual place near the Statue of Unity is Nilkanth Dham Poicha, dedicated to Lord Swaminarayan. It is 45 km from the statue on the banks of River Narmada.
The campus of the Dham offers many attractions, like exhibition zones, an amusement park for kids and a food court. It's best to visit after 3 p.m. to avoid waiting hours for the epic Palki Yatra.
The evening aarti is a must-see for all visitors. During the aarti, elephants ring bells and uncountable lamps are lit, creating a spiritual atmosphere.
Timings: 5:30 am to 9 pm
10. Narmada Maha Aarti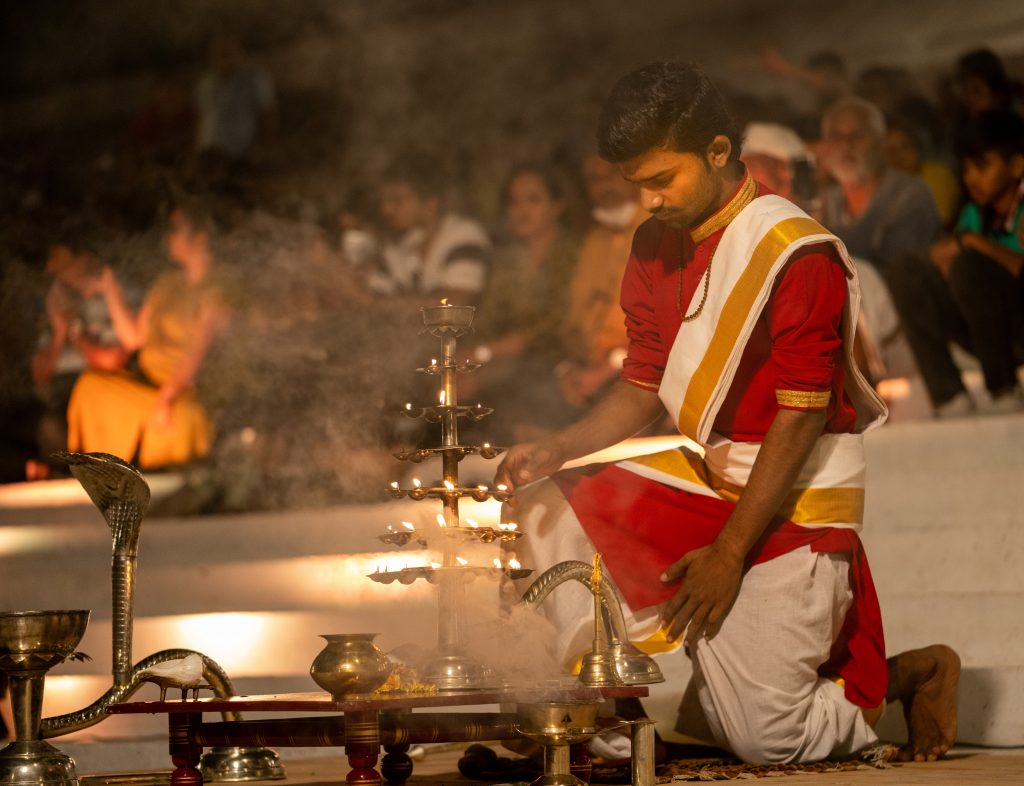 If you seek to explore the cultural roots of India, you must experience this mesmerising aarti on the banks of River Narmada. This grand ceremony is reminiscent of the Ganga Aarti in Haridwar.
It leaves people with inner peace and a greater understanding of the spiritual world. The chanting of hymns, the rhythmic beating of drums and flickering lamps reflecting on the river water create a deep spiritual atmosphere.
Timings: 7:30 pm to 8 pm
11. Devsatra Hill Fort
Combine your love for trekking and medieval history by visiting the Devsatra Hill Fort. The 14th-century fort lies in ruins about 10 km from the Statue of Unity, at the top of the highest peak of the western Satpura region.
The 2,000 ft scenic view from the fort during winters and monsoons has given it names like 'Abode of the God,' 'Switzerland of the East' and 'mini Kashmir.'
While visiting the fort, do pack adequate food and water. Make sure to leave before sunset, as it can be hard to trek in the dark.
12. Sardar Patel Zoological Park and Jungle Safari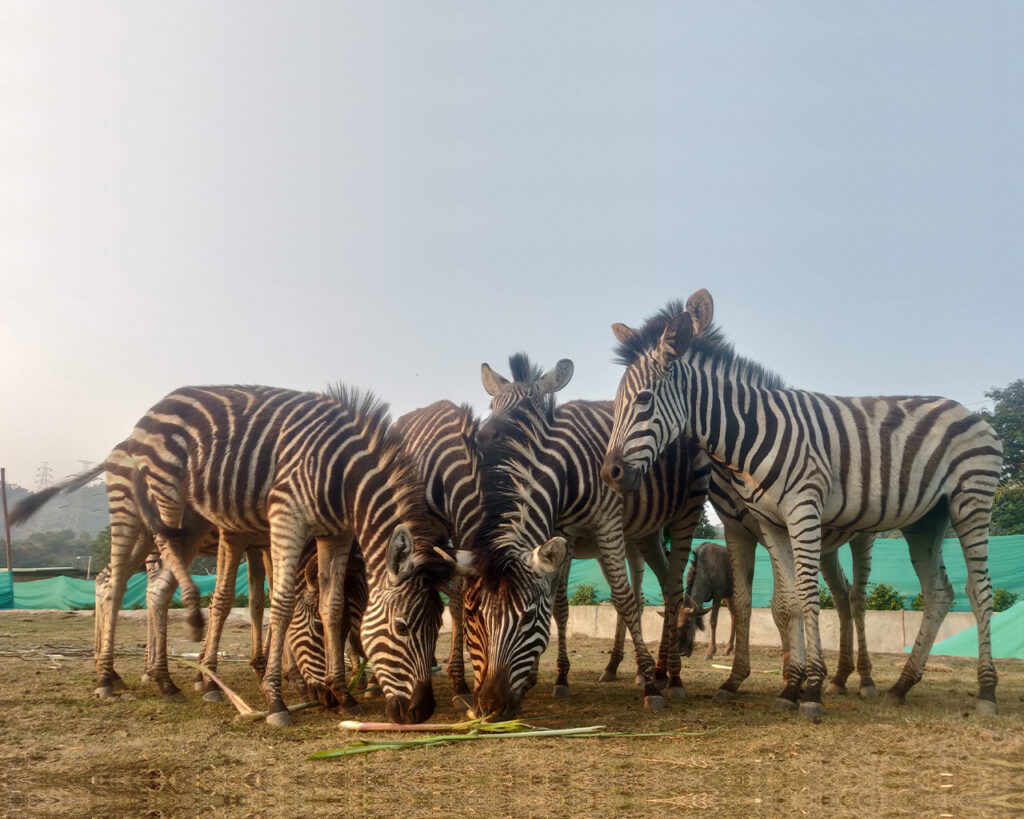 Wildlife lovers and children will enjoy learning about a diverse range of animal species and their natural habitats at the Sardar Patel Zoological Park.
From lions and leopards to giraffes and various species of deer, the jungle safari gives a chance to see wild animals up close in a setting that allows them to roam freely. It will take visitors around 2–4 hours to explore the entire park.
Apart from mammals, the place shelters many exotic birds, like black swans, macaws, pelicans and parrots. The jungle safari complex has the world's largest geodesic aviary domes. They provide a home to over 1,000 birds from across the world.
Timings: 8 am to 6 pm (closed on Mondays)
Price for adult: ₹200
Price for child: ₹125
13. Cactus Garden and Butterfly Garden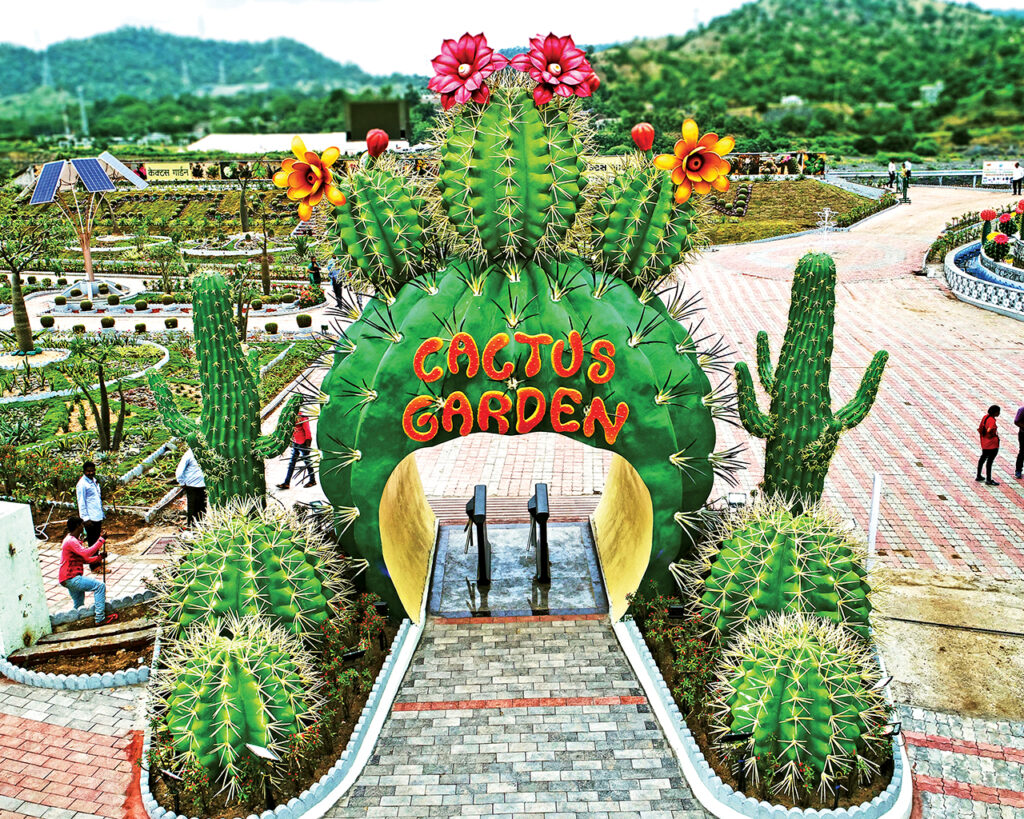 Located 9 km from the world's tallest statue, the Cactus and Butterfly Garden attracts many tourists due to more than 500 different cacti and 38 species of butterflies.
Although there are a variety of plants to attract bees and butterflies, the chances of spotting them depend on the season. Tourists notice it's better to visit the garden after 4 PM or during the monsoon. Avoid it on scorching sunny days.
Timings: 10 am to 6 pm (closed on Mondays)
Price for adult: ₹60
Price for child: ₹30
14. Arogya Van or Herbal Garden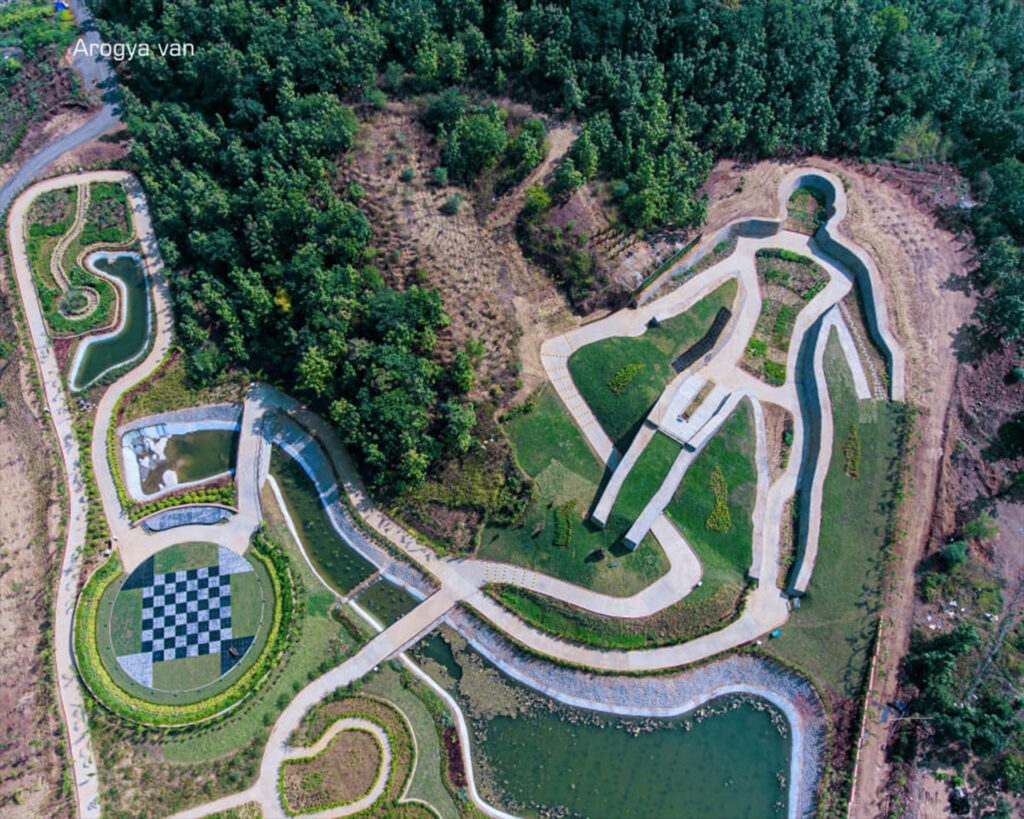 Arogya Van is the perfect example of converting a dump yard into a beautiful garden. Sculptures in the 12 poses of Surya Namaskar greet you at the entry gate.
A part of the garden is designed in the shape of a human body. Medical plants are grown at different locations to demonstrate which plant can aid which organ.
You can explore five themed herbal gardens. The Yoga Garden is meant for yoga and exercise. The Aroma Garden invites visitors to smell different plants. You can find a display of multi-coloured foliage plants in the Garden of Colours. A variety of yellow flowers are grown in the Leutea Garden and white flowers cover the hillside in the peaceful Alba Garden.
You can even take a golf cart from the gate if you have mobility issues.
Timings: 8 am to 6 pm (closed on Mondays)
Price for adult: ₹20
Price for child: ₹30
15. Valley Of Flowers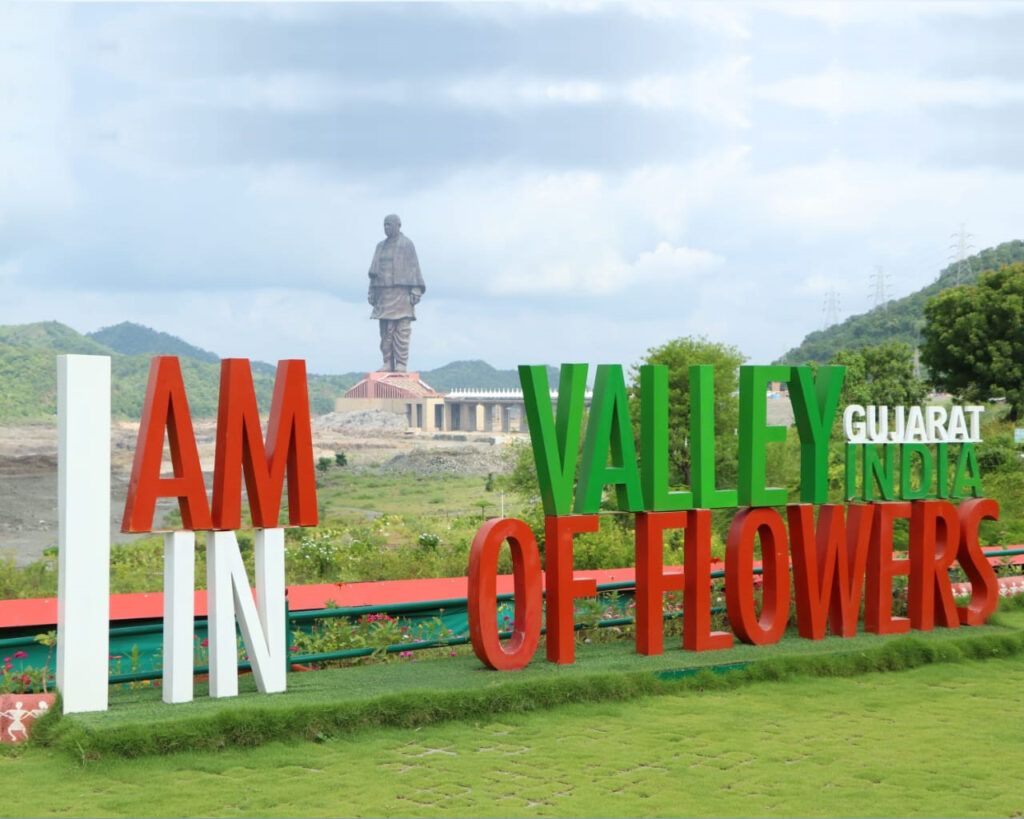 No, we aren't talking about the Valley of Flowers in Uttrakhand. This Valley of Flowers is situated 4 Km from the Statue of Unity, but it's just as beautiful as the meadows in Uttrakhand.
The Valley of Flowers provides ample space and photogenic backgrounds for photography lovers. Visitors can see a variety of flowers, the Sardar Sarovar Dam and the Statue of Unity from the garden itself.
You might need extra storage on your phone as the garden has many selfie points and photo-worthy floral installations.
Timings: 8 am to 5:30 pm (closed on Mondays)
Price: Entry is included in all Statue of Unity tickets
16. Dino Trail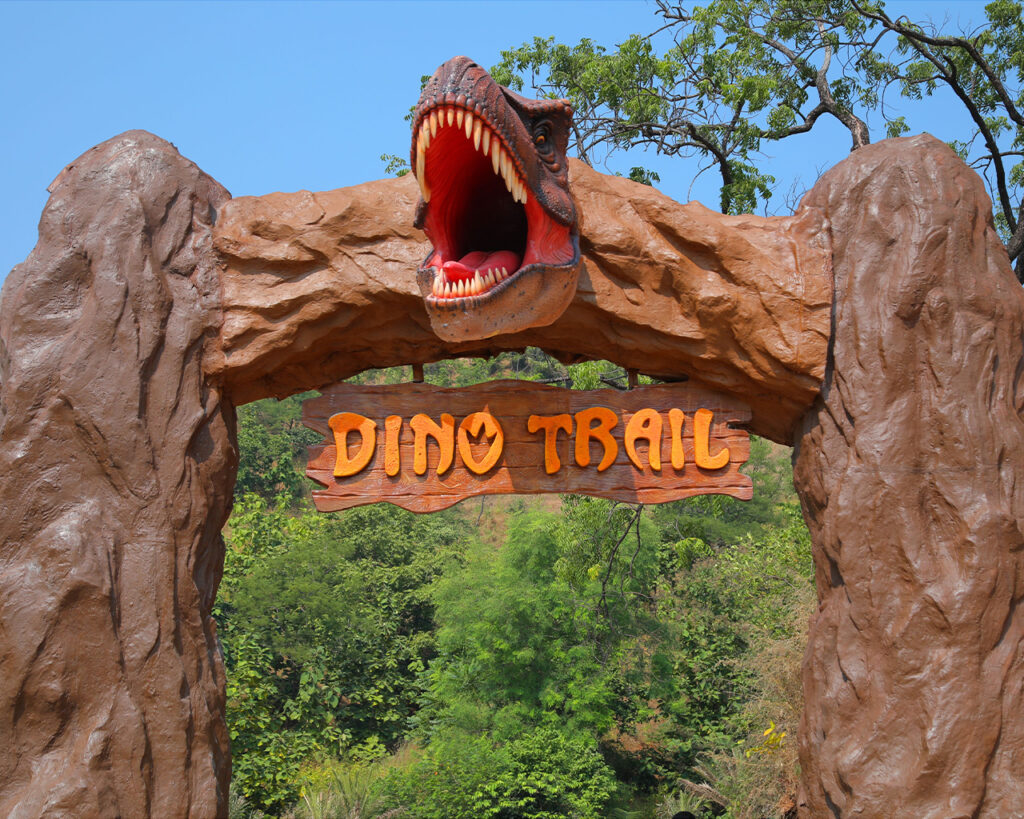 If you're travelling with kids, do not miss the chance to hop on the Dino Trail. This adventurous walk takes you to the distant past with replicas of various species of dinosaurs.
Located in the dense forests of Vidhyanchal, the trail gives visitors a glimpse of what it must have been like when these giant creatures roamed the earth.
The Dino Trail teaches children about the abundance of dinosaur fossils in Gujarat. The highlight is Rajasaurus Narmadensis, a huge 6.6 metre long carnivorous dinosaur with a distinctive horn on the forehead. This species was first discovered in Gujarat.
The trail is near the Valley of Flowers.
Timings: 10 am to 5 pm (closed on Mondays)
Price: Free
17. Unity Glow Garden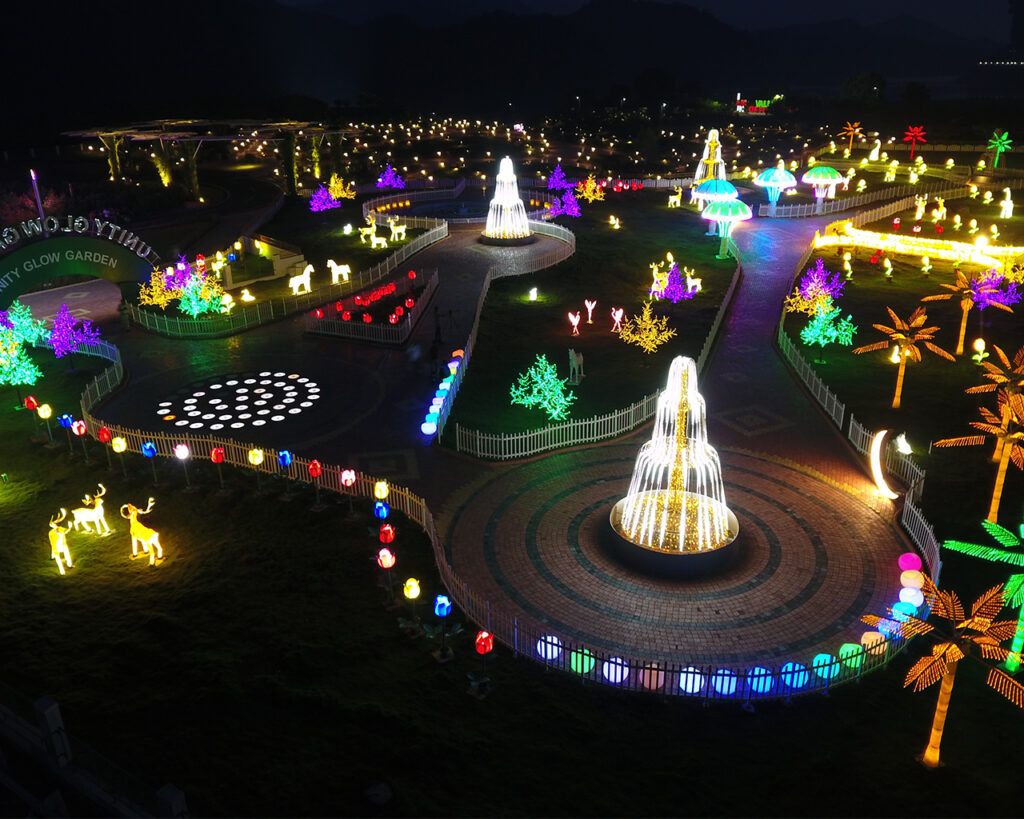 Your day of exploring Kevadia doesn't have to end when the sun sets. You can enjoy the projection mapping show or visit the Unity Glow Garden.
Stepping into this garden feels like entering a fairytale. There are many glowing installations of flowers, birds and animals like deer. Even the trees and bushes are draped with fairy lights.
You can let your kids enjoy the colour-changing dancing floor, while you relax with your partner surrounded by brightly lit bushes and animals.
Timings: 8 pm to 10 pm (closed on Mondays)
Price for adult: ₹100
Price for child: ₹50
Conclusion
Now that you have read about all the main attractions near the Statue of Unity, it's time to make the perfect itinerary for your next trip!
Book your hotels at a central location, so you won't have to travel too much to cover all the fun attractions. Include natural wonders, artificial gardens and adventurous sports to fill your day with lots of fun memories.