"This is where the underwater world comes to life on the shore. Bliss is here."
If you want to visit a unique and interesting place, this one's just for you! At the Gulf of Kutch in Gujarat lies India's first Marine national park. Formed by a fascinating amalgamation of over 42 islands spread across 457 sq km, Gulf of Kutch National Park offers more than just a sneak-peak into the enchanting world under the sea. You get to see the coral reefs right there on the shore, without even having to dive deep in the water! Many more such kinds of jaw-dropping awesome experiences will make your trip to the Gulf absolutely unforgettable.
The islands here present a beautiful and serene spot to enjoy your vacation far away from the hustle-bustle of daily life. The glistening sandy beaches, sparkling waters of the Arabian sea and the marvelous creatures of every color and texture all combine to create the fascinating place this is.
[Also Checkout: List of Best National Parks in India]
Climatic Conditions
Climatic conditions here can reach the extremes. Gulf of Kutch is said to be one of the hottest areas of India with temperatures reaching up to 50˚C while during the winter season the temperature can fall below 0˚C.
Best Time To Visit
The best time to visit Marine national park is from end of October to end of February.
Wildlife & Vegetation
Animals and Marine Diversity
A breathtaking variety of the creatures of the sea is here to dazzle you. Be prepared to be amazed by 70 species of sponges, 50 species of corals, species of prawns, crabs, lobsters, jellyfishes, sea anemones, Portuguese man of war, star fishes, sea cucumbers, sea horses, sting rays, color-changing octopus, sea slugs, blue whale, humpback whales, sperm whales, whale sharks, common dolphin, green sea turtles etc. These and many more species are residents of the Arabian Sea forming part of the marine national park.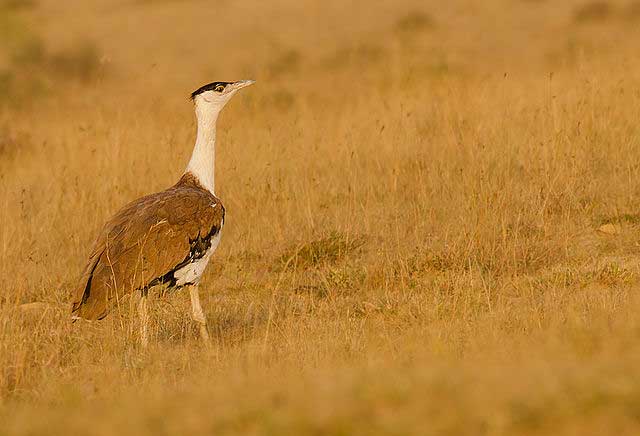 Jamnagar is one of the most popular spots for bird-watching as it hosts the most number of birds in India. Birds found here include oriental skylark, shikra, clamorous reed warbler, common teal, spot-billed duck, house swift, purple heron, Eurasian wigeon, Indian bustard, common myna, greater spotted eagle etc to name a few!
Sea turtles and Sea snakes are commonly found here.
Spread across an area of 270 sq km, the Marine national park supports a fragile eco-system comprising of wide ranging habitats like coral reefs, mangroves, mudflats, creeks, sandy strands, grasslands, marshy areas and rocky shores. The 42 islands form part of the ecosystem and support a great biodiversity of the fauna found here.
Distance From Nearby and Major Cities
Marine National Park, Gulf of Kutch (Narara) lies in Jamnagar district, Gujarat. Distance from these and other major cities is as follows. Distances from other cities are with respect to Jamnagar.
Jamnagar: 7 km
Rajkot: 90 km
Rann of Kutch: 175 km from Jamnagar
Ahemadabad: 350 km
Baroda: 386 km from Jamnagar
Mumbai: 804 km from Jamnagar
Jaipur: 949 km from Jamnagar
New Delhi: 1205 km from Jamnagar
How To Reach
By Air: Nearest airports include Jamnagar (7 km) and Ahmadabad (350 km).
By Rail: Nearest railheads include Jamnagar (7 km) and Rajkot (90 km).
By Road: Nearest bus station is at Jamnagar (7 km). For visiting the islands, ferry boats are available from Jamnagar.
Local Attractions
The islands here are the main tourist attractions.
Narara Island lies 60 km from Jamnagar and is accessible by road. Tourists usually visit this island for the amazing scenic beauty and coral walks. Please be informed that coral walks are done during the time period between 2 high tides. It takes 3.5 hours to complete a coral walk. A permit is required for the same.
Pirotan Island is another popular island that attracts a lot of tourists. To reach this island, you are required to board a boat from the Rozi Port on the Chejja Creek. The journey towards Pirotan Island is simply amazing. A variety of birds, dolphins etc are sure to visit you on your way!
Other popular destinations around Jamnagar include Khijadiya Bird Sanctuary, Dwarka Temple, Bet Dwarka and Nageshwar temple.
Accommodation
Forest rest house is located 8 km from Jamnagar at Theba.
A circuit house with basic amenities is available in the city itself.
Private hotels are available at Jamnagar and around the city.
Other Useful Information
Special Permits are needed to visit the islands.
Permits issued by the Forest Department are needed for coral walks at Narara and Pirotan.
Coral walks are done in the time period between two high tides. You are required to find out the timings of the tides for that particular day. For example, if the timing of the high tide is 2.45 pm for 4/7/2015 then coral walk can be done from 6 am to 11 am.
There are 4 tides during the day : 2 high and 2 low. High tides occur every 12 hours.
Visit and exit from the islands is allowed only during low tides. It is thus advisable that you check the timings of the tides and plan your trip accordingly. The key to enjoying your vacation at marine national park is a well planned iternary.


Entry Permit Fee:
For a group of 6 Indian Nationals in a vehicle: Rs. 200 (Mon-Fri) and Rs. 250 (Sat-Sun)
For a group of 6 Foreign Nationals in a vehicle: Rs. 900 (Mon-Fri) and Rs. 1125 (Sat-Sun)
For a group of 6 Students: Rs. 100 (Mon-Fri) and Rs. 125 (Sat-Sun)
Camera Fee: Rs. 100 (Indians); Rs. 450 (Foreign Nationals)
Fee for forest dept guide: Rs. 300.
Please wear thick soled shoes for coral walk. Carry your sunblock, sunglasses and cap.
Carry food items and drinking water along with you. These facilities are not available yet.
Useful Contacts:
Deputy Conservator of Forests, Marine National Park, Van Sankul, C.F. Office, Nr. Nagnath Road, Jamnagar-360001.
Phone: (O) 0288 2679357