With the longest coastline of 1666 km, the colorful state of Gujarat is home to several picturesque beaches and temples. Known as the home to some of the best beach holidaying destinations in India, Gujarat beaches allow you to enjoy a vacation in close proximity to Mother Nature. There are several stunning beaches in the state which offer great escapes from the bustling city life and let you relax in the immaculate beauty of the nature. Here is a list of 10 popular beaches in Gujarat:
1. Ahmedpur Mandvi Beach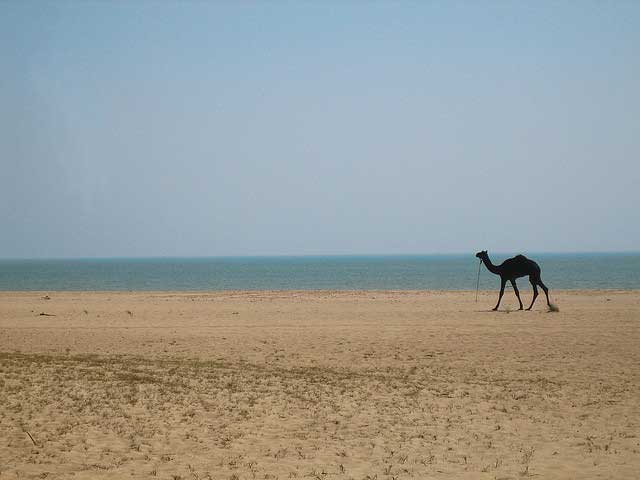 Photo by Meena Kadri, CC BY 2.0
Located in Mandvi city in the Kutch district, this spectacular beach is 370 km away from Ahmedabad. The Ahmedpur Mandvi Beach is white and looks serene with its pristine water, rich flora and fauna, tranquil ambience and fishing hamlets. This beach is believed to be the heaven for water sports lovers. From Para sailing, skiing, surfing, water scooting to speed boat trips, you can enjoy a number of water activities here. Be it, enjoying swimming in the clear water or having a long walk with your loved one, Ahmedpur Mandvi beach makes one of the best places to enjoy your holiday in close proximity of Mother Nature. Besides posh resorts and beach houses, the place offers a number of luxurious private cottages which are endowed with all the modern amenities and facilities.
2. Chorwad Beach
Situated about 66 km away from Junagadh and 37 km from Somnath, Chorwad Beach was once a refuge to the royal Palace of Junagadh's Nawab. The holiday retreat of Junagadh's Nawab has now been converted into a resort. The white, sandy beaches are unsafe for swimming but it is perfect for enjoying a long walk and other water sports activities. Consists of rocky hills and shores, Chorwad allows visitors to enjoy adventurous boating rides, fishing etc. There are many hotels ranging from resorts with private beaches to budget accommodations.
3. Tithal Beach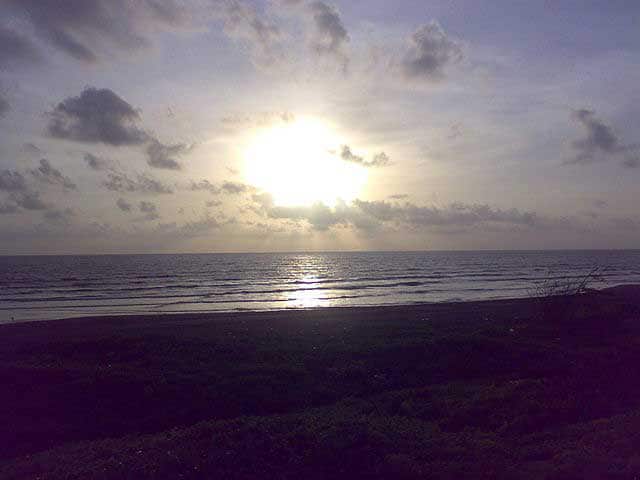 From Public Domain. Via Wikimedia Commons
Located in Valsad, South Gujarat, Tithal Beach attracts local and international tourists as well. Unlike the other white or golden beaches of Gujrat, black sand is the main attraction point of this pristine beach. Apart from making a perfect weekend gateway for travelers, this place is also a home to two famous temples dedicated to Shri Sai Baba and Shri Swami Narayan. Apart from rewind yourself in the serene atmosphere of the beach you can also enjoy fishing, para sailing and swimming here. If you wish you can visit nearby Hajira and Ubharat beaches from Tithal.
4. Nagoa Beach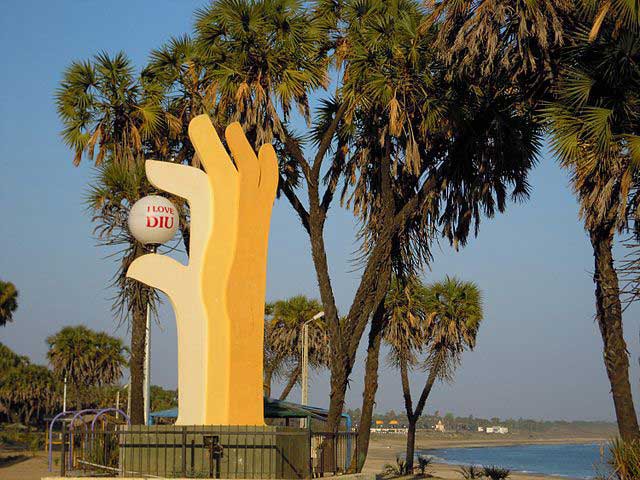 From Public Domain, via Wikimedia Commons
Popular for its several beautiful beaches, the Union territory Daman Diu is a small, exotic city situated on the offshore of Gujarat mainland. Located in the Nagoa hamlet of Bucharwada village, Diu, Nagoa beach is one of the most pristine beaches of Daman Diu. This long, tranquil, white sanded, palm-fringed beach is in the shape of a horseshoe. Besides enjoying swimming, you can indulge into other fun activities like skiing, surfing, camel riding etc. This secluded, tranquil and exotic beach is one of the best beaches in India.
5. Dwarka Beach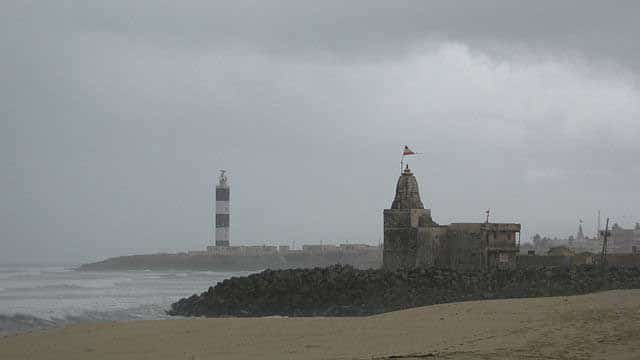 Photo by Krishna Vir Singh, CC BY-SA 3.0
Situated near Jamnagar, Dwarka is known as one of the most important and sacred destinations for Hindu Pilgrimage. According to Hindu religion, Lord Krishna lived in Dwarka city in his times. The city is celebrated for the 'Dwarkadhish' temple or Jagat Mandir as well as for its pristine, white sanded beach. Dwarka beach is famous among tourists for its extensive marine life, coral reefs and dolphins. Tourists can enjoy scuba diving and swimming on Dwarka beach.
6. Gopnath Beach
Known for its pristine beauty, Gopnath Beach is located in the Bhavnagar district, Gujarat. This beach which was once the summer retreat of Maharajah Krishna Kumar Sinhji of Bhavnagar is famous for limestone cliffs, serene natural beauty and captivating flora and fauna. Apart from relaxing and enjoying the nature, you can also plan a sightseeing tour around the place which includes Gopnath Temple, Talaja Jain temple and Alang, one of the world's largest ship-breaking yard zones.
7. Somnath Beach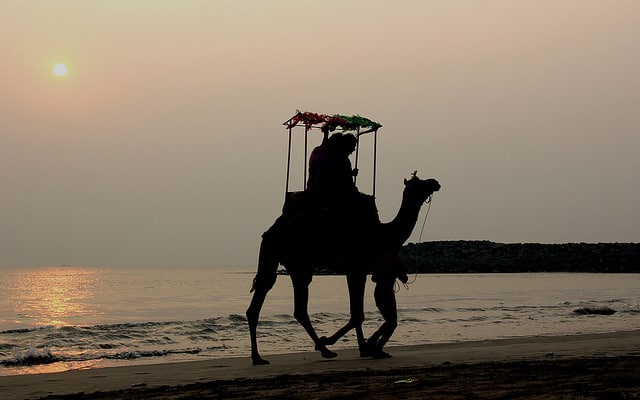 Photo by Nagarjun Kandukuru, CC BY 2.0
Located near Veraval town, Somnath Beach is a captivating escape into the serenity of Mother Nature. The beach is popular among tourists due to its pristine water, thunderous waves and fine golden sands. If you are planning to visit the popular Somnath Temple, don't forget to spend some quality time in the tranquil atmosphere of Somnath beach.
8. Okha Madhi Beach
Located on the way to Dwarka from Jamnagar, Okha Madhi Beach or Bechtel beach is one of the best destinations in Gujarat to relax. The tidy, long beach with thunderous waves, golden sands, coral reefs and clean blue water is an ideal destination to have fun with family and friends in peace. You can get ferry from Okha for Bet Dwarka Island which has beautiful beaches and temples.
9. Shivrajpur Beach
Located at a distance of nearly 10 km from Dwarka, Shivrajpur Beach makes an ideal holiday destination for travelers with its picturesque view, blue ocean water and fine white sands. In order to increase the popularity of this beach, the beach management authority has opened several food joints and introduced exciting water sports here.
10. Ghogla Beach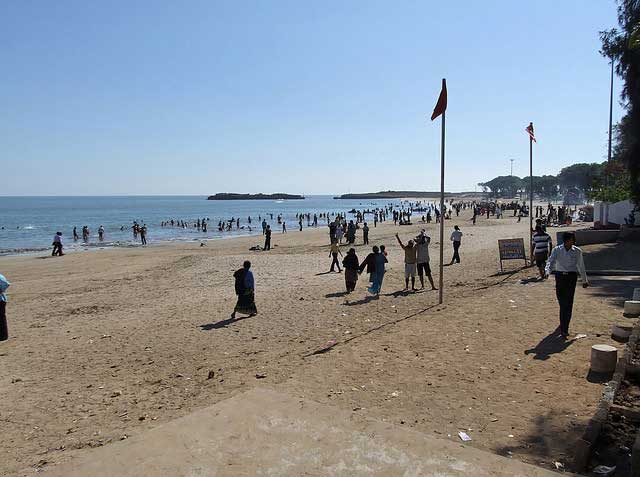 Photo by Emmanuel DYAN, CC BY 2.0
If you are looking for a relaxing holiday filled with a little dose of adventure, your destination should be Ghogla beach, situated at the North of Diu. Besides sun bathing on the golden sand, you can also indulge yourself into some exciting water sports like Para sailing, surfing etc.
If thunderous waves and water sports stimulates your senses, you should plan your next holiday to one of the above mentioned exotic beaches of Gujarat. While some of the beaches in Gujarat allow you to get adrenaline kick by trying some water sports, there are a few beaches which sooth your mind with their tranquility and serene beauty.