Visitor Information
Famous for: backwaters, lakes, photography, scenery
Entrance Fee: No entrance fee
Visiting Time: 6 AM – 6 PM (you can stay for long but the islet does not provide accommodation facilities)
Visit Duration: 4 to 5 hours (if you plan to explore the entire island)
Residing amidst tamed wilderness and scenic abundance that made the land 'God's Own Country', Kerala is a picture painted by the divine hands themselves. A single picture of Kerala is capable of luring you into her cradle. Alleppey is the gem in her crown. Famed for its backwaters set amidst beautiful lush green dells, the city of Alleppey is God's residing place. Perched in its cradle is Pathiramanal, a small island flowing in the backwaters of Vembanad. Here, each grain of sand has a story to tell, each of them possessing unique beauty and different from the other in its entirety.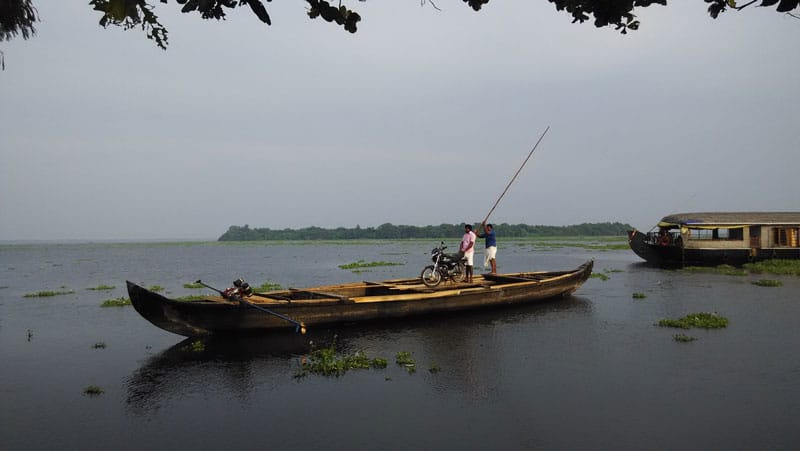 Traveller Tips
You need to pack accordingly to the season.
You must remember that the islet is a plastic free zone and you cannot leave behind any waste or hazardous materials. Remember that it is your responsibility to preserve the delicate balance of the land.
Make sure you pack your binoculars and cameras. Trust me you are going to need it a lot. There are plenty to click in this little piece of heaven.
Carry handy medicines and a first-aid kit which is a must especially if you have kids or elderly people with you.
Things to Do
Make sure you have your binoculars with you because Pathiramanal is a bird watcher's haven.
Don't forget your camera; you will need to capture the scenic abundance of this little Islet packed with such beauty and elegance.
Pathiramanal is pure scenic abundance enjoyed in seclusion. You can plan a picnic amidst the lush dales of the islet with your loved ones or you can simply sit in isolation drinking in every bit of the beauty of the place.
You can take a dip in the cool waters of the Vembanad Lake.
Availability of Guides
Being a tourist haven Alleppey has her fair share of guides' expert in the unexplored trails of her land. However, it is always best to pick someone who is registered with the Official Tourism Department of Alleppy so that they are reliable and trustworthy.
Best Time to Visit
Kerala is one of those places which have the best climate in the country, throughout the year. It doesn't matter when you come the place always succeeds in offering you something in return. If I have to suggest a time, then I would advise to come here in the summer. The special tinge the summer sun gives to the green blanket which covers Kerala is unparalleled in its beauty.
How to Reach
Pathiramanal being a secluded Islet can be accessed only by boat. You can hire a boat from the Alleppey town preferably a house boat or if you don't plan to prolong your stay at Pathiramanal then a simple boat would suffice. From Alleppey local jetty it is only half an hour drive to Pathiramanal.
Interesting Facts and Trivia About Pathiramanal
Pathiramanal is twenty-five hectares of land in Vembanad Lake accessible only by boat.
You can easily cover this island by walk.
Pathiramanal Island is a bird-watchers haven.
The island was earlier leased out to private entrepreneurs but now falls under the Tourism Department of Kerala
Pathiramanal translates as 'the sands of the night'.
The Island is famed for nurturing plants with medicinal properties.
The very air in Pathiramanal is said to have healing properties.
Sadly, you cannot spend the night time in the Island as it does not accommodate anyone in its nest. However, if you book a house-boat you can anchor next to the Island and spend the night.
The Pathiramanal Bio Park is under construction and fortunately will be completed at the earliest.
Nearby Attractions
Alappuzha is a haven for tourists and never fails to awe its visitors. There are numerous attractions here in Alleppey and you must check out the following while you are in God'd Own Country.
Vembanad Lake
Krishnapuram Palace
Vijay Beach Park
Alappuzha Beach
Mary Basilica
Chettikulangara Devi Temple
Punnapra Beach
Punnamada Kayal
Thumpoly Beach
Global Peace Palace
Sea Bridge
Vikasanam Beach
Nearby Restaurants
Pathiramanal Floating Restaurant
The Cassia
Indian Coffee House
Halais Restaurant
KFC Fast Food Restaurant
Thaff Delicacy
Avees Puttu House
Makkani Restaurant
Avocado Garden Restaurant
Dreamers Restaurant
Mushroom
Hassan's Family Restaurant
Hot Kitchen Restaurant
Panoramic Sea Resort
Thaff Restaurant
Listen to the chirping of the birds in the untamed wilderness of this islet located amidst the backwaters of Vembanad Lake. There is music in the air and the calming aura the place instils in you is unparalleled in beauty. Listen carefully and you can hear the stories they wish to tell you- the stories of times long gone and the secrets it harbour in its deep waters. You will feel blessed to be in the midst of such beauty and if you ever doubted why the land is called God's Own Country, then you will be answered once and for all.