Visitor Information
Famous For: Religion, History, Mythology, Nature, Photography.
Entry Fee: No fee is required barring.
Visiting Time: Preferably from 8 a.m. to 6 p.m. daily.
Visiting Duration: 30 minutes to 1 hour.
Kerala is a land of wonder and beauty. While the dazzling sun shines upon the golden sands of the beach making the contrasting blue waters of the sea sparkle even more, tourists take a stroll around this peaceful city in order to find respite from the hustle and bustle of their day to day lives in the city. However, the natural beauty of this place is perhaps not the only reason as to why so many tourists are drawn to this lovely place of Alleppey. Close to the city of Alleppey lies a small village called Karumadi. This village houses one of the most ancient relics in this area, namely, the Karumadi Kuttan. The Karumadi Kuttan is a statue of Lord Buddha that dates back to the 10th Century A.D. This statue has been constructed out of strong, black granite and has stood at the same spot for centuries. Owing to the tales that revolve round this statue, Karumadi is a pilgrimage site of the followers of Buddhism and this statue of Lord Buddha is, thus, visited by tourists from all over the world.
Traveller Tips
Wear decent clothes to show your respect as you will be visiting a holy shrine of the followers of Buddhism.
Instead of buying a bottle of cold drink when you are thirsty, try out the fresh coconut water sold in many of the shops in the village of Karumadi.
Things to Do There
Enjoy an exquisite walk down the narrow lanes of the village of Karumadi.
Take a good look at the broken statue of Lord Buddha.
Try out delicious local food from the village joints.
Availability of Guides
Professional guides are not available at that destination. The villagers are very kind and they will help you out with whatever you need to know.
Best Time to Visit
The best time to visit the Karumadi Kuttan in Alleppey, Kerala, is from October to February as the temperature is bearable at that time.
How to Reach the Place
The Karumadi Kuttan is located at a distance of less than 5 km from the centre of Alleppey. So, you can take an auto rickshaw or hire a cab to reach the village of Karumadi. You can also enjoy a light trek to the village while experiencing the marvel of nature in a completely different way.
Interesting Facts About the Karumadi Kuttan
The Karumadi Kuttan, located in the village of Karumadi, is a structure of black granite representing Lord Buddha.
The statue was established in Karumadi probably in between 9th Century A.D. and 10th Century A.D. when Buddhism was highly prevalent in India especially in that particular region.
The statue of Lord Buddha is broken into half. Thus, according to legend, it is believed that an elephant had rushed straight towards the statue and broke that into two halves.
A shrine has been constructed surrounding the statue owing to its significance.
This statue is now maintained by the State Archaeological Department.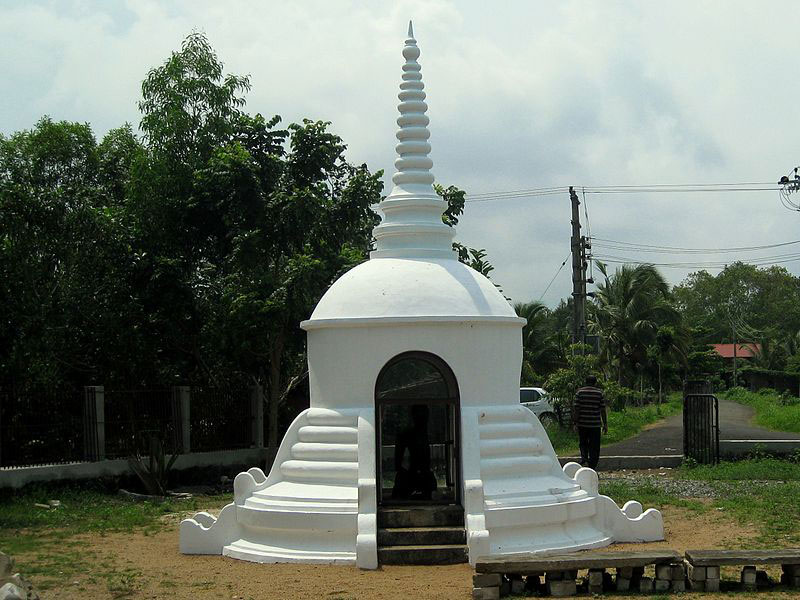 Nearby Attractions
Alappuzha Beach
Vembanad
Krishnapuram Palace
Alleppey Beach
Pathiramanal
Ambalappuzha Sri Krishna Temple
Chettikulangara Devi Temple
Vijay Beach Park
Nehru Trophy Boat Race
Sea Lap Shimmers
Nearby Restaurants
Thaff Restaurant
Halais Restaurant
Avocado Garden Restaurant
Dreamers' Restaurant Alleppey
Mushroom
Kentucky Fried Chicken
Cassia Beach Restaurant
Hassan's Family Restaurant
Indian Coffee House
The Karumadi Kuttan is a natural and a historical wonder that deserves recognition. The tranquility and holiness attached to this shrine is breathtaking and, thus, this place is visited by Buddhist pilgrims all the year round. To give this shrine the recognition that it truly deserves, it is recommended that every tourist visiting Kerala must pay homage to this divine shrine at least once.