Goa is a place that is an ultimate holiday destination world over. However, certain travelers may wish to explore Goa beyond its beaches and churches. If such enthusiasm rings a bell with you, try visiting the super haunted places in Goa. Marked with extraordinary stories and some chilling evidences, these places will surely yield something new for its visitors. Be it screams, eeriness or a simple adrenaline surge, haunted places will never leave you disappointed. Try visiting these popular places in Goa, known for their paranormal activities and their spooky spirits.
1. Three Kings' Church
A ghastly and dilapidated church, has the spirits of three kings still roaming its premises. The legend goes that three Portuguese kings wished to concentrate power in only one amongst them. Swayed by power, one of them poisoned the other two kings and out of fear of being persecuted by the angered subjects, committed suicide. The frustrated ghosts of these kings roam this church, where all three of them were buried.
2. Igorchem Bandh
Igorchem Bandh is a haunted route, present right behind a church in Raia. The intimidating path is set to be in the captivity of a number of nasty spirits. People report having supernatural encounters, even in daylight. The very aura of the road is enough to give you the creeps if you decide to visit this place. However, take this road at night at your own risk. It is believed that if one walks along this path between 2am to 3am, they can be possessed.
3. Jakni Bandh
Jakni Bandh is a temporary bridge, once the witness of an unfortunate accident, has become a source of nightmares for visitors. The back story goes something like this. A school bus, carrying many small children was toppled over the bridge due to a fatal error by the bus driver. All the children died an unfortunate death. Now, passing by this bridge, people can still hear the chilling cries of children at night.
4. Ghost Hotel
Overlooking the Agonda beach and surrounded by an eerie forestation, proving to be a deadly combination with this abandoned hotel, Ghost hotel is a popular haunted place in Goa. Legend goes like this hotel was under construction by Russians. However, due to legal compilations, it never got complete. The ghosts of the frustrated spirits still haunt the incomplete hotel premises.
5. Borim Bridge
Possibly the most haunted ghost story is associated with Borim bridge in Goa. It is believed that once three men saw a woman running towards the bridge hurriedly. Sensing trouble, all three of them tried to approach her, only to find her jump into the river. However, they heard no sounds, saw no signs of anyone having just jumped in deep cold waters. Confused, they returned to their car, only to find the spirit of the woman sitting in the back seat, right next to them. This story still sends shudders down the spine of everyone who visits here.
6. Saligao Village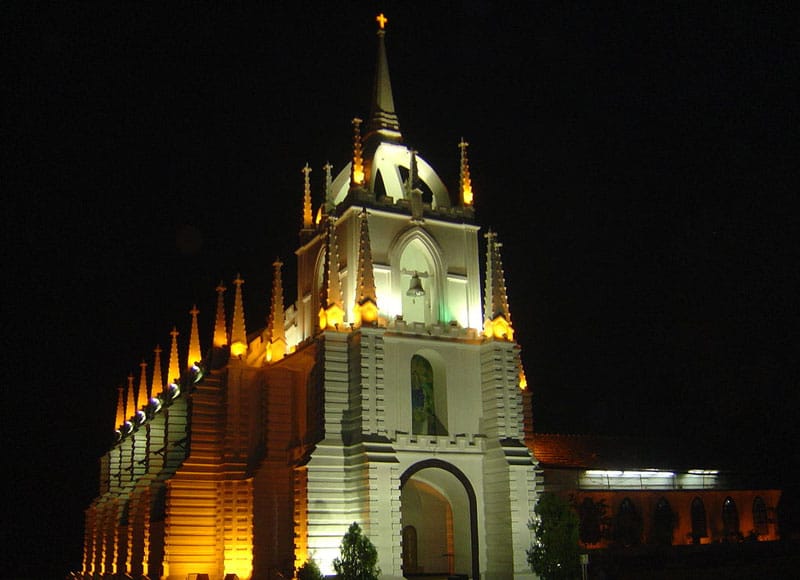 A village full of churches and an old, eerie banyan tree, Saligao village is said to be haunted by the evil spirit of Chritalina. The story dates back to the colonial times, when a Portuguese man returned to the village in a worn out state, full of scratched and wounds all over his body. He is said to have been attacked by the spirit of Chritalina.
7. The Rodrigues House
A family of ghosts is said to be living in the dark Rodrigues house. This isolated and abandoned building still feels alive with the spirits of the family members. People report hearing spooky sounds in the night. Not only that, people see the lights of the house flicker on and off as well, the clinching of kitchen utensils and even the linens of the beds keep changing.
8. D'Mello House
Torn by bitter property divisions, left this house haunted forever. Two brothers, overcome by greed and power forgot all about their brotherhood over the ownership of the D'Mello House. When one of the brother killed the other, the place became the witness of paranormal activities. People hear shrieks at night that send chills down the spine of visitors.
9. Rachol Seminary Arch
A colorful arch, of red and yellow on a brown bricked wall, is said to be seriously haunted. People believe that on attempting to cross Rachol Seminary Arch, one is met with a spirit that acts as the guard of this arch. The spirit denies entry to trespass the arch to anyone it deems unworthy. This legend is an age old one, prevalent even during the colonial times. For an exciting and jumpy experience, visit this arch when in Goa.
10. Baytakhol
In a road stretch between Dhavali and Bori, lies an eerie reason for a number of road accidents on the road. In the wee hours of the night, upon driving, people report hearing the cries of a woman calling for help from behind. However, as soon as they turn out of reflex, the road is spookily empty. This kind of haunted distraction has led to a number of accidents on Baytakhol road.
Haunted places are a great way to face your fears, and emerge either courageous or even more fearful of the paranormal. Either ways, a great way to explore, haunted places in Goa will surely be a unique experience to narrate as stories to your loved ones.