Named after the Baga Creek, which empties into the Arabian Sea, Baga is a seaside town, located in the Indian state of Goa. Baga is situated in the North-Goa district and known to be one of the most happening and popular beaches in Goa. Baga Beach is a typically busy beach that sits alongside its neighbor Calangute as the tourist hub of Goa. It is also known for its extant tourism industry with several nightclubs that became famous since the hippy movement in the 60s and 70s. The beach is full of tourist activities all year round with several restaurants, shacks, huts, and luxury hotels alongside the shoreline.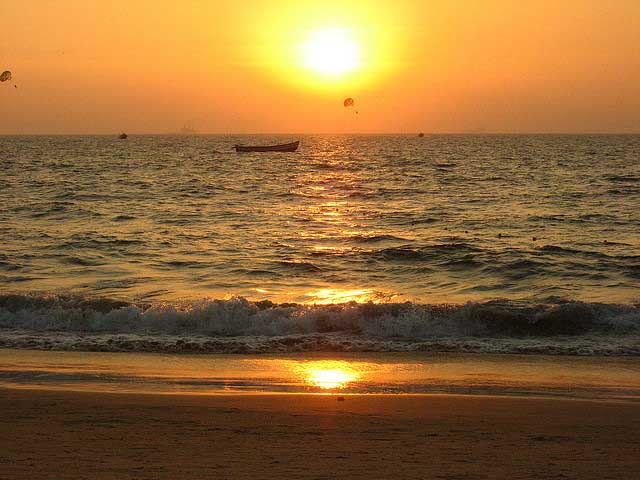 Image credit – Sankarshan Mukhopadhyay, CC BY-SA 2.0
Climatic Conditions
Being located in the tropical zone alongside the shores of the Arabian Sea, Baga enjoys a typical monsoon influenced tropical climate that has warm summers, heavy monsoons and a short and mild winter season. The hottest months are April and May when the average temperatures can shoot upto 35 degrees with a high humidity. The monsoons arrive in the month of June and last till late September which provides a much needed relief from the heat and humidity. The winter season is short and mild with day temperatures upto 30 degrees but can experience a mildly chilly night temperature in the months of mid-December till February.
Best Time To Visit
Baga is arguably the most popular beach in Goa and is loaded with foreign and local tourists all year round. Due to a plethora of beach side activities in Baga, it attracts nearly millions of tourists each year. Tourist season usually starts in December and continues till the end of January. However, the best time to visit Baga is between the months of October and November, when the retreating north-eastern monsoons and the festivities make it one of the best beaches in India. Image Credits @ Prashant
How to Reach and Getting Around
The closest airport to Baga is located in Vasco Da Gama, which is well connect via roads and takes less than an hour to reach by taxi. The closest railway stations are located in Margao and Thivim; however it is easier for people to reach Margao as it is connected via trains from Mumbai and other major cities around Goa. Buses and taxis are available for quiet a cheap price from the railway stations and the nearby cities of Panji, Vasco Da Gama and Margao. Getting around is easy to do on foot in Baga with buses and auto-rickshaws easily available at cheap rates.
Attractions
Baga is best known for its tourist attractions, and beach activities. It is also home to some of the most visited discotheques in Goa and various water sporting activities like, Para-sailing, Paragliding, Windsurfing, Jet skiing, with a long row of beach side shacks and restaurants. Club Tito and Club Mambo are few of the oldest discotheques in Goa and have been known to host several electronica music concerts. For the more seasoned people the best choices are Cavala and Sports Bar which have live band performances each Saturday.