Goa, the smallest state in the Republic of India, despite of the moniker, is a haven for those who like to enjoy the sun and sand. Goa is one of the top tourist attractions in India which is famous for its mesmerizing beaches which cater to around 10% of the tourist population in India. Goa was also a former Portuguese colony and thus has a rich and evident Portuguese influence on its culture. Although all the beaches of Goa have something unique to offer to its visitors, we have made a list of few of the best beaches in Goa that are a must visit.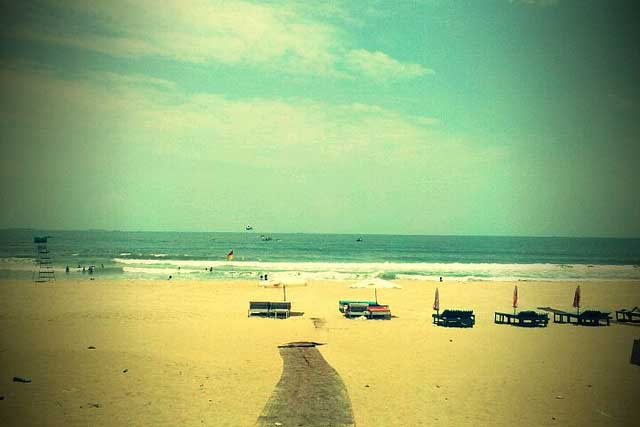 Image credit – _paVan_, CC BY 2.0
The most sought after beach alongside Calangute, Located in Bardez in North Goa, Baga Beach is the place to be if you love the party atmosphere Goa is famous for. Baga contains a long row of shacks alongside the beach, and numerous discotheques which are popular among both the foreign tourists and locals. One can indulge in various activities like water sports, parasailing and dolphin cruises.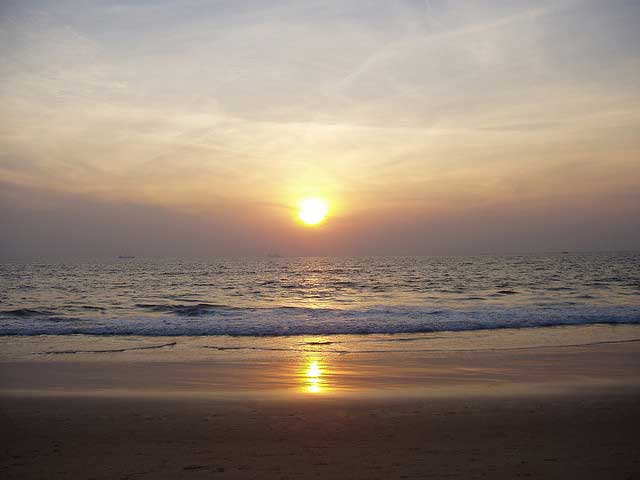 Image credit – Miran Rijavec, CC BY 2.0
Calangute Beach is the largest Beach in Goa and one of the most visited beach in north Goa alongside Baga, and is connected with it. Features a lot of attractions like water sports, parasailing and offering a long row of beach shacks and restaurants, the peak tourist season is during Christmas and New Year, and during the summer in May. During the monsoon season, from June through September, the sea can be rough and swimming is prohibited. Calangute is another hotspot for the party lovers.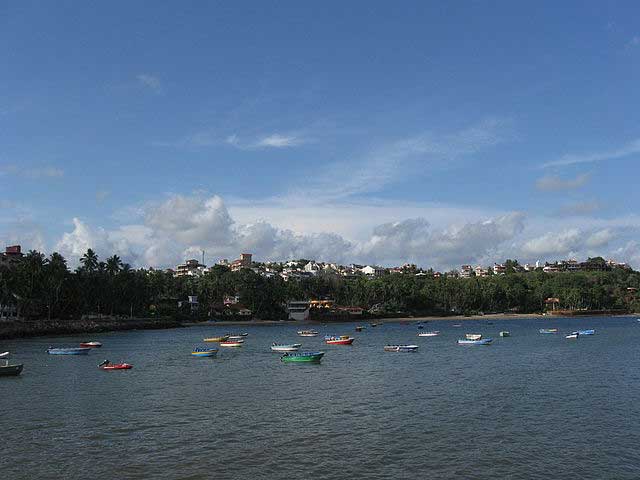 Image credit – Aaron C, CC BY-SA 2.0
Lying in the suburbs of the capital Panji, Dona Paula Beach is another famous tourist attraction in Goa. Here, the sea remains relatively calm during the monsoons, thus making it accessible all year round. The attraction alongside the beach includes 'The statue' (multiple theories exist regarding the knowhow of the statue). Many modern day Bollywood films are shot here, making it another sought after tourist spot in Goa.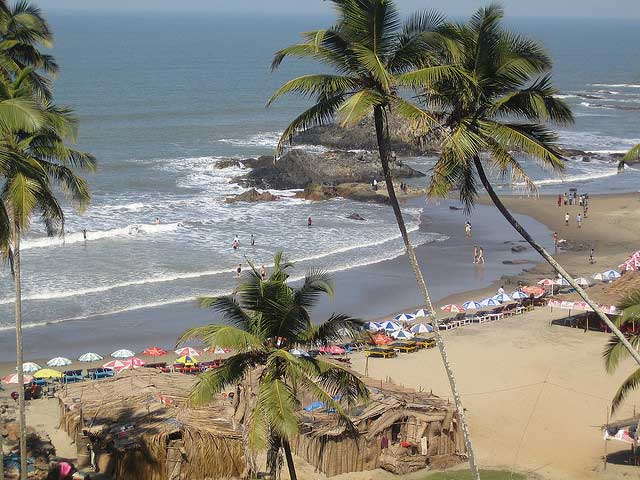 Image credit – Amit Chacko Thomas, CC BY 2.0
With its dramatic red cliffs looking down on the shore and the fresh water springs, Vagator Beach is another major tourist attraction in Goa. The beach is divided in two, namely big Vagator and little Vagator, the beach offers a number of sightseeing spots to the visitors, and is famous for its dance and trance parties.  There are a number of Mediterranean and Indian Cafes/Hotels serving a variety of food and drink. The tourist traffic is predominantly Western backpackers; however it has also become popular with Indian tourists, who particularly come to watch the sunset from the rocks.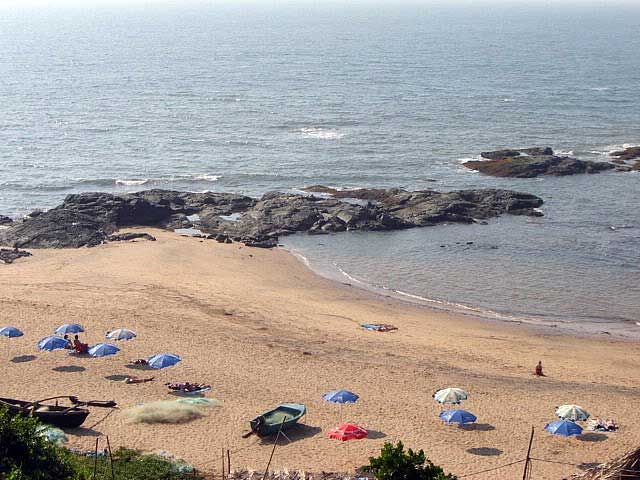 Image credit – Os Rúpias, CC BY-ND 2.0
One of the 1st hippy hotspots in Goa, Anjuna Beach is famous for its trance parties held on the beach during the tourist season. Also a host to the famous flea market (Wednesdays), where you can buy things ranging from fruits to jewellery, clothes and electronic devices. The beach also has numerous shacks and huts for the tourist to rest and dine. Although not really relevant to this list or any of the activities at the beach, but you can try your hands at bungee diving here.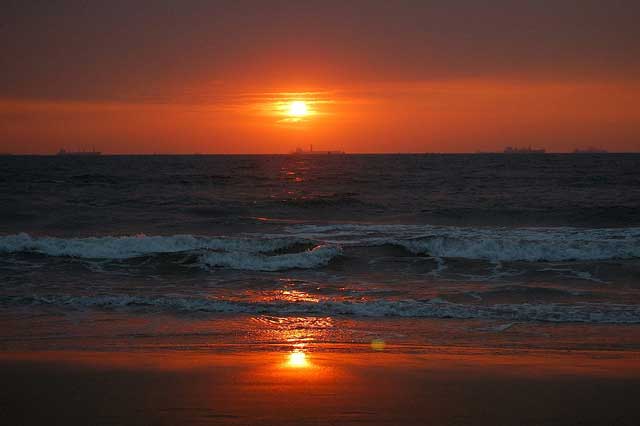 Image credit – ojosw, CC BY 2.0
Another beach in north Goa, however this particular beach is different from the rest of the beaches in north Goa. The beach shore of Candolim Beach is almost devoid of any commercial activities, keeping the shops and restaurants at the Candolim Calangute Road which leads to this otherwise quaint tourist hotspot.  The tourists often visit this place looking for a calm place to meditate and enjoy the sun; the beach also has quite a number of inns with good facility and reasonable prices. One of the places which are a must visit when you visit this beach is Fort Aguada.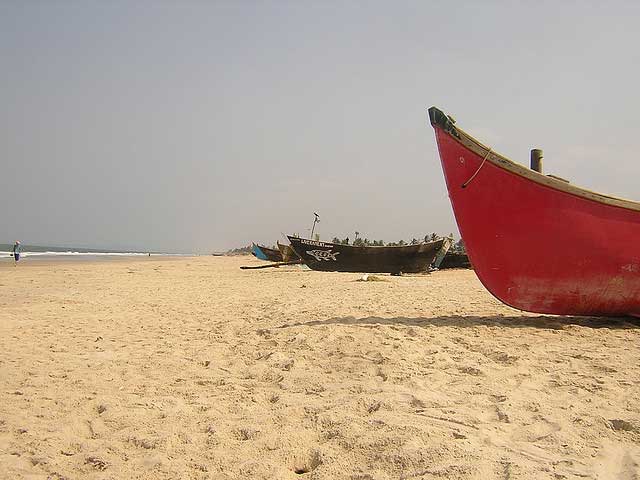 Image credit – Andrea, CC BY 2.0
Located a little south from the City of Margao, Benaulim Beach is another beach in Goa which, unlike the overcrowded north Goa beaches, offers a great experience to its visitors. The beach is lined with a long row of shacks and bars, which often feature live music, the best time to enjoy the beauty of this beach is after dark when various shacks host live beach parties and music along with your favourite drink in your hand.
8. Colva Beach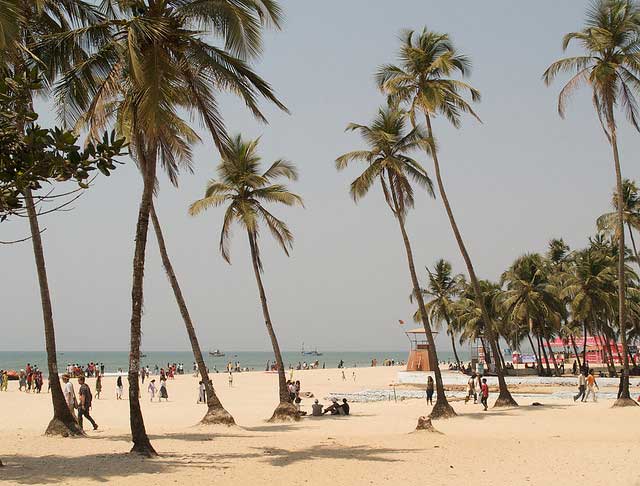 Image credit – Sandra Cohen-Rose and C, CC BY-SA 2.0
Stretching around 2.4 kilometres with its powder white sands, Colva Beach is one of the major tourist hotspots in south Goa. It's also a famous fishing village of south Goa, thus you can enjoy the variety of seafood offered at the numerous eateries situated here. The beach has a number of inns, shacks, pubs and bars but is not that great when it comes to nightlife, a trait common with most beaches in south Goa. The beach is also monitored constantly by lifeguards making it a great place to get your feet wet in the Arabian Sea.
9. Palolem Beach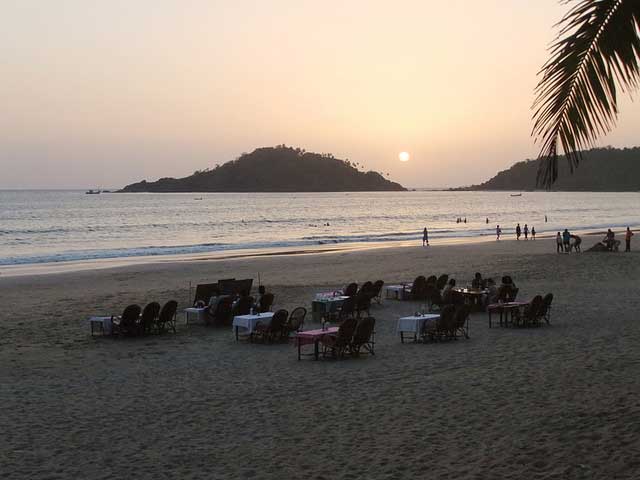 Image credit – ronan crowley, CC BY-ND 2.0
Located in the Canacona village in south Goa is one beach we would personally recommend you to visit if you want a retreat from the heavy crowd and urban atmosphere of the north Goa beaches. Palolem Beach is largely unspoiled and majorly inhabited by local fishermen and foreign tourists who live in the shacks alongside the beach. The beach is protected by big rocks which give the beach a secluded atmosphere. A huge number of beach shacks, restaurants and cafes line the shore. At the top of the island adjoining Palolem beach there is a stone sculpture created by an American conceptual and land artist Jacek Tylicki called "Give if you can – Take if you have to" also called the "Money stone".
10. Patnem Beach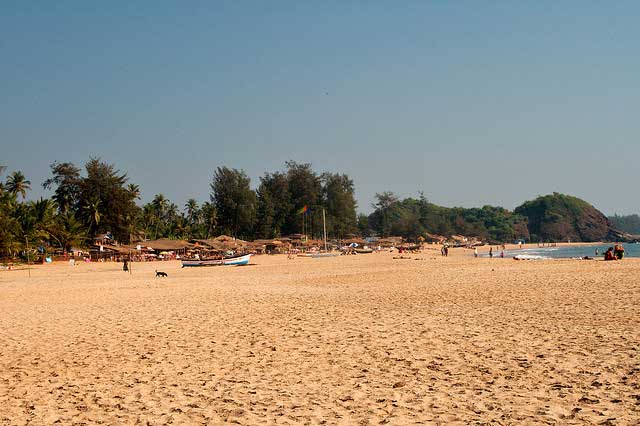 Image credit – Christian Haugen, CC BY 2.0
Situated at just a 5 minute drive from the aforementioned Palolem beach, Patnem Beach is a great place for people who want refuge from the busy and commercial beaches of the north. Beach shacks offer live music on a regular basis, making the night life here pretty laid back. It is also a great place for experiencing the reiki and ayurvedic treatment centers located here, various shops can be visited for shopping hippy clothes, silver jewellery and bags.
11. Agonda Beach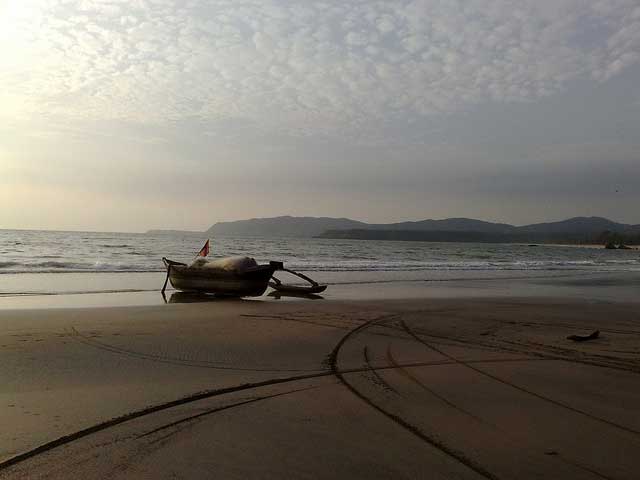 Image credit – Silent Voices, CC BY 2.0
Located just a few minutes away from Palolem, Agonda Beach is one of the most serene beaches in Goa, frequented mostly by people who like to enjoy photography, meditation or simply lay back and listen to the sounds of the sea. Although it's definitely not a tourist hotspot a visit to agonda will have a lasting effect on your mind, a great spot for sunbathing, swimming with relatively fewer tourists, taking a cruise on the fishing boats. It is yet another beach we would personally recommend for you to visit.
Other Major beaches include :
12. Arambol Beach
13. Cavelossim Beach
14. Chapora Beach
15. Majorda Beach
16. Mandrem Beach
17. Miramar Beach
18. Mobor Beach
19. Sinquerim Beach
20. Varca Beach.
Goa, with the aforementioned list of beaches has created its place on the map of India, despite of being the smallest state. With a vast flora and fauna and other cultural treasures , the state is truly one of the prime beach destinations in the world.