Set within the outskirts of Khammam district of Telangana lie the Kinnerasani wildlife sanctuary which is a part of the Dandakaranya forests of Tretayugam. Legend has it that lord Rama spent his days of exile here. Places like Parnshala, Rekapalli, Dummugudem that hold special place in Hindu mythology are evidential to this. It lies on the right bank of the river Godavari and extends over an area of 635 sq km. It is less than 15 kilometres away from Kothagudem and 25 kilometres away from the Bhadrachalam cities.
The Kinnerasani wildlife sanctuary derives its name from the river Kinnerasani which cuts it into hillocks, valleys and finally drains into the river Godavari. Kinnerasani River flows into the sanctuary in a meandering way forming loops and curves giving a picturesque effect. It has become a part of Telugu poetry and folk literature. Within the heart of this sanctuary lies a scenic lake, Kinnerasani with densely forested islands, which is an excellent breeding ground for the endangered Marsh Crocodiles. Many perennial springs called Togus are frequently seen here. Other attractions are holiday home glass guesthouse, Environmental Education Centre, Deer Park, Kinnerasani dam and reservoir.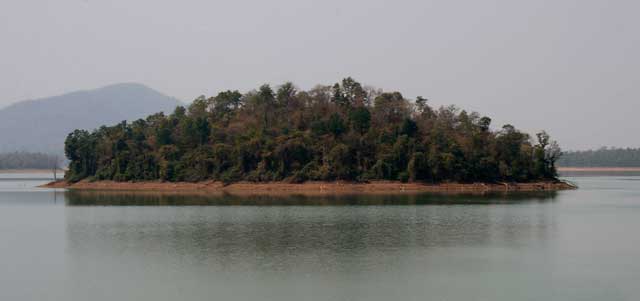 In the year 1979, the natural habitat of the wildlife was disturbed due to the construction activities by human. The government was determined to declare the affected area as a wildlife sanctuary. Ultimately in 1981, watch towers were erected round the place and this place came to be known as Kinnerasani wildlife sanctuary. In 1985, a research lab was established to experiment over the animals for increasing their strength. The population of species has been increased since the institutionalization of this sanctuary.
Climatic Conditions
The climate is hot and dry except during the Southwest monsoon. As the entire state false in dry area, the weather is slightly harsh. Maximum and minimum temperature recorded is 45 degree Celsius and 15 degree Celsius respectively. The mean annual temperature is 28 degree Celsius and average annual rainfall is 863.5 mm.
Best Time to Visit
The best time to visit this place is between June to October. After October, as the winter approaches, wild animals take maximum rest in their dens/holes.
Wildlife at Kinnerasani Wildlife Sanctuary
The Kinnerasani wildlife sanctuary is marked by dense forests, abundant flora and fauna, and several endangered species.
Flora
It represents southern dry deciduous mixed type forests with teak, bamboo and terminals. Other species found here are Tirman, Nalla maddi, Amla, Mango, Yepi, Yegisha, Tapasi, Somi, Bandaru and Kanju. The tree tops are a home to many migratory birds and perfect centre for bird watching.
Fauna
Animals found in this sanctuary include tigers, panthers, jackals, sloth bear, hyena, wild dog, wild boar, black buck, black sloth, black dear, chausingha, cheetal, chinkaras, sambhars, and jagaur. Tourists can also spot a number of birds like golden oriole, hoopoe, kingfisher, parakeets, jungle fowl, peafowl, quails, patridges, spoonbills, open bill stroke. The lake is a great place to witness migratory birds like cranes, teals, doves, and nuktas.
Reptiles
Reptiles include vipers, python, cobra, karaite, iguanas, chameleons, marsh crocodiles, monitor lizard.
Distance from Nearby and Major Cities
Khammam – 93 kilometres
Warangal – 134 kilometres
Vijayawada – 165 kilometres
Secunderabad – 274 kilometres
Hyderabad – 288 kilometres
Vishakhapatnam – 427 kilometres
Chennai – 645 kilometres
Bangalore – 736 kilometres
Mumbai – 1010 kilometres
Kolkata – 1298 kilometres
Delhi – 1582 kilometres
Nearest airport – Hyderabad is the nearest airport to reach Kinnerasani wildlife sanctuary.
Nearest Railway Station – Bhadrachalam is the nearest railway station located at 25 km distance to this place. From the railway stations, frequent road transport is available to reach this site.
Road Accessibility – Taxi services, APSRTC buses, private cabs at affordable rates are available from Kinnersani. It can be easily reached from Khammam district by bus.
Accommodation Facilities
A number of forest rest houses are available at Paloncha, Kothagudem and Bhadrachalam and PWD guest house. Haritha hotel Bhadrachalam operated by the Telangana tourism (40 km) offers accommodation facilities for travellers looking for an ideal resort.
Entry Fee
There is minimal entrance fee to this sanctuary. For any details you can contact:
Divisional Forest Officer (wildlife management), Paloncha, Khammam district.