'Simply put, Old is Gold'
Standing atop an undulating terrain on 812 sq km of land is the oldest wildlife sanctuary in the state, the Eturnagaram Wildlife Sanctuary. The wildlife sanctuary is situated in Eturnagaram village of Warangal District in the state of Telangana. It boasts of verdant valleys that give way to the pristine waters of the Godavari River and provide shelter to an amazing range of biodiversity. The sanctuary is equipped with an 'all-in-one' topography comprising of plains, slopes, hills, streams and springs. As you talk a walk through the woods, you might come across tree fossils and caves that seem to give a glimpse of the bygone era in this sanctuary. The presence of embryonic species of ephemeral elements make this sanctuary a rare eco-region. Etunagaram with its awe-inspiring scenic beauty and immense historical significance is sure to amaze you! Read on to find out more.
[Also see: National Parks in India]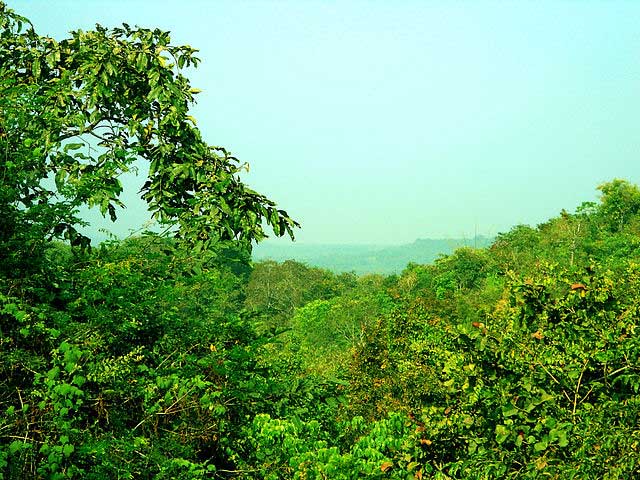 Photo by Adityamadhav83, CC BY-SA 3.0
Climatic Conditions
Etunagaram wildlife sanctuary usually experiences a hot climate round the year with summers being really hot and winters settle somewhere 'okay-ish.' The temperature can reach upto an all time high of 44˚C during summers. Northeast and Southwest monsoon are known to hit the sanctuary around October to December.
Best Time To Visit
The best time to visit Etunagaram is around October to April when heat is less interfering with fun.
Wildlife & Vegetation
Etunagaram is rich in flora and fauna. Among fauna, the mammalian and reptilian species are found to predominantly exist here while a variety of birds maybe found.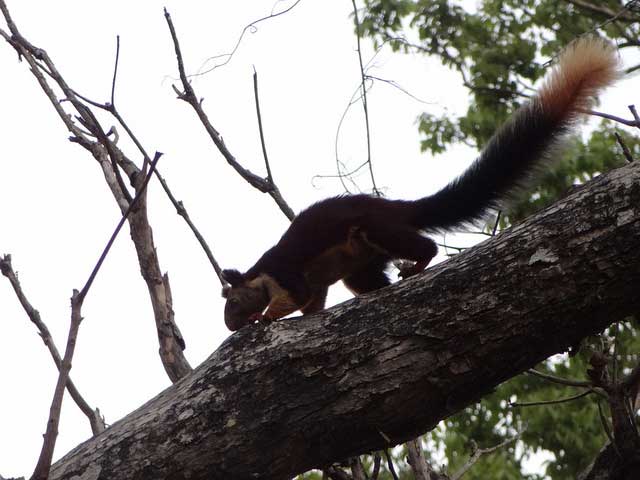 Photo by Dave Lonsdale, CC BY 2.0
A variety of mammalian species are the residents of Eturnagaram. It is in fact, due to the presence of these animals that the place was declared a sanctuary in 1952. So, while you're here you can expect to find tigers, wolves, four-horned antelopes, blackbucks, wild dogs, chinkaras, sloth bears, spotted deers, golden jackals, Leopards, Indian giant squirrels, nilgais, sambars, panthers etc.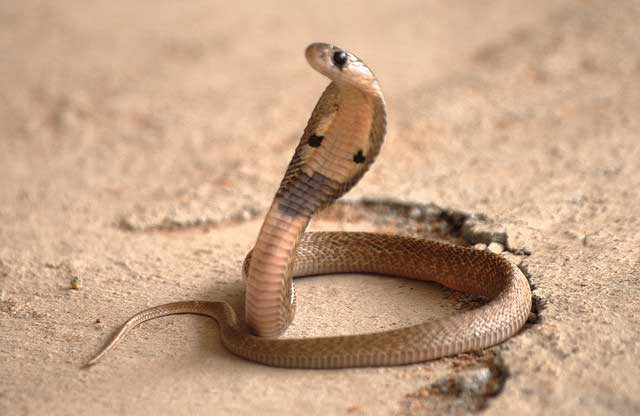 Photo by Gopal Venkatesan, CC BY 2.0
The sanctuary is watered by the perennial river Dayyam Vagu. The surplus amount of water in the sanctuary supports the large population of reptiles here. These include crocodiles, python, cobra, krait, monitor lizard, star tortoise etc.
A variety of migratory birds can found in the sanctuary.
The perennial river Dayyam Vagu separated the sanctuary into two and the region is covered with thick lush green vegetation. The floral species found here include teak, tirman, anduk, kodesa, gumpena, abnus etc. The area is mostly occupied by tropical dry deciduous type teak trees.
Distance From Nearby and Major Cities
The sanctuary is located towards Maharashtra, Chhatisgarh and Telangana border in the Warangal district. The cities close to Eturnagaram include Hyderabad and Warangal. Distance from these and other major cities is as follows:
Warangal: 112 km via Warangal – Etunagaram Road.
Hyderabad: 250 km via NH 202 and Warangal – Etunagaram Road.
Vishakapatnam: 453 km via NH 5
Raipur, Chhattisgarh: 703 km via NH 6
Chennai: 747 km via NH 5
Bangalore: 831 km via NH 7
Pune, Maharashtra: 839 km via NH 9
Goa: 928 km via Raichur Koppal Road
Mumbai, Maharashtra: 985 km via NH 9
New Delhi: 1547 km via AH 43
How To Reach
By air: Nearest airport is located at Hyderabad nearly 250 km away.
By rail: Nearest railway station is located at Warangal at a distance of 100 kms away.
By road: A number of bus services maintained by RTC and private vehicles are available from Warangal. Warangal is well connected to the sanctuary by road.
Local Attractions
The biennial tribal festival of Sammaka Saralamma Jatara or Medaram Jatara is held inside the sanctuary.
Boating is also a major attraction in the sanctuary.
While you're here, you cannot miss the splendid city of Hyderabad. The aroma of the sumptuous biryani is bound to attract you towards the city. Apart from the delightful meals you can have here, the city has the world famous Charminar right in the centre and numerous other activities.
The Vishakapatnam port is worth. Sun-kissed beaches and adventurous water sports await your presence here.
Accommodation
Due to the increasing tourism at Etunagaram and Warangal accomoodation has been made available by the forest department as well. Forest Cottages and Rest Houses are available at a village called Tadvai and ITDA guest house can be availed at Etunagram as well as Warangal. Private accommodation including hotels and guest houses are also present in Warnagal.
Other Useful Information
Entry fee: Rs. 10 per adult and Rs. 5 per child.
Boating packages are available at the sanctuary itself.
The Etunagaram wildlife sanctuary is open on all days from Monday to Sunday during 8 am to 5 pm.

Contact
Address: Eturnagaram, Warangal district, Andhra Pradesh.
Contact information: Divisional forest officer, wildlife management, Warangal
Ph.: – 0870-2431546;
Forest range officer, eturnagaram, Ph.: – 08717-231240.