Visitor Information
Famous for: Photography, Nature lovers, Walking, Sightseeing
Entrance Fee: Free of charge
Visiting Time: Open round the clock for pedestrians, open from 7:30 AM to 6 PM for vehicular traffic
Visit Duration: 1 to 2 hours
Promenade Beach in Pondicherry is one of the most visited places in this beautiful coastal city. The beach stretches almost 1.5 kilometres and has important landmarks that tell tales of bygone times. The statue of Joan of Arc, Dupleix's statue, the old heritage hall, the statue of Mahatma Gandhi, and the old lighthouse greet visitors at the beach.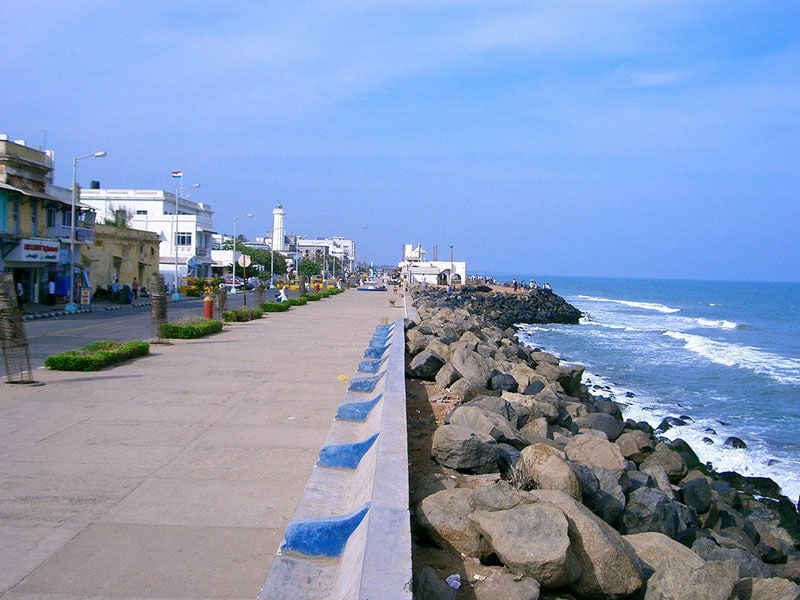 Traveler Tips
A visit to the Promenade Beach in Pondicherry is best undertaken in early morning and late evening as the vehicular traffic is stopped and children can roam around freely on the street.
A tourist information center is located near the beach in an old and beautiful building. You can easily find all the information you need about the city at this place.
Carry sunscreen and wear comfortable clothes when you visit the beach to have a safe and comfortable trip.
Don't forget to bring your camera to capture the awe-inspiring scenery at the beach.
Things to Do
Take a long walk on the 1.5-kilometer-long beach with your loved ones for a memorable experience.
Go on a guided tour of the historical statues and halls around the area.
Sip a good ole cup of Joe in one of the classic cafes in front of the beach.
Availability of Guides
You can find guides to show you around the area but a trip to the beach does not require any special guided tours.
Best Time to Visit
The months of October to March are the best time to visit Pondicherry as the temperatures stay at a pleasant 20 to 25 degrees Celsius.
How to Reach
The beach is situated near the famous Sri Aurobindo Ashram and can be easily reached through Beach Road near the M.G. Road area.
Interesting Facts and Trivia About Promenade Beach
Though the name itself is "Promenade Beach", this place is really just a paved sidewalk along the sea for people to walk on. Not a typical beach at all.
The Promenade beach is also called Mahatma Gandhi Beach because of the famous Mahatma Gandhi statue situated opposite to it.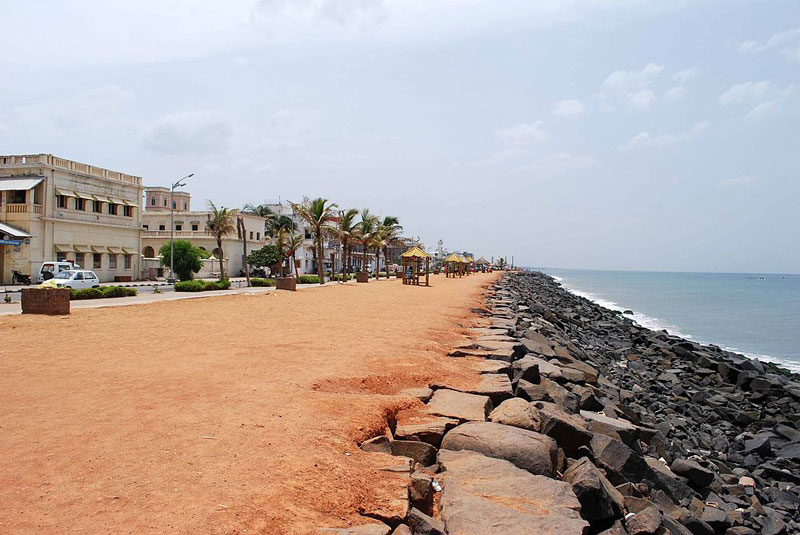 Nearby Attractions
Sri Aurobindo Ashram
Arikamedu
Matrimandir
Sri Gokilamabal Thirumaleshwara Temple
Auroville
Jawahar Toy Museum
Pondicherry Museum
Arikamedu
French War Memorial
Manakula Vinayagar Koil
Chunnambar Backwater
Nearby Restaurants         
Baker Street
Surguru Restaurant
Rendezvous Cafe Restaurant
La Pasta World
Selva's Sea View Restaurant
The Indian Kaffe Express
Le Club
Asian House
Sea gulls Bar and Restaurant
Satsanga
La Villa Shanti
The Promenade Beach is one of the most visited beaches in Pondicherry for all the right reasons. Offering some of the finest restaurants and views in the town, this famous tourist destination is the one place you must visit on your trip to Pondicherry. The Promenade will not only make up for the beautiful pictures but will also give you memories you would cherish for a long time.