Sambalpur was an eminent diamond hub during the ancient times and got its name from the heavenly goddess Sambaleshwari as her shrine Samalai Gudi is also built here, being the central attraction of Sambalpur. This town is also a significant textile district of Odisha and admired worldwide for its tie-and-dye Ikat art which is endearingly named as Sambalpuri. The landscape here is replete of thriving forests and valleys, exclusive waterfalls, exquisite hills, and a unique panoramic charm to it. The Sambalpuri craftwork itself is peerless and noteworthy drawing numerous international visitors to this town. The tribal culture and traditions make it a jewel of Orissa with the quaint vistas that will take your breath away. So, here we are listing the best places to visit in Sambalpur during your travels here and be mesmerized by the profound flora and fauna of this tourist spot plus the opulent culture and artworks to lure your heart away.
1. Sambaleshwari
Being the central sacred goddess in Sambalpur, Sambaleshwari is an imperative temple to visit. The divine deity Maa Samaleswari's temple is located on the Mahanadi River and is revered since old times with several names like Jagatjanani, Adishakti, Mahalaxmi and Mahasaraswati. It has an intense artistic heritage and was built by Chauhans during the mid-16th century. Further, an outstanding festival-cum-fair is also arranged during the Hindu months of Ashvin and Chaitra. So, if you want to seek the blessings of Maa Samaleswari, this temple is inherent to visit at as it will add tranquility and heavenliness to your journey ahead.
2. Ushakothi Wildlife Sanctuary
Ushakothi Wildlife Sanctuary is well-known for its rich flora and fauna and here you can take a tour into the reserve spotting Elephants, sambars, deer, wild bears and many other animals. It is 50 km away from Sambalpur and offers a different color to the religious and artistic city of Sambalpur. Also, it is more of a relaxing nature retreat to visit if you are curious about the profound and lush greenery and picturesque views of Orissa.
3. Maa Ghanteswari Temple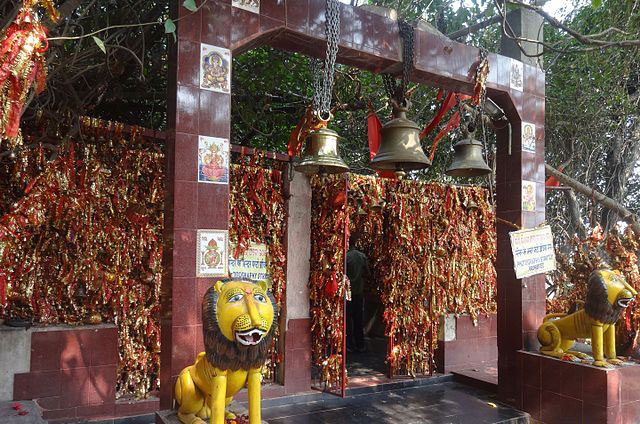 Maa Ghanteswari is the Goddess of Bells and this temple is revered for the copious bells all around the temple and the main shrine of Maa Ghanteswari. The interesting legend about this temple says that those visitors whose wishes are fulfilled by Maa Ghanteswari they revisit this shrine present bells to the Goddess as a form of gratitude. Another fascinating fact is that this temple's bells worked as warning for sailors near the sea thus making this place work as a lighthouse for them to warn about coming storms. Just 31 km from the Sambalpur Town, this miraculous shrine is indeed a must visit if you want to make your wishes come true by seeking the blessings of Maa Ghanteswari.
4. Huma Temple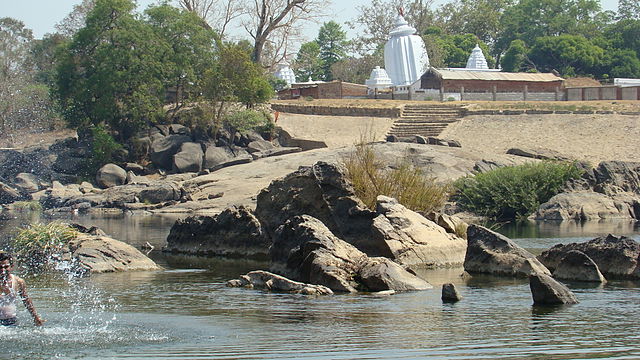 Devoted to Lord Shiva and having Bimaleswar Siva as the central deity here, the Huma temple was constructed in 1670 by King Baliar Singh of Chauhan Dynasty. It is also distinctively called as the Leaning Temple of Huma owing to its off-center position and of all the temples built around it which are also standing at a certain slanted angle. The legend behind the erection of the temple is that of a milkman who used to worship Lord Shiva ardently and also was in the habit of presenting milk to a causal rock as his offering to the God. To his surprise once, the milk was drunk by the rock which eventually led to the construction of the Lord Shiva Temple here. Every year on Shivratri, a huge fair is arranged and here you will also find different kind of fishes in the riverside which are believed to be docile and are fed by the devotees as well. The Huma Temple is more of a pilgrimage for the avid devotees of Lord Shiva and the speculations for the temple's tilted structure are yet to be understood by geologists and archaeologists.
5. Pradhan Path Falls
Pradhan Path Falls is at a distance of around 100 km from Sambalpur and is a splendidly charming waterfall. It will let you glance into the extreme innate gorgeousness of Orissa that will take your heart away. A wonderful way to conclude your blissful trip to Sambalpur, this invigorating waterfall will let you refresh yourself amidst the picturesque scenery of Orissa.
Sambalpur is undeniably a heavenly temple city blessed with a rich bequest and artistic talents. Don't forget to see the tourist spots given above to soak in the exquisite charm and beautiful sceneries of this town and let you feel still and spellbound by the amazing aura of Sambalpur.
Some More Tourist Attractions In Orissa: